Christmas trees play a big part in our favorite holiday traditions. We gather around them with friends and family to decorate, open gifts, and celebrate. When choosing a tree, it's essential to pick one that suits your style and lasts for many seasons. This guide will show you how to choose the best tree for your home, whether you're looking for artificial Christmas trees with lights or skinny Christmas trees for limited spaces. 
What Artificial Christmas Tree Size and Shape Should I Get?
Christmas tree sizes come in different heights and shapes. To narrow your options, choose a spot to determine if you have the space for big Christmas trees or need smaller ones. 
Christmas Tree Height Guide
A good rule of thumb is to have at least 6 inches between the top of your tree and the ceiling. This also accounts for a topper or any decorative stand that adds height to the tree. So, if you have the standard 9-foot ceiling and a 12-inch angel topper, you'd want a 7.5-foot Christmas tree. We measure our trees from the stand to the topmost tip.
| Tree Height | Best for |
| --- | --- |
| | Homes with limited space  |
| | Areas with low ceilings  |
| | Rooms with standard 8- to 9-foot ceilings |
| | Spaces with high ceilings |
| | Public spaces and vaulted ceilings |
| | Tall Christmas trees for grand displays |
Artificial Tree Shapes
A tree's shape gives you a general idea of how much room it takes up. Go for a narrow or slim Christmas tree for limited spaces and a wide, full-sized one if you have a spacious area. Calculate your available floor space and check it against the Christmas tree dimensions on our site. We base these measurements on the widest point of the tree.
How Realistic Will an Artificial Christmas Tree Look?
Going artificial doesn't mean saying goodbye to the look and feel of your favorite tree. We design many Balsam Hill trees after real species—from the shape and texture of the needles to the nuances in color. Best of all, they stay evergreen and need little to no maintenance.
Needle Type
We categorize needle types according to the material used. PVC needles are flat and papery while polyethylene (PE) needles have more dimension. Some trees feature a combination of both—the more realistic the tree, the higher the PE count. Read the foliage details, look at close-up photos, or check our Branch Sample Kit to learn more.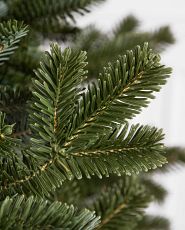 Injection-molded PE needles that mimic the structure, texture, and color variations of natural evergreens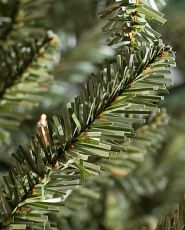 Soft, flat, and flexible PVC needles with a more classic artificial Christmas tree look
Levels of Realism
Realism relates to the types of needles used in a tree. At Balsam Hill, we categorize our trees into three levels.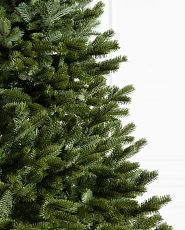 Most Realistic
Has more than 65% True Needle (PE) foliage for outstanding realism, with Classic Needles (PVC) near the trunk for added fullness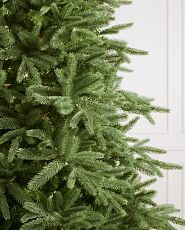 Up to 65% True Needle (PE) foliage mixed with Classic Needle (PVC) for a great balance between realism and budget
Species
Certain species may hold special meaning because they remind you of the Christmas tree you had growing up. That's why we use nature as inspiration and create molds from real branch clippings to make highly realistic artificial Christmas trees.
Fir
Fir trees have dense branches with flat and flexible needles sprouting individually from the stem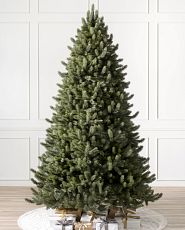 Spruce
Unlike firs, spruce trees have rough branches with needles that grow singly from the stem and have sharp, four-sided points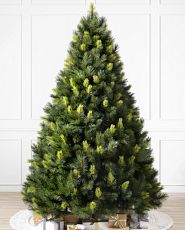 Pine
Pine trees have sparser branches around the trunk, with thin needles attached to the stem in clusters of two, three, or five
Color
Depending on the species, real trees come in different shades of green and the same is true for Balsam Hill trees. For instance, the blue spruce has blue-green needles while the noble fir has a gray tint to it. Some trees are also multi-toned like the fraser fir with its dark green tips and silver undersides.
What Christmas Tree Lights Are Best?
An artificial Christmas tree with lights makes a room effortlessly festive, even without decorations. If you prefer to string your own lights, you need at least 100 lights per foot of the tree. Double or triple the amount if you love the look of brighter, more intense lights on your tree.
Pre-Lit vs. Unlit Christmas Trees
A Balsam Hill pre-lit Christmas tree makes assembly quick and easy. Our UL-certified lights are hand-strung to provide optimal coverage while keeping wires from showing. We also optimize light counts and bulb brightness to give each tree a balanced and warm festive glow.
On the other hand, unlit trees give you the freedom to experiment with lights. For easier set-up, we offer select trees with Simple String® technology. Just plug in compatible light strings, and you have a custom pre-lit tree for next year.
Types
Pre-lit artificial Christmas trees come with either incandescent or LED lights, which differ in efficiency and longevity. LED lights consume less electricity and produce less heat than incandescent bulbs. While other LED lights often have a blue tone, Balsam Hill's Candlelight® LEDs are designed to provide the warm hue of incandescent lights.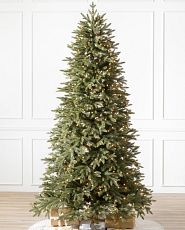 Incandescent Lights
Traditional Christmas lights that cast a clear glow and have low initial costs. Our incandescent-lit trees use UL-listed lights that last 3,300 hours or more.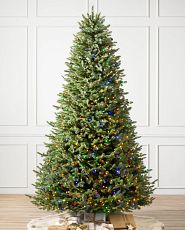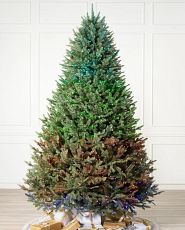 Specialty LED
This includes our new Twinkly® Light Show  and Fiber Optic Light Show which let you choose from pre-set options or customize the effects.
Color
The color of your lights makes the difference between a cozy feel and a festive display. Check out the color options below for a lighted Christmas tree.
Clear
The classic glow of candlelight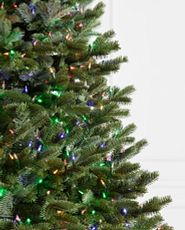 Multicolor
A bright mix of colored lights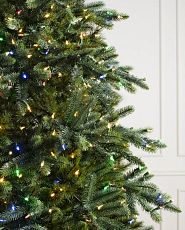 Color + Clear
Exclusive lights that let you switch from clear to multicolored to both, and give you 30% more coverage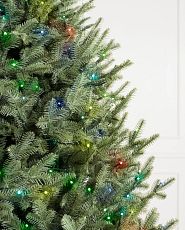 Light Show
Animated lights that create a stunning display
Control Type
Manage your Christmas tree lights with easy-to-use controls that vary from a simple foot pedal to an innovative app. We also offer battery-operated potted trees for flexible decorating.
What Are My Options for Easy Set-up Christmas Trees?
Save time and energy for things that matter most with features that simplify your Christmas tree assembly. Our trees are designed with hinged branches that fan out and in for quick set-up and storage. We also include a sturdy metal stand with rubber feet to keep your floor clean and beautiful.
All artificial Christmas trees are compressed for shipping, so you must fluff the branches to make them look fuller. Watch this video on How To Shape Your Balsam Hill Tree and this one for Tips and Tricks on Shaping Individual Branches.
To make set-up even easier, we've incorporated exclusive technology in our premium artificial Christmas trees: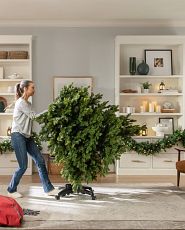 No more heavy lifting—just wheel the tree base into place on a built-in rolling stand, easily flip it over, and attach the smaller treetop. Learn more about Flip Trees through our in-depth guide.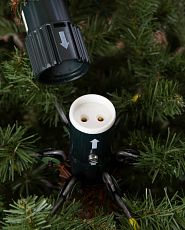 Light strings automatically connect through the trunk, so the only plug you need is the one that goes into the wall. Included on all pre-lit Flip and Pre-Fluffed trees.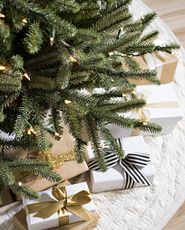 Each tree is professionally hand-shaped before shipping. Strong memory wire branches fan out as you set up, so fluffing takes less time. All Pre-Fluffed trees come with Easy Plug.
What Else Should I Consider When Buying a Christmas Tree?
Aside from the technical factors above, here are other things to look into when choosing your artificial Christmas tree:
Price Range
Artificial Christmas trees often cost more than real trees because they last season after season. Find one that suits your budget, from slim space savers to tall, highly realistic trees. Prices vary based on Christmas tree size, needle composition, light types, and set-up features.
Key Decorations
All Balsam Hill trees have sturdy, flexible branches to support various sizes and weights of ornaments. You can layer assorted decorations, use ribbons, and fill gaps with picks.
Christmas Tree Toppers
If using a tree topper, make sure there's at least 6 inches of clearance from the top of the tree topper and your ceiling. Our trees have a strong top branch tip to secure your topper. Secure and stabilize heavier toppers with a rod and zip ties.
Christmas Tree Skirts, Collars, & Stands
Choose a tree skirt that's at least 6 inches bigger than the full width of the tree. It should completely cover the stand and be larger than the entire diameter of the base of your tree.
If you want an alternative, tree collars and stands are ideal. Collars latch around the base, while decorative stands replace the base and support the weight of your tree. Compatibility depends on the tree height and pole diameter, so double-check the specifications to make sure it fits.
Care & Storage
Store your tree in a cool, dry place to keep it in good condition. Storage bags are recommended to keep dust and the elements from harming your tree. All Balsam Hill trees come with a lightweight bag/s for easy storage year after year. For more tips, read our storage guide.
Best Time To Buy an Artificial Christmas Tree
Artificial trees are sold all year, but you'll find the best deals during major shopping days such as Black Friday and Cyber Monday. You can also take advantage of post-Christmas clearance sales and Christmas in July. Read our guide to the Best Times To Buy an Artificial Christmas Tree for more tips.
Why Choose Balsam Hill Artificial Christmas Trees?
At BalsamAt Balsam Hill, we help you create memorable celebrations—starting with the centerpiece of your holiday, your tree. It's our mission to give you the best artificial Christmas tree for your home, so we offer a wide variety of options to suit your needs. We design and produce each of our trees ourselves from tip to trunk, bringing our attention to detail to every tree we make.
Welcome Kit
Each Balsam Hill Christmas tree comes with a lightweight premium steel stand, soft cotton gloves for fluffing, and storage bag/s for the off-season. Pre-lit trees are also shipped with extra bulbs and fuses.
Warranty
Enjoy a 3-year warranty on all non-clearance trees. This covers the quality of tree frame, foliage, hinges, stand, and repair or replacement of lights on pre-lighted Christmas trees. Visit our warranty page to learn more.
Free Shipping
Get your tree delivered right to your door at no cost within the contiguous US. Rather than packing our large trees in one giant container, we ship them to you in several smaller packages for easier unboxing.
Frequently Asked Questions
Here are the answers to some common questions about artificial Christmas trees.
How To Pick the Perfect Artificial Christmas Tree?
When shopping for an artificial Christmas tree, it's important to keep the available space in mind. Choose a tree that fits your needs in terms of size, shape, style, color, and material. Make sure to select a well-made and durable tree so you can enjoy it for many seasons to come. Additionally, it's crucial to stick to your budget while shopping to get the most out of your festive celebrations.
What are the Different Types of Artificial Christmas Tree?
Different types of artificial Christmas trees include traditional green trees, white trees, pre-lit trees, and fiber optic trees. Traditional green trees come in various styles and sizes, while white trees are ideal for creating a winter wonderland feel. Pre-lit trees have built-in lights, and fiber optic trees have small lights that change color.
How To Determine the Right Size of Christmas Tree for My Space?
First, measure the height of your ceiling and subtract at least six inches to allow for the tree stand and topper. This will give you the maximum height for your tree. Next, measure the width of the space where you plan to place the tree to ensure that it fits comfortably without overcrowding the area. Once you have these measurements, you can choose a tree that fits within your space and looks proportional to the room.
Are There Any Safety Considerations When Using Different Types of Christmas Trees?
Yes, there are a few safety considerations to keep in mind when using different types of Christmas trees. If you opt for a real tree, keep it well-watered and away from any heat sources, such as fireplaces or radiators, to prevent it from drying out and becoming a fire hazard. If you choose an artificial Christmas tree, ensure it is flame-resistant and has been tested and approved by a reputable safety organization. Regardless of the type of tree you choose, be sure to use only certified lights and decorations that are safe for indoor use.
Are There Any Eco-Friendly or Sustainable Options Available for Christmas Trees?
Look for eco-friendly reusable Christmas trees made from recycled materials with plastic-free and recycle-ready packaging. This helps minimize the demand for new resources and lowers your carbon footprint. Balsam Hill also offers limited artificial Christmas trees made from 100% recycled PE needles and 100% bio-based plastic needles made from sugar cane.
We hope this guide helped you find the best artificial Christmas tree for your home. Click the button below to see our full collection of trees in different sizes, heights, set-up, and lighting options.
Learn More About Artificial Christmas Trees
Read these for more tips and expert guides on choosing the best Christmas tree for your home.