Balsam Hill
Charity Events
Balsam Hill engages in a variety of community activities
that help strengthen families and support those in need.
Festival of Trees 2016
Since its inception, the St. Alphonsus Festival of Trees in Boise, Idaho, has raised more than $9 million to improve healthcare in the Treasure Valley community. Funds raised from this year's event will support the Neonatal Intensive Care Unit (NICU). One in ten babies is born too soon and may face life-threatening and long-term complications. The Saint Alphonsus NICU provides critical, around-the-clock care for these premature and precious infants in a manner that is unique to their needs and the needs of their families.
This year, Balsam Hill is pleased to participate as a Distinguished Benefactor, donating over 50 premium artificial trees for use throughout the Festival. The Balsam Hill team will also be decorating a tree to be donated directly to the St. Alphonsus NICU, in the hopes of brightening the holidays for families with little ones undergoing care and treatment.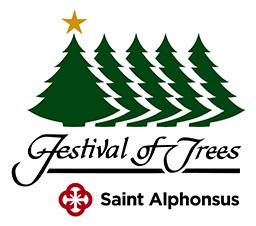 CHRISTMAS in JULY WITH OPERATION SMILE
This July, Balsam Hill partnered with Operation Smile to help raise funds for children born with cleft lips and pallets all around the world. For every comment on the campaign's facebook post, Balsam Hill donated $5. For every share and like, Balsam Hill donated an additional $1. Thanks to all the participants, we were able to raise $3,365 over the course of July.
$29,701.50
AMOUNT RAISED THROUGH JULY 2016
The Season of giving 2015
From November 16, 2015, through December 25, 2015, Balsam Hill is partnering with 4 charities as part of the season of giving. We will match 100% of donations up to $2,000, and 10% of any donations after that. For every $25 donation, we will send the donor a surprise Christmas ornament. Show more
$5,376.50
Amount raised through 2015 with match.
Christmas in July 2015
It's July once again and although Christmas is still a few months away, the spirit of giving is in the air. For the second consecutive year, we are organizing a Christmas in July Charity Program as part of our continuing effort to raise funds for charitable institutions.
Balsam Hill will match 100% of donations up to the first $1,000 raised for each charity, and then 10% of each subsequent amount. Readers can donate to their favorite charity via a dedicated Indiegogo page. As a token of gratitude, for each $50 contribution, donors will receive a mystery Christmas ornament from Balsam Hill. Show more
$20,960
RAISED
Amount raised through July 2015
FOOD FOR BAY AREA FAMILIES
For many working families in the Bay Area, the rising cost of living can make the holidays a bittersweet time of year. Balsam Hill is happy to have been able to help those families by volunteering at the Second Harvest Food Bank in San Carlos, where the team spent half a day sorting and packaging food that will go directly to those in need. To continue supporting the Food for Bay Area Families Drive, the Balsam Hill Showroom in Burlingame is also a collection station for food donations.
Through volunteers and partner organizations, the Second Harvest Food Bank is able to provide over a million pounds of food per week for Bay Area residents. To find out more about how you can help your local food bank, visit the SECOND HARVEST FOOD BANK WEBSITE.
Balsam Hill team volunteering at Second Harvest Food Bank
The Season of Giving
Christmas is once again around the corner; it's almost time to gather around the Christmas tree with your family. Please join us this holiday season by donating to a very important cause, and Balsam Hill will match 100% of your donation, up to $10,000 and 10% on anything exceeding $10,000. By clicking on the donate button of the charity below, you will be taken to an IndieGoGo page where you will be able to pledge whatever amount you can. For every $10 donated, the donor will be entered into a raffle for a chance to win one of 3 prizes: The Grand Prize is a full Christmas decorating set, including an Artificial Christmas tree, 3 ornament sets, a tree topper and tree skirt. The #2 Prize is a $500 gift card to Balsam Hill. The #3 Prize is a $250 gift card to Balsam Hill. The winners may request Balsam Hill to donate the value of their prize to a charity instead of claiming the prize. Please make your donations before the campaign's end on the 15th of December. Show more
$20,340
RAISED
Amount raised through Christmas 2014
Christmas in July 2014
Christmas is the holiday of giving, and July is the perfect reminder that Christmas is only half a year away, and it's time to start giving. This year, Balsam Hill partnered with 10 bloggers, through July 31st, to help raise awareness and funds for charities. Each blogger ran a fundraising event for the charity of her choice on her own blog as well as a dedicated Indiegogo page, while Balsam Hill matched 100% of all donations, up to $1000 per charity. Show more
TYPHOON YOLANDA (HAIYAN) RELIEF
On November 8, 2013, Typhoon Yolanda struck the Philippines leaving a wake of devastation in its path, displacing over 500,000, and leaving thousands dead. Our hearts go out to all the victims of this catastrophic storm. For Balsam Hill, Typhoon Yolanda struck particularly close to home not just because of its magnitude, but because many of our team members live in the Philippines and were impacted by the storm either directly or indirectly. In the aftermath of the storm, Balsam Hill dispatched a team from the United States to join our team in the Philippines and coordinate relief efforts.
With all the media attention on cities like Tacloban, it was the smaller villages like Hernani that were most in need of aid. These villages were just as devastated, but were not as visible to the international community. Within days, the Balsam Hill team put together 1900 lbs. of emergency supplies. Working with local community members in Cebu and Guiuan, team members escorted the aid packages all the way from Manila to Hernani, and were able to provide some relief to this community by ensuring these supplies reached families that were most in need.
Almost a year on from Typhoon Yolanda, Balsam Hill continues to partner with local entities to help the local communities rebuild what they have lost. Balsam Hill hopes that you will join us in support of the relief and rebuilding effort in the Philippines. If you are looking for a charity to which you may donate funds, we recommend: HTTPS://WWW.FACEBOOK.COM/NVCFOUNDATION.