At Balsam Hill, we design different types of Christmas trees that cater to your needs and preferences. Whether it's a realistic polyethylene (PE) Christmas tree that resembles your favorite evergreen or a polyvinyl chloride (PVC) one that combines quality and affordability, we have you covered. Find the best style for you in this guide.
What's the Difference Between PE and PVC Trees?
Needle Types
Inspired by various types of real Christmas trees, many artificial trees use PVC and PE needles for their foliage. Learn the differences each material brings in realism and practicality.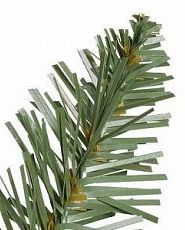 Classic needles are made from flat PVC strips cut to resemble tree foliage.

Pros:
Soft, flexible tips with a traditional artificial Christmas tree look
More affordable than PE Christmas trees
Cons:
Flat and papery Christmas tree texture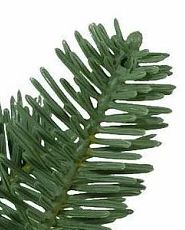 Exclusive to Balsam Hill, this patented technology uses injection-molded PE needles to replicate the structure, texture, and color variations of natural evergreens.

Pros:
Recreates the dimension and detail of real tree branches
More durable and long-lasting than PVC
Cons:
Costs more than PVC Christmas trees
Levels of Realism
Most artificial trees feature a combination of PVC and PE needles—the more lifelike the tree, the higher the PE count. Balsam Hill Christmas trees are categorized into three levels of realism: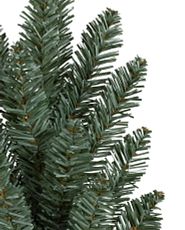 Traditional
Our most cost-effective options feature 100% Classic PVC needles in their Christmas tree foliage.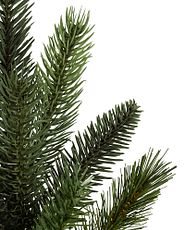 Realistic
With up to 65% True Needle (PE) foliage mixed with Classic Needle (PVC), these lifelike Christmas trees strike the right balance between realism and budget.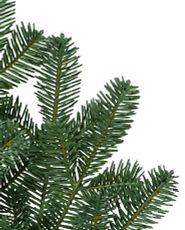 Most Realistic
These mostly PE Christmas trees are designed with more than 65% True Needle foliage for outstanding realism, with classic Christmas tree needles (PVC) near the trunk for added fullness.
Color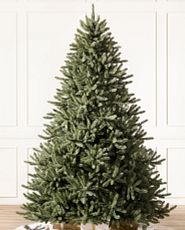 Green
Our best-selling green Christmas trees take after the varied hues of your favorite evergreens. Some have medium green tips, while others feature a combination of dark and light green foliage. A few of our trees are also multi-toned with dark green tips and silver undersides or blue-green and silvery needles.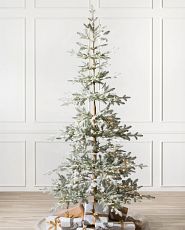 Frosted
Inspired by the wintry outdoors, our frosted Christmas trees are flocked with light layers of artificial snow. They feature the same Classic Needle and True Needle foliage as the rest of our trees.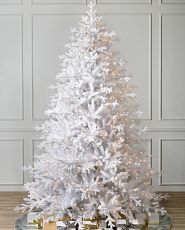 White
An alternative to traditional green trees, white foliage is a versatile backdrop for unique ornaments and playful themes. Decorate for year-round occasions such as Easter, birthday parties, sporting events, and more.
Frequently Asked Questions
Below we answer more of your questions about artificial Christmas trees.
What Is the Difference Between Real and Artificial Christmas Trees?
Artificial Christmas trees are made with plastic needles and metal faux trunks, offering you the convenience of an easier setup and upkeep, as you and your family enjoy a beautiful tree throughout the season. Meanwhile, real trees require cutting down, mounting, and cleaning up of fallen needles. They also usually last for four to five weeks, while artificial ones can last for years.
Is It Better To Have a Real Christmas Tree or an Artificial One?
Real and artificial Christmas trees have different benefits and disadvantages. Natural evergreens are less expensive and give off that classic Christmas scent, but they require more maintenance and only last for a few weeks. Artificial trees, on the other hand, are more convenient, safe, and cost-effective in the long run. Read our In-Depth Guide to learn more.
What Is the Most Realistic Type of Christmas Tree?
Balsam Hill's Most Realistic Christmas Trees are crafted with our exclusive True Needle technology so we can replicate the branch design, color variations, and overall feel of real evergreens. The BH Fraser Fir is our most realistic Christmas tree to date. From its five-split forked tips, rich green needles with silver undersides, full silhouette, and organic treetop, we've made every effort to make it look and feel like its natural counterpart. Read our article on the 10 Most Realistic Artificial Christmas Trees to learn more.
What Are the Cons of Having an Artificial Christmas Tree?
Artificial trees are more expensive upfront, but they are more cost-effective in the long run since you can reuse them year after year. Faux Christmas trees also use plastic materials that aren't recyclable.
Learn More
Here are other resources to help you find your perfect Christmas tree.