During Thanksgiving, it's essential to take a moment to reflect and spend time with loved ones. If you have an artificial Christmas tree, you can use it as a creative way to showcase all the things you're thankful for. It's also a lovely addition to your holiday décor that can spark meaningful conversations with your guests. In this guide, we'll show you how to decorate a Thanksgiving Christmas tree and make it the focal point of your celebration.
Step-by-Step Instructions
Follow these steps to achieve a festive fall tree décor for Thanksgiving: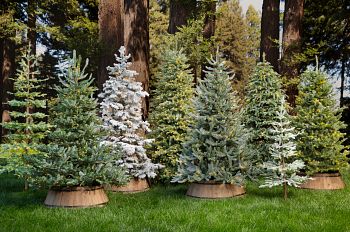 1. Choose the Right Tree
Think about the size and shape of your artificial Christmas tree in relation to your living space. Look for one with a realistic appearance and a well-balanced structure to provide a stunning backdrop for your creative ideas.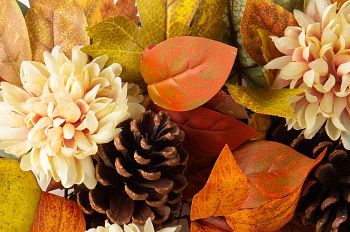 2. Pick a Color Scheme
Incorporate warm and inviting shades to add a touch of autumn charm to your tree. Use deep oranges, rich browns, vibrant yellows, and rustic reds to capture the beauty of falling leaves and the season's essence.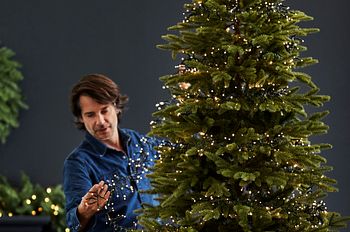 3. Illuminate with Warm Lights
String warm lights around your tree to create an inviting and cozy ambience. The soft glow will enhance the beauty of your fall tree décor for Thanksgiving, inviting friends and family to gather around.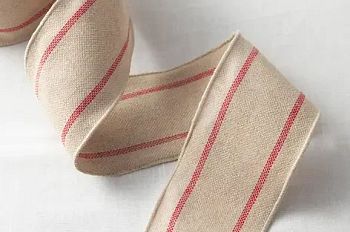 4. Wrap Burlap Ribbons
Infuse your decorated fall tree with rustic charm by winding burlap ribbons around the branches. The tactile quality of burlap complements other fall accents, adding an element of visual interest to your design.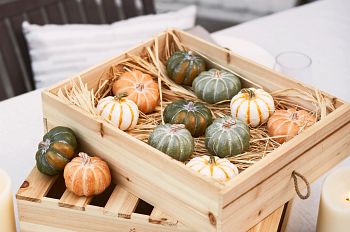 5. Hang Mini Pumpkins
Add festive cheer to your fall-themed Thanksgiving tree décor by hanging mini pumpkins in various colors. These charming accents will bring a touch of whimsy to your harvest season masterpiece.
6. Add Fall-Inspired Accents
Use more autumn-themed accents such as acorns, leaves, and berries as Thanksgiving ornaments for your tree. Make sure to distribute them evenly to achieve a balanced and eye-catching appearance.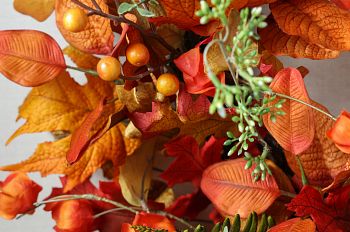 7. Incorporate Faux Leaves
Use artificial leaves or picks to fill gaps between branches and give your tree a natural and organic look. The vibrant hues will add depth and texture, elevating the tree's overall appearance.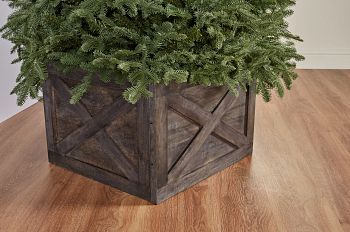 8. Dress Up With a Tree Collar or Skirt
Frame your Thanksgiving Christmas tree with a tree skirt or collar to help tie the theme together. A rustic collar or plaid skirt complements the motif and adds an elegant touch to your overall design.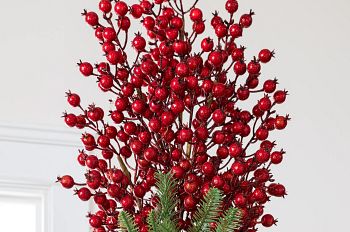 9. Crown With a Topper
Make your Thanksgiving tree shine with a carefully selected tree topper. Whether you prefer a charming star, a festive wreath, or a playful bow, this final touch elevates your creation's elegance and overall appeal.
Thankful Tree Ideas
A thankful tree is a great alternative if you don't want to set up a full Christmas tree for Thanksgiving. Here are some Gratitude Tree décor ideas you can try:
Branches of Appreciation
Turn a basic branch into a beautiful way to express your gratitude. Start by choosing a strong branch and placing it in a decorative container, then attach small notes of appreciation using twine or clips. This simple yet heartfelt arrangement is a continuous reminder of life's blessings.
Leafy Tokens of Thanks
Create leaf-shaped notes from paper or fabric and attach them with string or hooks to branches. Have family members write what they're thankful for on each leaf. This activity fosters gratitude and togetherness.
Seasonal Gratitude Display
Decorate your Thankful Tree with themed décor that represents the changing seasons. Use flowers in spring, seashells in summer, colorful leaves in autumn, and small ornaments in winter to represent the evolution of gratitude throughout the year.
The Memory Tree
Combine memories and gratitude with this simple concept to create a heartwarming display. First, collect branches of various sizes and place them in a decorative vase or container. Next, hang cherished family photos or small picture frames on the branches. To add an extra layer of gratitude, include short notes expressing appreciation among the photos.
Radiant Glow of Thanks
Choose a sturdy branch and attach small LED lights to create an enchanting glow, then hang small cards with words of appreciation on the lights. This will create a beautiful and optimistic source of light that shines gently from the branch, especially at night.
Frequently Asked Questions
Here are the answers to some of the most common questions about Thanksgiving Christmas trees.
What To Decorate Tree With for Thanksgiving?
Depending on your style and preferences, there are various options for Thanksgiving tree decorating. Some popular choices include traditional fall colors like orange, red, and yellow, incorporating elements like leaves, pinecones, and acorns as Thanksgiving tree ornaments. You could also opt for a modern look with metallics or neutral tones.
How To Prep a Thankful Thanksgiving Tree?
Create a Thanksgiving tree using a small branch, a vase, decorative stones, and paper leaves. Cut out or use real leaves to write what you're thankful for and hang them on the tree. Display it during dinner to remind everyone of gratitude.
Can You Decorate a Christmas Tree for Thanksgiving?
Yes. Some people like to decorate early for Christmas and use their tree as a centerpiece for their Thanksgiving dinner. It's a matter of personal preference, and there are no set rules for how to decorate for any holiday.
How To Decorate for Thanksgiving and Christmas at the Same Time?
To decorate for Thanksgiving and Christmas, use items that work for both holidays, like a fall wreath with Christmas ornaments, a pinecone centerpiece with Christmas lights, a fall-colored table runner with Christmas napkins and place settings, and candles with fall scents and Christmas ribbon. Mix and match to maintain a cohesive look.
How To Decorate for Thanksgiving and Christmas at the Same Time?
Decorate for Thanksgiving and Christmas using gold, red, and green colors. Incorporate fall elements like pumpkins and leaves, then switch to winter elements like pinecones and snowflakes. Use versatile décor items like candles, string lights, and garlands that can be adjusted for both holidays.
How To Decorate a Tree for Thanksgiving?
To make your tree festive for Thanksgiving, use decorations like leaves, pumpkins, acorns, and cornucopias related to autumn. Warm colors like oranges, yellows, and browns will add to the cozy and inviting atmosphere. Twinkling lights will create a magical touch. You can add depth to the tree's décor by mixing textures and materials such as burlap, wood, and metal. Finally, top off your tree with a beautiful fall-themed topper like a wreath or a ribbon bow.
Do People Decorate Christmas Trees for Other Holidays?
Yes, Christmas trees are a beautiful and cherished tradition during the holiday season. While they are not typically used for other holidays, some people may decorate trees for other celebrations or events, such as weddings or birthdays, adding a festive and joyous atmosphere to any occasion.
Is It OK To Have Christmas Tree Up at Thanksgiving?
Yes, it's perfectly fine to have a Christmas tree up at Thanksgiving. Many enjoy decorating early for the holidays, which can be a wonderful way to get into the festive spirit. Ultimately, there's no right or wrong time to put up a Christmas tree, so it's up to your personal preference.
We hope our Thanksgiving tree ideas inspired you to get creative with your décor this season. Click the button below to see our collection of fall and Thanksgiving decorations.
Find More Thanksgiving Decorating Ideas
For more decorating guides and expert tips, read these next: