Elevate your home's curb appeal this holiday season with these stunning Thanksgiving front porch ideas. From warm autumnal wreaths to cozy throw blankets, these festive decorations will impress your guests and make your home feel extra welcoming.
How To Decorate Your Entryway for Thanksgiving
Here are some Thanksgiving entryway ideas you can try on your porch, patio, or front yard.
Prepare the Entryway
Make sure to clean and declutter before decorating the front porch for Thanksgiving. This will create a clean canvas and allow for touch-ups of the surrounding areas, resulting in a refreshing look.
Hang Autumn Foliage
Decorate your entryway with nature-inspired fall wreaths and garlands for warmth and elegance. Hang them on the door frame or porch railing to create an inviting scene.
Display Seasonal Signage
Welcome your guests with Thanksgiving-themed signs or plaques that feature heartfelt messages or charming designs. Set them at your front door or the bottom of your porch steps to catch everyone's attention.
Arrange Pumpkins and Gourds
For a stunning Thanksgiving porch décor, showcase pumpkins in various shapes and sizes to add depth and dimension. Place them on steps, baskets, or rustic tables to bring the essence of the harvest season to your doorstep.
Add Cozy Lighting
Create an enchanting atmosphere on your front porch with autumn decorations such as candles, lanterns, or fairy lights. Choose warm-toned lights and pre-lit accents for added convenience.
Incorporate Harvest Elements
Infuse nature-inspired elements like fallen leaves, pinecones, and wheat stalks for a rustic harvest feel. Another option is to create a cornucopia featuring apples, berries, and fresh trimmings.
Set Up Outdoor Seating
Arrange a cozy outdoor dining space with blankets and pillows for guests to enjoy the festive atmosphere, even at night.
Explore Balsam Hill's Outdoor Décor for Thanksgiving
Discover Balsam Hill's selection of entryway decorations to elevate your Thanksgiving: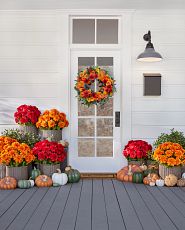 Fall Potted Arrangements
Make your entryway more inviting with potted plants in autumnal colors. Pair them with matching gourds for a cohesive look. You can also hang a fall wreath to complete the look.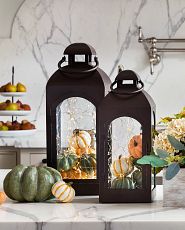 Lanterns
Lanterns add rustic charm to your entryway. Fill them with candles or LED fairy lights for a warm glow. You can also put mini gourds, pinecones, or autumn leaves to keep with the theme.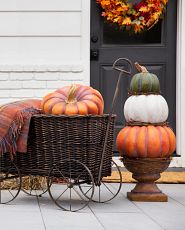 Pumpkin Décor
Explore a variety of pumpkin decorations, from traditional to creative designs. These classic fall items add color to any space. Arrange them on your porch or make a small pumpkin patch for children to enjoy.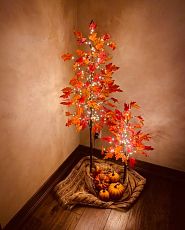 Pre-Lit Trees
Make pre-lit autumn trees part of your fall lawn decorations for an elegant and subtle sparkle that creates a captivating focal point for your Thanksgiving décor.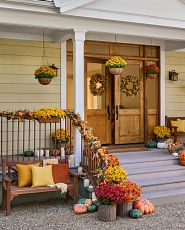 Soft Furnishings
Complete your entryway with cozy furnishings like throws and pillows that provide comfort and style while adding warmth to your Thanksgiving celebrations.
Frequently Asked Questions
Read our answers to some of your questions on decorating outdoors for fall below.
How To Decorate Outside for Thanksgiving?
Start with a festive wreath, arrange pumpkins, and hang fall foliage to create a warm welcome.
How Do I Make My Front Porch Look Welcoming?
Incorporate cozy lighting, seasonal decorations, and comfortable seating to create a welcoming look in your entryway.
How Can I Make My Front Porch Look Nice?
Use a combination of fall wreaths, garlands, lanterns, and decorative elements to add charm to your front porch.
How Do You Style an Outdoor Porch?
Combine various outdoor Thanksgiving decorations for the front porch, like harvest accents, soft textiles, and lighting options, to create an inviting exterior area.
What Should I Put On My Entryway Wall?
Hang a fall-themed artwork, mirror, or seasonal sign as a focal point, then add outdoor-safe accents such as autumn foliage, pumpkins, and lanterns to complement your décor.
We hope our best Thanksgiving front porch ideas help you transform your entryway into a festive and welcoming space. Click the button below to browse the rest of our Thanksgiving decorations.
Learn More About Fall Decorating
Visit the links below to see more decorating ideas for fall.