Make the most of the crisp, autumn weather by creating inviting spaces outside your home. In this article, we share tips to help you refresh your fall porch décor, including ideas for Halloween and outdoor entertaining.
Fall Decorating Ideas for the Porch & Patio
When to start decorating for the autumn is a matter of preference. You can begin within the first two weeks of October or wait and observe the weather changes and redecorate accordingly. Here are some fall front porch ideas to inspire you this season.
Outdoor Halloween Décor Ideas
Incorporate Halloween into your fall décor to add a playful touch to your porch display. Here are some ideas to try.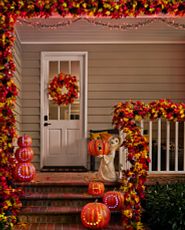 Spooky Spirit
Arrange some Jack-o'-lanterns on the steps to greet eager trick-or-treaters and set out a candy bowl filled with sweets. To create a spooky ambience, string up orange LED lights. Drape a fall-themed garland along the rails and hang a matching wreath to complete the display.
Outdoor Lit Friendly Ghost
 

|

 
Lit Stackable Cut-Out Pumpkins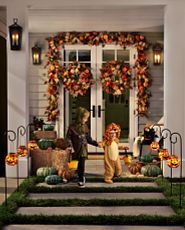 Pumpkin Patch
Build your own pumpkin patch that both adults and children will adore. Choose different colors and sizes of pumpkins and arrange them on the steps along with hay bales. Line the pathway with orange lights, then dress up the front door with a matching harvest wreath and garland.
Fall Harvest Foliage
 

|

 
Solar Halloween Pathway Lights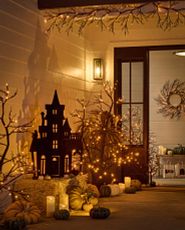 Outdoor Entertaining Décor Ideas for Fall
Look beyond the porch and patio when refreshing your décor for autumn. If you have the space, set up an outdoor dining table where you can entertain guests and enjoy the crisp fall weather.
We hope these fall porch décor ideas inspired you to transform your outdoor areas into cozy spaces for your loved ones. Browse our selection of outdoor fall decorations by clicking on the link below.
Learn More
Want more front porch and outdoor fall décor ideas? Check out the articles below.