Looking for holiday décor that sets your store apart? Balsam Hill offers the widest selection of luxurious commercial Christmas trees and professional Christmas decorations to elevate the elegance of your brand and bring joy to your customers. We are passionate about Christmas and we share in your commitment to provide customers with the ultimate holiday experience.
Highest Quality, Most Realistic & Beautiful Artificial Christmas Trees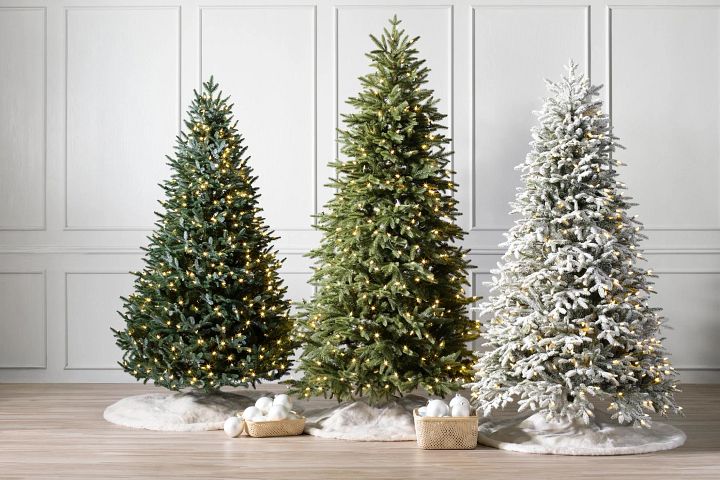 With TRUE NEEDLE® technology developed and offered exclusively by Balsam Hill, our artificial Christmas trees flawlessly mimic those found in nature. The incredibly realistic needles and branch tips are handcrafted to match the subtle nuances in color, texture, and shape of your favorite natural evergreens.
Balsam Hill takes the breathtaking beauty of the outdoors as a starting point and recreates the magnificence right in your store. Customers will marvel at the classic elegance of your Balsam Hill Christmas tree, while you benefit from the craftsmanship and durability of this masterpiece for years to come.
Widest Selection of Shapes & Sizes for Commercial Christmas Trees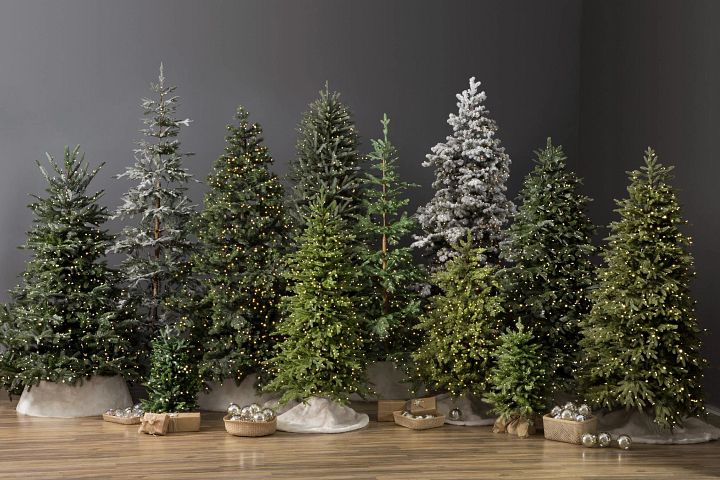 Bring to life your store's entryways and window displays with minature and big Christmas trees. Draw eyes with a stunning 18-foot Christmas tree in your store's lobby or liven up corners with trees as small as 4 feet.
Balsam Hill provides you with the most diverse assortment of Christmas trees to fit your needs.
HIGH CEILINGS?
Whether it's a grand ballroom or a room with vaulted ceilings, our 15 to 18-FOOT CHRISTMAS TREES fill the space with holiday cheer.
PREFER POTTED?
Balsam Hill's TOPIARY TREES feature an ornamental potted style, perfect for use both indoors and outdoors.
Easy Set-Up & Storage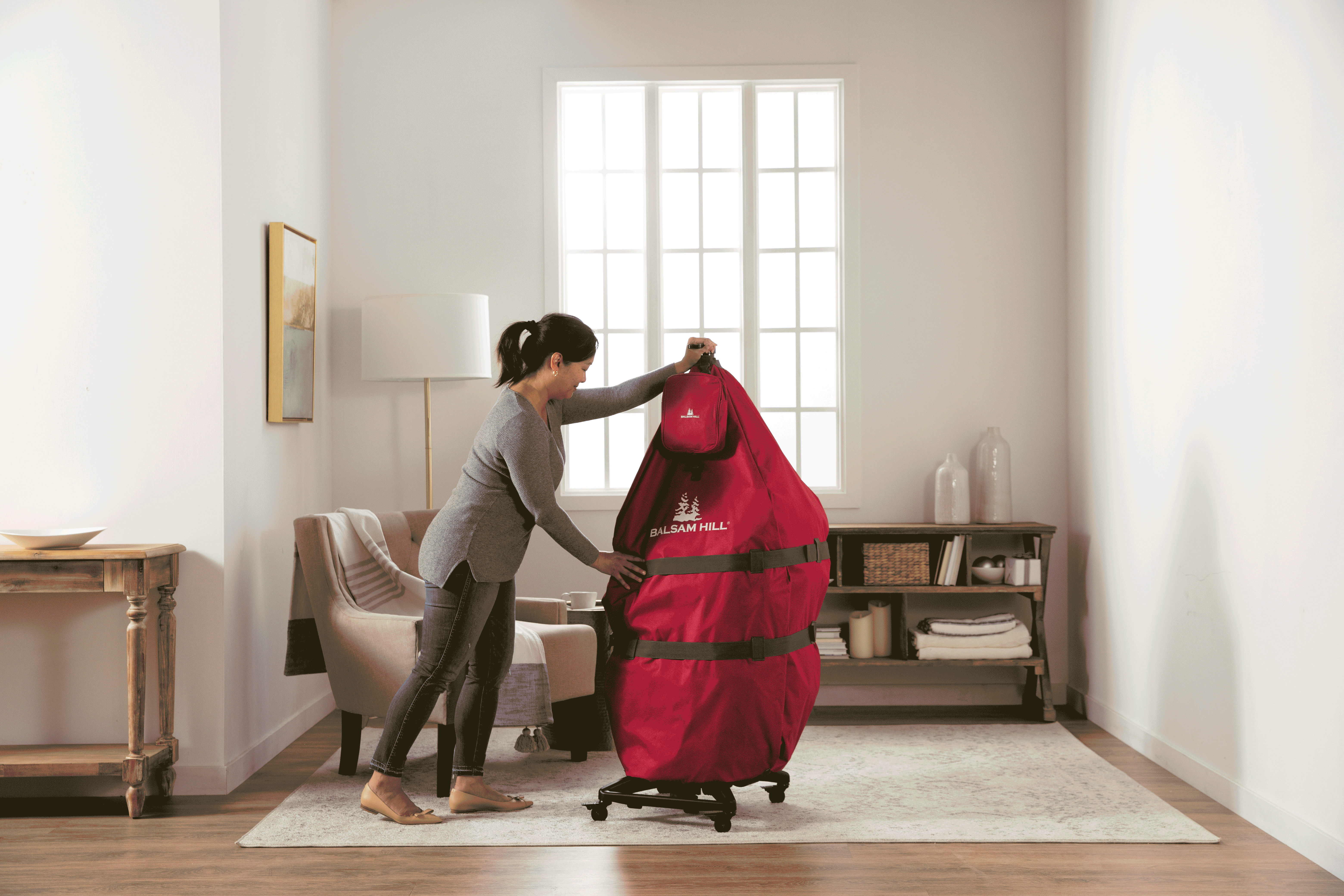 Balsam Hill offers you the convenience of easy assembly, disassembly, and storage. Our Christmas trees come carefully packaged with storage bags to ensure a quick and easy setup. Pre-wired lighting and clearly labeled sections allow you to mount your showpiece and create that perfect holiday mood in minutes.
Quick & Easy Assembly
EASY PLUG®
Our exclusive EASY PLUG system incorporates light connections in the trunk. Lighting your tree is as easy as plugging it into a wall socket.
FLIP TREE®
Enjoy effortless assembly and storage with our exclusive FLIP TREE design. No heavy lifting required. Just roll the tree base into place, flip it, and attach the treetop. Includes Easy Plug.
PRE-FLUFFED® INSTANT EVERGREEN
Reduce time fluffing your tree with our PRE-FLUFFED Christmas trees. These trees feature professionally-shaped memory wire branches that adjust into place upon unboxing. Includes Easy Plug.
SIMPLE STRING®
Easily add custom lights to your Christmas tree with our Simple String technology. Just plug in compatible light strings of your choice to the center pole sockets—no extension cords needed. The best part is that the lights stay in place so you won't have to string them again each year. Simple String is available on several unlit models.
NO-HASSLE CLEAN-UP
Enjoy a holiday season free of watering trees or sweeping up fallen needles. Balsam Hill artificial trees make set-up and clean-up a breeze without sacrificing the look and feel of live Christmas trees. In the off-season, our durable storage bags help you maintain your tree's condition. Simply dismantle the tree, place it in the bag, and you are ready for the following year. Upgrade to the wheeled bag shown here for even more convenience.
ECOLOGICAL BENEFITS
Inspire customers to make a difference by your choice of environmentally responsible products. By selecting a Balsam Hill Christmas tree, you will be showing support for green initiatives. According to the American Christmas Tree Association, artificial Christmas trees used over many years have a smaller impact on the environment than live trees from Christmas tree farms.
Extensive Lighting Options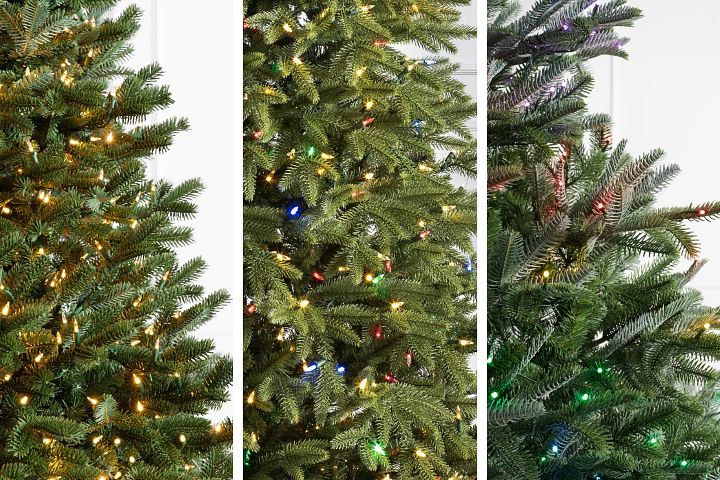 Set your holidays aglow with the brilliance of pre-lit artificial Christmas trees. Balsam Hill offers a variety of lighting options that complement any theme or style.
INNOVATIVE TECHNOLOGY
Let your holiday display shine with pre-lit commercial Christmas trees. UL Listed lights are professionally hand-strung to reduce the appearance of wires. Most of our artificial Christmas trees with lights are powered by our exclusive Easy Plug technology, which automatically connects light strings within the tree trunk. All you need is the single plug that goes into the wall to light up your tree.
BEAUTIFULLY BRILLIANT
Our artificial Christmas trees feature a wide range of commercial Christmas lights that will fit right into your holiday celebrations. Keep it simple and classic with the timeless look of traditional incandescent lights or add extra cheer and warmth to your display with energy-efficient LED lights. Can't quite decide between clear and multicolored lights? Our COLOR+CLEAR® technology gives you 40% more lights for extra brightness and allows you to switch from clear to multicolored to both with just the touch of a button.
MERRY & BRIGHT
Light up your holidays exactly the way you want with our pre-lit artificial Christmas trees that let you control the effects and colors of the lights. Our TWINKLY® trees allow you to map out and customize your lights from your mobile device. Express your creativity with each light bulb and surprise your customers with a spectacular Christmas light show this season.
Matching Wreaths & Garlands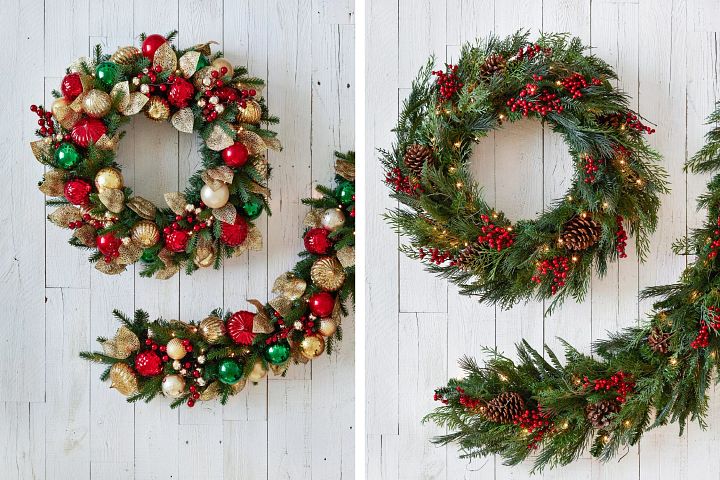 Balsam Hill also offers an exquisite line of matching Christmas wreaths and garlands. They feature the same type of foliage found in our Christmas trees, helping you easily extend the look throughout indoor and outdoor spaces. For a more festive tone, we also offer pre-decorated wreaths and garlands.
Christmas Decorations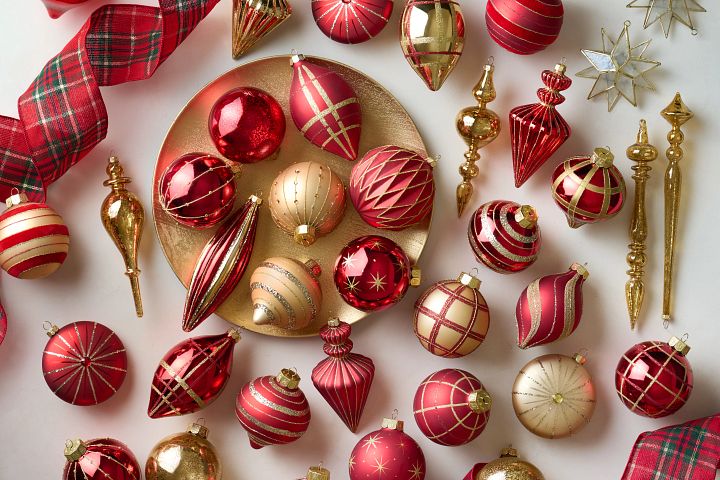 From heirloom-quality ORNAMENT SETS and beautiful RIBBONS to unique TREE TOPPERS and plush TREE SKIRTS, you'll find everything you need to trim your trees. We also offer other commercial Christmas decorations such as YARD DÉCOR, OUTDOOR CHRISTMAS LIGHTS, TABLETOP TREES, and more.
INDUSTRY-LEADING WARRANTY
With the excellent craftsmanship of our commercial Christmas decorations, you can expect their beauty to endure. Balsam Hill gives you an industry-leading warranty to guarantee excellence for years to come.
Investing in our trees will save you significant time, money, and hassle. We take great pride in the craftsmanship of our products, and we stand behind their quality. All non-clearance trees are backed by our Three-Year Limited Warranty. Balsam Hill Christmas trees on clearance, on the other hand, have a 60-Day Clearance Limited Warranty.
Unparalleled Customer Service
Our expertly trained business sales team is ready to help. Whether you're selecting commercial Christmas trees or holiday décor to match a brand, geography, space, or budget, Balsam Hill will be with you every step of the way.
For a hands-on look at our best-selling trees, we offer an exclusive BRANCH SAMPLE KIT containing authentic samples of our various branch tips.
FREQUENTLY ASKED QUESTIONS
How Are Balsam Hill Trees Made?
Balsam Hill's most realistic artificial Christmas trees are made using True Needle technology. We make casts of real branches to copy them down to the needle in this manufacturing technique. From the cast, we construct injection molds, which are filled with polyurethane and dyed with various pigments. This results in needles that mimic the color, texture, and structure of those found on real evergreens.
ARE BALSAM HILL TREES WORTH IT?
Balsam Hill trees are worth it because you're investing in a premium Christmas tree that will last for many seasons. Aside from their stunning realism, our trees are quick and easy to assemble and store, saving you more time and effort in the long run.
HOW LONG DO BALSAM HILL CHRISTMAS TREES LAST?
With proper care and storage, Balsam Hill artificial Christmas trees can last for many years.
WHICH BALSAM HILL TREE IS THE MOST REALISTIC?
The BH FRASER FIR® is our most realistic Christmas tree, which also makes it one of the best Balsam Hill trees. We use actual Abies fraseri branch clippings to create 40 different tip variations, the most that we've ever done for any of our trees. We've paid careful attention to every detail to bring you the look and feel of real farm-grown fraser firs – from the natural-looking branches to the five-split forked tips, the rich green foliage with silver undersides, and the long, organic treetop branches.
WHICH BALSAM HILL TREE IS BEST FOR HEAVY ORNAMENTS?
A long-time customer favorite, the VERMONT WHITE SPRUCE® is one of the best Balsam Hill trees for heavy ornaments. The tree has a full, conical silhouette and features upward sloping branches that are perfect for displaying baubles of different shapes and sizes.
CAN BALSAM HILL TREES GO OUTSIDE?
Balsam Hill Christmas trees can be displayed in covered outdoor areas that aren't exposed to the elements. If you're looking for commercial outdoor Christmas trees, the OAKVILLE OUTDOOR® ARTIFICIAL CHRISTMAS TREE is coated with a UV finish to resist the fading effects of the sun from prolonged exposure.
If you'd like to know more about the business discounts we offer or simply need help shopping for your establishment, get in touch with our Business Sales Team. You can send us an email at businesssales@balsamhill.com or call our business sales line at 1-877-44-BALSAM (1-877-442-2572).
CONTACT OUR BUSINESS SALES TEAM
LEARN MORE
For more guides and tips on commercial Christmas trees and decorations, read these next:
HOW TO CHOOSE THE PERFECT ARTIFICIAL CHRISTMAS TREE FOR A BUSINESS OR OFFICE SPACE