Christmas string lights are one of the most versatile decorations that can make your spaces look festive with minimal effort. Whether you prefer a simple or elaborate look, there are endless ways to enhance your home décor with them. Read on for some Christmas light ideas.
On Christmas Trees
Christmas trees are the focal point of many holiday displays and dressing them up with Christmas tree lights is a tradition. For a classic theme, use clear LED Christmas tree lights. If you want to add a contemporary twist, try multi-color bulbs or app-controlled light strings that allow you to create an animated show from your mobile device.
On Wreaths, Garlands, and Other Greenery
Make your christmas wreaths and garlands merry with added lights. Whether they're fully decorated with ornaments and ribbons or undecorated, LED Christmas lights are the perfect finishing touch. Wrap lights around your greenery or choose pre-lit and battery-operated ones so you can have more decorating flexibility.
Inside Lanterns
Create a warm atmosphere with lights inside Christmas lanterns. Whether you place them on shelves, by the stairs, or on your porch, these versatile pieces complement any holiday setting. Below are some Christmas light decorations you can try.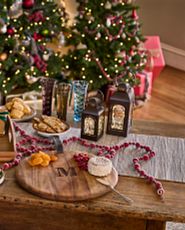 Tablescapes
By using holiday lanterns that match your tableware, you can create an inviting atmosphere that your guests will love. Fill them with light strings, ornaments, or trimmings and set them on long tables or dessert carts. You can also hang them above your dining area for unique lighting.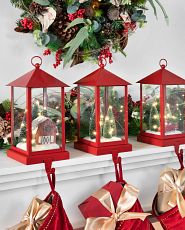 Mantels
The fireplace mantel is another focal point for homes, making it ideal for displaying lanterns. Arrange them in groups, then place them next to candles or stockings to complete the look. Another option is to drape light strings over the mantelpiece and around decorative items like Advent calendars or garlands.
As a Backdrop
Set the mood with Christmas lights as a background for special occasions and gatherings. Use them to create a waterfall effect or have a sheer curtain as a base. You can also hang your design behind a dessert table, photo booth, or even in your exterior lounge areas. Complete the look with outdoor-safe yard decorations.
Outdoors
Spread holiday cheer with the best outdoor Christmas lights. Make your home the highlight of the neighborhood and let passersby enjoy your creativity by stringing lights along walkways, porches, patios, or gardens.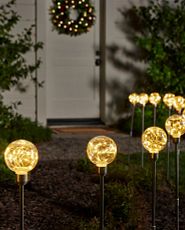 Pathways
Guide guests to your door with holiday-themed pathway lights. You can also string lights along the edges of your walkway or wrap them around topiaries for extra flair.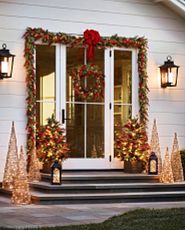 Patios and Porches
Create a unique display with LED wire sculptures on your patio or porch. They come in a variety of shapes, adding a touch of whimsy to your outdoor spaces. For example, lit minimalist cone trees tie up your holiday theme, while orb and star sculptures add visual interest to your entryway.
Frequently Asked Questions
Below we provide answers to some of your questions about decorating with Christmas lights.
How Do You Decorate With Lights All Year Round?
Choose Christmas lights that fit your design needs, whether they're LED bulbs or lanterns. Use them in creative ways to highlight features in your home. For example, try multi-color ones to match different seasons, and consider using those with built-in timers to save energy. You can also incorporate lights into your outdoor spaces to create a welcoming atmosphere.
How Do You Decorate a Room With Led Lights?
Select the right type and color of light strings that match your room's style. This will make it easier for you to highlight artwork and architectural details or create an accent wall. Another way is to lay down LED strips under furniture or along crown molding to achieve a subtle yet captivating look.
Why Are String Lights So Popular?
You can see string lights included in many decorated spaces because they are versatile. They're available in a variety of styles and colors, making them perfect for occasions such as holidays, weddings, or gatherings. Light strings are also easy to install indoors and outdoors, leaving you more time to spend with loved ones.
Where Do You Put String Lights in a Living Room?
Add coziness to your living room by draping light strings along shelves or mantels, placing them inside a mason jar or cloches, wrapping them around plants or furniture, or stringing them across the ceiling to create a unique DIY chandelier. Another option is to use them to highlight your photo gallery or art wall.
How Do You Put Fairy Lights on a Wall?
Decide where you want to place the fairy lights first, then use adhesive hooks or clear tape to secure them. Set them along the edges of your wall or use them to complement an accent feature such as a photo wall, art gallery, or statement mirror.
We hope these Christmas light decoration ideas inspired you for your holiday décor this year. Click the button below to see our full collection or request a catalog for style inspirations.
Learn More About Christmas Lights
Brighten up your home with more Christmas light décor ideas.