A tree glowing with Christmas lights makes any home look merry and bright. It adds warmth to holiday gatherings, whether you're enjoying a special meal or opening presents on Christmas Eve. At Balsam Hill, we offer pre-lit trees with various light options to suit your style. Here's everything you need to know about our Christmas tree lights.
Benefits of a Balsam Hill Pre-Lit Christmas Tree
Our pre-lit Christmas trees make assembly quick and easy, giving you more time to celebrate the season.
Professionally Hand-Strung
Lights are strung by hand to provide optimal coverage and keep wires from showing.
Easy Plug® Technology
Our patented trunk design has built-in light string connections for tangle-free set-up and storage. Simply plug the tree into an outlet to light it up. Available on most trees.
Optimized Bulb Hue
Exclusive Candlelight® LEDs cast a warm, candle-like glow unlike the blue tones of most LED lights.
Christmas Tree Light Types
We offer pre-lit trees with incandescent or LED lights in various colors. The main differences between these two types of Christmas tree lights lie in their energy efficiency and longevity.
Christmas Tree Light Bulb Types: Incandescent vs LED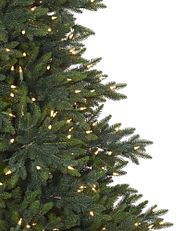 Incandescent Lights
Traditional Christmas lights heat a metal filament to produce light, emitting heat in the process. These are available at lower price points, but they burn out over time and consume more energy than LED lights.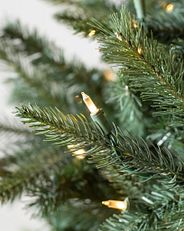 LED Lights
LED Christmas lights use light-emitting diodes that don't produce much heat. Although these cost more up-front, they emit brighter light and consume less energy. They also stay lit longer, saving you on both electricity and replacement bulbs.
Incandescent Lights
We use premium commercial-grade lights that stay lit even if one bulb burns out or is removed. Our incandescent-lit trees shine bright for approximately 3,000+ hours.
Types of LED Christmas Lights
Opt for a classic look with Candlelight LED, switch it up with color-changing lights, or go for smaller lights that create a big impact. Enjoy energy-efficient, long-lasting lights no matter what style you choose.
Specialty LED
Showcase your style with animated lights that create a stunning Christmas tree display.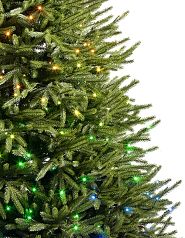 Twinkly® Light Show
A smart LED lighting system that lets you customize your lights (See Video)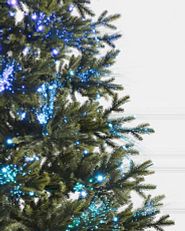 Fiber Optic Light Show
Choose from multiple light show options to set a merry mood (See Video)
Control Types
Manage your Balsam Hill pre-lit Christmas tree with easy-to-use controls that vary from a simple foot pedal to an innovative app.
Manual
Turn lights on and off with a foot pedal for standard trees or a control box with timer function for potted trees. On/off foot pedal included for trees with Clear or Multi Lights.
Remote Control
Switch between clear lights, multicolor, or both with the touch of a button. Included for all trees with Color + Clear Lights.
App
Choose from pre-set light shows and customize them to your mood—all through your phone. Available for Twinkly Light Show trees.
Unlit Trees
If you prefer to use your own lights, see our selection of unlit Christmas trees. Each is designed as a beautiful canvas for your decorating style.
Simple String®
Our Simple String technology allows you to plug in compatible light strings of your choice without running extension cords through your tree. Best of all, it keeps your lights in place, so you won't have to hang them again next Christmas.
Light Strands
Brighten up your tree with our specialty light strands. We offer different types of Christmas string lights, from cluster micro LED lights to color-changing Twinkly light strings. Note that their lengths and light counts vary based on style.
How Many Lights Do I Need for My Christmas Tree?
The number of lights needed for a Christmas tree depends on various factors, including the tree's height, shape, preferred density and bulb type. For example, a 7-foot tree with a full profile will require a higher count of fairy lights or other tiny LEDs than a narrow tree of the same height. Read our guide on How To Choose and Hang Christmas Lights to find your ideal light type. To ensure your safety, remember to use UL-listed lights and seek expert assistance on electrical wiring and energy consumption.
Here are our recommended light counts based on tree height and desired coverage. Feel free to add lights depending on your preference.
| Tree Height | Low Density | Medium Density | High Density |
| --- | --- | --- | --- |
| 6.5 feet | 325 | 650 | 975 |
| 7.5 feet | 450 | 900 | 1350 |
| 9 feet | 675 | 1350 | 2025 |
| 10 feet | 800 | 1600 | 2400 |
| 11 feet | 900 | 1800 | 2700 |
| 12 feet | 1000 | 2000 | 3000 |
Need Help?
We hope this guide helped you better understand the wide array of Christmas tree light types for your perfect display. For tips on how to hang your Christmas lights, read
this post
.