Spread holiday cheer with a merry light display outside your home. In this comprehensive guide, we walk you through easy tips and practical considerations on how to hang Christmas lights around your home's exterior.
How To Choose Your Christmas Lights
It's helpful to identify the right lights first before learning how to hang Christmas lights on your house. Here are our tips for choosing the perfect lights for your roof, windows, and outdoor spaces.
Know the Difference Between Indoor and Outdoor Lights
Not all Christmas lights are suitable for both indoor and outdoor use. Unless specified otherwise, most lights should only be used indoors.
The first step to figuring out how to hang Christmas lights outside is to choose a product specifically marked "outdoor-safe". Look for lights that have been approved by trusted companies such as UL (Underwriters Laboratory) or ETL (Edison Testing Laboratories).

Find the Right Type of Lights To Hang Outside
Christmas lights come in a wide array of colors, sizes, and special features to suit different decorating styles. Survey the outdoor area you intend to decorate and determine which light type will accentuate the space best. Learn more about common light types to help narrow down your options. You can opt to combine different kinds for a dazzling display.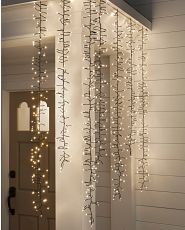 Cascading String Lights
Also referred to as icicle lights, these long light strings hang vertically and cover large areas with a curtain-like effect.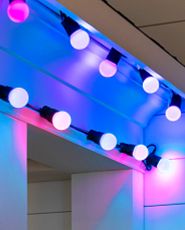 Festoon String Lights
Festoon lights feature small to mid-sized bulbs evenly spaced out along the length of the string and are meant to hang horizontally across roof gutters and moldings.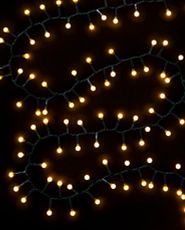 Outdoor-Safe Christmas String Lights
Outdoor-safe traditional Christmas lights with either classic warm white or multi-colored bulbs that can be wrapped around porch railings and posts or used to illuminate trees and shrubbery.
Regardless of the type of outdoor Christmas light you choose, also take into consideration the bulb type. LED lights emit less heat and consume less energy compared to traditional incandescent bulbs. They may be a bigger investment upfront, but LED bulbs last longer and can help you save on electricity costs and replacement bulbs.
Measure Your Hanging Space
Measure the area where you plan to install the Christmas lights. Then, compare this with the length of the light strings to determine how many strands you'll need.
Insider's Tip
Use a tape measure to get the length of your roof line, window edges, and other exterior surfaces before calculating how many light strings you will need. Save the measurements so you can access the information the following year.
The standard length for a 50-light strand is 25 feet, while a 100-light strand usually measures 50 feet. For example, if you need to cover a 120-foot space, you'll need at least five 50-light strands or three 100-light strands. You may need more if you're hanging the lights in a pattern.
How To Hang Outdoor Christmas Lights: Step by Step
Lights outside add an enchanting glow to exterior spaces. Wrap them around
outdoor Christmas decorations
, trees, or greenery, or hang in a pattern from eaves and railings. Remember to use the proper tools and follow safety precautions for a trouble-free installation.
Materials
Measuring tape
Ladder
Extension cords
Christmas light clips and insulated hooks
Steps
Step 1

|

Untangle the lights

Carefully untangle all the lights and lay them out on a dry surface outside.

Plug in the light strings and check if all the bulbs are working. Also do a cursory check on your extension cords and other electronic accessories, if using. Make sure there are no frayed wires or other damage.

Step 3

|

Measure your section

If you're thinking about how to hang Christmas lights on the roof with festoon lights, use a tape measure to know the length of the section you'll hang lights on and compare it against the length of the light string to make sure it will fit. When assessing how to hang Christmas lights on gutters using cascading lights, measure even spaces between light string placements for a uniform effect.

Step 4

|

Attach the hooks

Secure the Christmas light hooks and clips to your chosen location. Spread out the hooks evenly to prevent the light strings from drooping or gaping. If you're wondering how to hang Christmas lights around windows, you may opt to use Christmas light hooks or window clips with either adhesive backing on the window frame or suction cups against the glass itself.

Step 5

|

Hang the light strings

Carefully attach the light strands using the clips or the hooks. Make sure each section is free of tangles or twists.

Step 6

|

Plug in the lights

Once the lights are in place, plug them in to ensure that the entire set-up works. Step back and check your display for any inconsistencies.
Insider's Tip
Invest in a
Christmas Light Storage Box
to make both setup and storage of your Christmas light strings hassle-free. Spools inside the box help avoid tangles and minimize bulb breakage.
How To Hang Christmas Lights on Roof Without Gutters
If you're curious about how to hang Christmas lights on roofs without gutters, you can use clips to attach the lights to the shingles. You can also use ones with adhesive backing. Keep in mind, however, that light clips made of plastic may become brittle and break over time after prolonged sun and weather exposure
Safety Tips for Hanging Outdoor Christmas Lights
Follow these tips to make installing your outdoor light display as safe as possible.
Observe Extra Caution When Using Ladders
Make sure to set the ladder on dry and even ground. Have someone outside with you to hold the ladder securely in place from the bottom.
Only Use Lights as Directed
Read the manufacturer's guide on the proper use of your light strings. Verify that they can be used outdoors. Do not pull, twist, tie together, or weigh down lights to lessen the risk of damage and fire.
Minimize Electrical Hazards
Avoid overloading extension cords. To be on the safe side, only use 75% of the available plugs and remember to use one plug per outlet. Use insulated light looks or nails to secure the light strings safely.
When the holidays are over, make sure to store your Christmas lights properly so you can use them for years to come. Invest in a special Light Strings Storage Bag so you don't have to deal with tangled wires every season. For more tips, check out our guide on How To Store Christmas Lights.
We hope this guide helped you learn all about Christmas lights and how to hang them. Visit our website to see our collection of outdoor Christmas lights
Learn More
For more holiday decorating tips and guides, check out these articles.