Themed Christmas trees are nothing short of magical. They tell a beautiful story while keeping holiday traditions alive. Aside from this, choosing a curated set of themed Christmas ornaments also helps take the guesswork out of decorating your tree. All you must do is select a theme that suits your style. Check out these Christmas tree décor ideas below and find out where you can shop for the best themed ornaments. 
Whimsical Themed Ornaments
Delight both the young and young-at-heart with a wondrous display.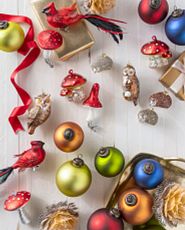 Enchanted Woodlands
Have a fairytale Christmas with magical garden-themed Christmas ornaments in vibrant jewel tones.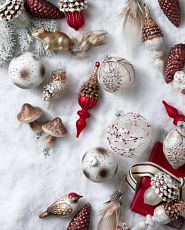 Alpine Grove
Create a winter wonderland with ornaments shaped like mushrooms, birds, and acorns.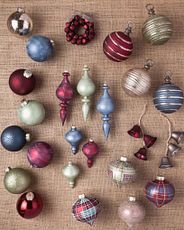 Farmhouse
Bring back childhood memories with homespun ornaments and rustic tree trimmings in plaid fabric, tin, wood, and jute or burlap.
Glamorous Themed Ornaments
Leave a lasting impression with elegant and luxurious vintage-inspired décor.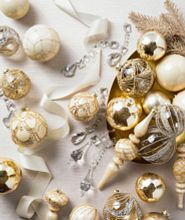 Roaring Twenties
Celebrate the exuberance of the Jazz Era with gilded and crystalline ornaments.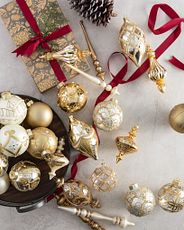 Biltmore Legacy
Honor one of America's most loved holiday homes with opulent ornaments inspired by the Biltmore.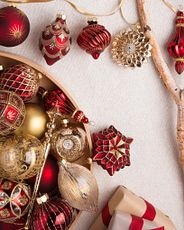 Brilliant Bordeaux
Build a breathtaking holiday display with crimson and gold Christmas tree decorations in intricate shapes and designs.
Contemporary Themed Ornaments
Put a modern spin on Christmas tree décor with unexpected and unique Christmas tree ornaments and themes.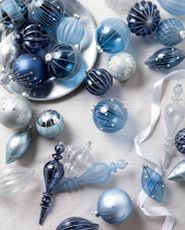 Coastal Chic
Bring a touch of sea and sky into the holidays with beach-themed Christmas ornaments in shades of blue. Incorporate other ocean-themed ornaments in the shape of marine life, too.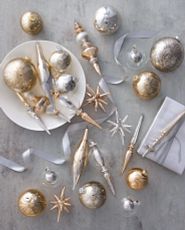 Modern Metallics
Mix gold and silver tones for a modern version of a glittering Christmas tree, suitable for both full trees or sparse and minimalist silhouettes.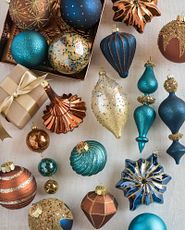 Georgetown
Offer a fresh take on Christmas tree décor with blue and copper ornaments with elegant details.
Classic Themed Ornaments
Uphold tradition with a grand showcase of beloved Christmas tree ornament shapes and styles.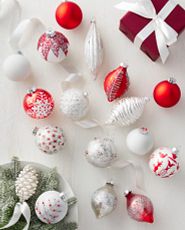 Nordic Frost
Elevate familiar decorations by featuring snowflakes and reindeer against a backdrop of white and red.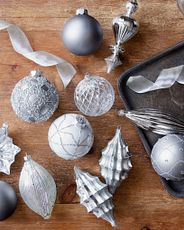 Crystal Palace
Dream of a White Christmas with silver and glass balls and finials perfect for flocked Christmas trees.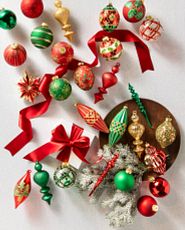 Christmas Cheer
Evoke a nostalgic feel with classic red and green Christmas tree ornaments with glittery gold accents.
Frequently Asked Questions
Here are the answers to common questions about Christmas ornament themes for trees.
How To Decorate in Theme for Christmas?
First, choose your specific theme. You can look at catalogs or even window shops in department or home stores for inspiration. Then, start planning the ornaments that best exemplify the concept you have in mind. For example, rustic Christmas trees often feature homemade wooden or vintage tree ornaments. Complement with simple Christmas balls and finials in colors in a cohesive palette to fill out your tree. Consider matching other tree accessories as well, such as toppers and tree skirts.
What Are the Best Color Themes for Christmas?
The colors that best connote Christmas are red, green, and gold. You may also use icy white and silver hues. However, don't feel limited by these traditional colors. Experiment with jewel tones, shades of pink, or mixed metal finishes for a trendy and unique Christmas tree.
How To Use Nature To Decorate for Christmas?
Choose artificial Christmas trees, wreaths, and garlands that are as lifelike as possible to capture the rustic beauty of traditional holiday decorations. These look and feel like the real thing but are the more practical and fuss-free option.
The best place to buy Christmas ornaments is right here at Balsam Hill. Explore our wide range of Christmas decorations perfect for getting your home ready for the holiday season. You can also visit our resource center for more expert guides and tips.
Learn More About Christmas Ornaments
Visit these helpful links below for more insight on decorating your holiday tree.