Decorating the perfect tree can be overwhelming with so many styles of décor available. However, choosing a theme that matches your taste and style can make the process easier. In this guide, we will cover the most common types of Christmas tree decorations and provide tips to consider before buying.
Christmas Tree Toppers
Tree toppers are decorative ornaments placed on the top of a Christmas tree. They come in various shapes, sizes, and designs, and are typically used to add a finishing touch to the tree. The purpose of a tree topper is to add an attractive and festive element to the Christmas tree, enhancing its overall appearance and helping to create a welcoming and joyful atmosphere in the room.
Types of Tree Toppers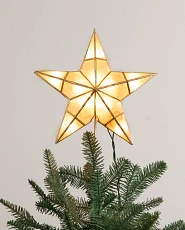 Stars
Ranges from 5-pointed stars to 3-dimensional Moravian designs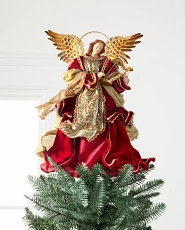 Figurines
Includes angels, Santa Claus, and other classic holiday characters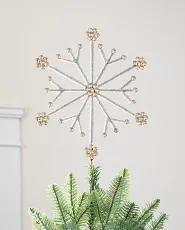 Snowflake
Assorted snowflake designs ideal for winter holiday themes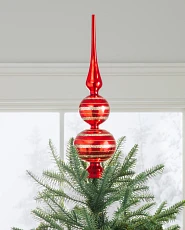 Finials
Elongated and tapered toppers in various shapes and sizes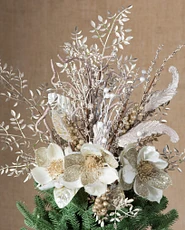 Bouquets
Arrangements with faux flowers, leaves, and berries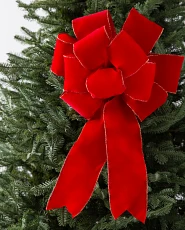 Bows
Lightweight tree toppers made of decorative ribbons
What Size of Tree Topper Do I Need?
Consider the factors below to ensure your topper suits your Christmas tree.
Height of the Tree – Check that you have enough clearance for a topper. Allot at least 6 inches of space between the ceiling and the top of the tree topper.
Shape of the Tree – Choose a topper that complements the shape of your tree. Wide toppers like stars or angels are perfect for a full tree, while elongated ones work well on narrow trees.
Weight of the Tree Topper – Try to balance the topper in the palm of your hand. If it falls within 3 seconds, it might need additional support.
How Do I Properly Secure and Position the Tree Topper?
Tree toppers usually have a conical, spring, or spiral base. Insert the top branch of your tree into the base and secure it with green floral tape or zip ties if needed. Read our guide to Christmas tree toppers for more tips.
Are There Any Safety Considerations in Adding a Tree Topper?
Ensure it's securely attached to the top of the tree to avoid falling off and causing potential harm. Additionally, if using lights or other electrical components on the tree topper, follow proper safety guidelines to prevent accidents.
Christmas Tree Ornaments
Invest in basic globe ornaments and pair them with themed collections for easy decorating. We offer many Christmas tree ornaments, whether you're looking for the classic red, green, and gold look, a winter wonderland theme, or something in between.
Types of Ornaments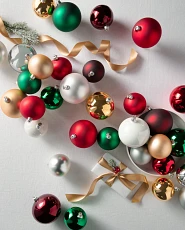 Globe Ornaments
Standard Christmas tree balls made of glass, metal, plastic, or acrylic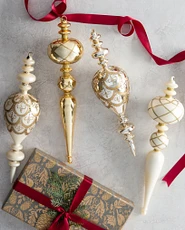 Finials
Long, tapered points on one end with either a round or egg-shaped bulb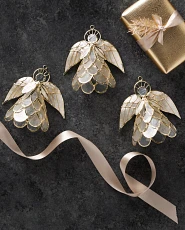 Angels
Angel ornaments made from glass, plastic, or metal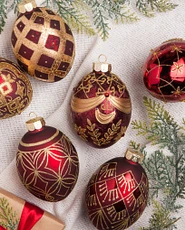 Egg Ornaments
Egg-shaped ornaments made of blown glass and feature intricate designs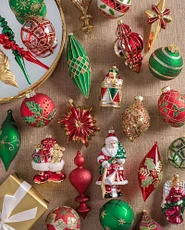 Figurines
Includes nutcrackers, Santa Clause, reindeer, and elves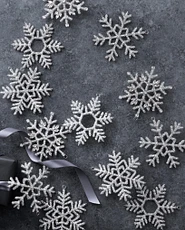 Snowflakes
Made from glass or iron in a variety of unique patterns and designs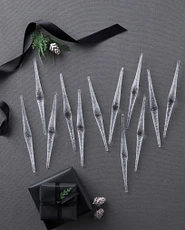 Icicles
Made from assorted materials like blown glass, plastic, or acrylic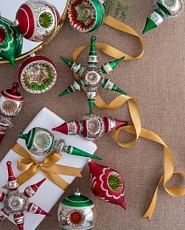 Vintage Ornaments
Ornaments from older generations or replicas designed to look vintage
How Many Christmas Ornaments Do I Need?
There's no set rule for the number of ornaments on a Christmas tree. How many you choose to use largely depends on your personal style preferences. Some people prefer a more minimalistic look, while others like to use various ornaments to create a more eclectic look.
In the guide below, we've combined various factors to give you our recommended count for tree ornaments. However, keep in mind that you may need to adjust the resulting number depending on the sizes or types of ornaments you plan to use. The table in the guide considers ornament sizes ranging from 4 inches to 8.75 inches long.
| Tree Height | Light Coverage | Heavy Coverage | Ornaments |
| --- | --- | --- | --- |
| 6.5 feet | 70 pieces | 105 pieces | 4-8.75 inches |
| 7.5 feet | 105 pieces | 140 pieces | 4-8.75 inches |
| 9-10 feet | 175 pieces | 210 pieces | 4-8.75 inches |
What Size Should My Ornaments Be?
The ideal size for Christmas tree ornaments can vary depending on your preference and the tree size. As a general guideline, smaller ornaments (around 2-3 inches in diameter) work well on 4-6 feet tall trees, while larger ornaments (around 4-6 inches in diameter) are better suited for taller trees. Ultimately, the best ornaments complement the overall aesthetic of your tree and bring you joy during the holiday season.
How Do I Properly Hang and Arrange the Ornaments on My Tree?
When decorating your Christmas tree with ornaments, start with the larger decorations as they are heavier and look best towards the bottom of the tree. Evenly distribute the ornaments to create balance and avoid clumping. Add smaller ornaments to fill gaps and create depth. Space the ornaments out and vary their placement for a natural look. Step back frequently to assess the tree's balance and adjust as needed.
Insider's Tip
If you prefer heavier coverage, you'll need more ornaments on full trees compared to narrow ones. Sparse trees with widely spaced branches are great for showcasing ornaments, while fuller trees provide more room for layering multiple sets. Read our guide to buying Christmas ornaments for more tips.
Christmas Tree Ribbons
Christmas tree ribbons are an easy way to add texture to your display. Go for embroidered ribbons for a luxurious touch, metallic ribbons for extra sparkle, or layered ribbons for a unique look.
What Is the Ideal Length of Ribbon for Christmas Trees?
When decorating your Christmas tree with ribbons, the style you choose will determine the length of ribbon you need. A good rule of thumb is to have at least 3 yards of ribbon per foot of tree. If you prefer a simple look, start at the top of the tree and wrap the ribbon around it in a downward spiral. The wider your tree, the longer the ribbon you'll need. Here's a rough guide based on tree size to give you an idea:
| Tree Height | Ribbon Length |
| --- | --- |
| 6.5 feet | 19.5 yards |
| 7.5 feet | 22.5 yards |
| 9-10 feet | 27 - 30 yards |
What Width of Ribbon Should I Choose?
When choosing the perfect ribbon for your Christmas tree, it's important to consider the size of your tree. A 1-2-inch ribbon will work great for smaller trees, while larger trees require a wider ribbon, around 2.5-4 inches. Your decision on the ribbon width should be based on the look you want to achieve for your tree.
How Do I Properly Drape, Tie, or Arrange the Ribbon on My Tree?
Draping, tying, or arranging ribbon on a Christmas tree can be a fun and creative process. Here are some tips to help you get started:
Choose the right ribbon – Ensure you have enough ribbon to cover your entire tree. It's best to opt for a wired ribbon as it holds its shape and is easier to manipulate.
Start from the top – Begin by tying the ribbon to the top of the tree and letting it cascade down in a gentle, flowing manner.
Loops and twists – Create loops and twists in the ribbon as you go down the tree. This helps add dimension and texture to the overall look.
Layering – Layer multiple ribbons of varying widths and textures to create a visually interesting effect.
Experiment – Don't be afraid to experiment with different styles and techniques until you find a look you love.
Watch this video for more tips on decorating a Christmas tree with ribbon:
Insider's Tip
Using wide ribbons adds a fuller look to narrow or slim trees, especially when hung in billows. For easier styling, opt for wired ribbons that hold their shape. Read our guide to decorating a Christmas tree with ribbon for more styling tips.
Christmas Tree Garlands
Christmas tree garlands are decorative strands of materials such as tinsel, beads, ribbons, or lights draped around or hung from a tree. The best type of garland will depend on the overall style of your tree and your personal preferences. If you have a traditional Christmas tree, you may want to choose a tinsel or bead garland. If you have a more modern Christmas tree, you may want to choose a ribbon or greenery garland.
How Do I Hang a Garland on My Christmas Tree?
Start by draping the garland around the tree in a spiral pattern, starting from the top and then working your way down. You can use hooks or twist ties to secure the garland to the tree branches.
Can I Use Lights on My Garland?
Yes, you can use lights on your garland. However, it's important to make sure that the lights are compatible with the garland and that they're safe to use.
How Do I Store My Christmas Tree Garland?
To store your Christmas tree garland, simply wrap it around a cardboard tube or a pool noodle. This will help prevent the garland from becoming tangled. You can then store the garland in a cool, dry place.
Tips for Decorating With Christmas Tree Garlands
Choose a garland that's the right length for your Christmas tree. You don't want the garland to be too short or too long.
If you're using multiple garlands, make sure that they coordinate with each other.
Don't be afraid to experiment. There are no hard and fast rules when it comes to decorating with Christmas tree garlands.
Christmas Tree Fillers
Christmas tree stuffers are decorations that fill empty spaces on the tree and add depth and texture to its overall appearance. These fillers come in various shapes, sizes, and colors and can be made from different materials. Some popular ones include tree picks, sprays, and natural items like twigs and pinecones.
How To Mix and Match Christmas Tree Fillers?
Mixing and matching Christmas tree inserts is a great way to add depth and interest to your décor. Start by choosing a color scheme or theme, then select a variety of fillers such as ornaments, ribbons, garlands, and floral picks that fit within that scheme. Experiment with different combinations and placements until you achieve the desired look.
How Do I Use Christmas Tree Picks and Sprays?
Use Christmas tree picks and sprays to fill gaps in the tree and complement your ornaments. Simply tuck the stem into a branch and adjust the placement. Try layering floral picks with leaves or berries or turn them into a DIY bouquet tree topper.
Christmas Tree Filler Ideas
Fillers are a great way to add more dimension and texture to your tree. Here are some ideas for Christmas tree fillers:
Pinecones – These natural items are perfect for adding a rustic touch. You can use them as they are or paint them to match your color scheme.
Twigs and branches – Use small twigs or branches to fill empty spaces. You can spray paint them or add glitter to make them sparkle.
Floral picks – These are a wonderful way to add pops of color and texture. Choose picks with different flowers, leaves, and berries to create a visually interesting effect.
Ornaments – Use ornaments to fill gaps or hang them from branches to add depth.
Ribbon – Use leftover ribbon to create bows and loops to cover empty spots on your tree.
Feathers – Feathers can add a whimsical touch to your tree. Use them as they are, or spray paint them to match your color palette.
Faux snow – Add a touch of winter wonderland by sprinkling faux snow on the branches.
Insider's Tip
Add as many Christmas tree picks as you need to get the desired look. Floral or leaf picks tend to be bigger than berry picks, providing more coverage. To make them stand out, spread out a few picks throughout the tree.
Tree Skirts, Collars, & Stands
To complete your theme, choose from various Christmas tree skirts that cover the base of your tree. You may also want to explore Christmas tree collars or creative tree stands that give your display a different look.
Christmas Tree Skirts
Tree skirts began as a way to protect the floor from falling needles and wax drippings of traditional candlelit Christmas trees. Now, it hides the wires of your tree lights and creates a beautiful backdrop for presents.
What Is the Purpose of a Christmas Tree Skirt?
A Christmas tree skirt is a decorative cloth that goes around the base of a Christmas tree. Its purpose is to cover the tree stand and any cords or wires while also creating a backdrop for the presents that are usually placed under the tree. The skirt also helps protect floors or carpets from fallen needles or sap.
What Size Tree Skirt Should I Get?
Go for one at least 6 inches bigger than the full width of your tree. Make sure that it covers the entire tree base. For more details, see the table below or read our complete guide to Christmas tree skirts .
| Tree Width | Tree Skirt Size |
| --- | --- |
| 30-42 inches | 36-48 inches |
| 42-54 inches | 54-60 inches |
| 54-64 inches | 70-72 inches |
| 64-76 inches | 84 inches |
How Do I Properly Position the Tree Skirt Around the Tree?
When putting the tree skirt around your Christmas tree, start by making sure the tree is centered and level. Then, gently wrap the skirt around the tree's base to cover the tree stand. Adjust as needed to ensure the skirt is evenly distributed around the tree.
Christmas Tree Collars
Tree collars are conical cylinders that latch around the base of your tree. These offer more coverage than tree skirts and are commonly made of metal, wood, or natural fibers.
What Size Tree Collar Should I Get?
When buying a tree collar, check if it's compatible with your tree's height and pole diameter. Our small collars suit trees below 7 feet, while the large collars accommodate 7- to 11-foot-tall Christmas trees. See our guide to Christmas tree collars for more ideas.
Christmas Tree Stands
Unlike skirts and collars that cover your tree base, a decorative tree stand replaces it completely. This supports the weight of your tree and completes your theme.
What Size Tree Stand Should I Get?
Choose one that accommodates the diameter of your tree pole and any special features of the base. Note that tree stands add height to your tree.
Frequently Asked Questions
Here are the answers to some of the most common questions about Christmas tree decorations.
What Are the Most Popular Christmas Tree Decorations?
The most popular Christmas tree décor includes ornaments, lights, garlands, and tree toppers. Ornaments are often personalized or themed, while lights can be clear or multi-colored. Garlands can be made from tinsel, beads, or popcorn, and tree toppers can be traditional stars or angels or more unique options like bows or snowflakes.
What Are the Popular and Trending Themes or Styles for Christmas Tree Decorations This Year?
This year's popular and trending themes or styles for Christmas tree décor include rustic, natural, minimalist, and vintage. Many opt for a simple, elegant look with neutral colors and handmade ornaments. Others prefer a more colorful, playful approach with bright hues and whimsical decorations. Metallic accents and unique textures are also popular this year.
How To Choose a Color Scheme or Theme for My Christmas Tree Decorations That Complements My Overall Holiday Décor?
To start, consider the color palette of your overall holiday décor. Traditional styles often use classic hues like red, green, and gold. Try a monochrome scheme or choose shades outside the traditional palette for a more modern look. You can also choose a theme, such as a winter wonderland or rustic woodland, and select colors that match the theme. Whichever color scheme you choose, make sure it complements your holiday décor and brings you and your loved ones joy.
How Can I Properly Store and Maintain My Christmas Tree Decorations for Future Use?
To safely store tree décor, remove any hooks or hangers, wrap fragile ornaments in tissue paper or bubble wrap, and place them in a sturdy container with dividers to prevent damage from bumping. Store the container in a cool, dry place away from direct sunlight and moisture to ensure your Christmas tree accessories stay in good condition for years.
What Is a Christmas Tree Decorating Kit?
A Christmas tree decorating kit is a set of decorations and accessories designed to help you decorate your Christmas tree. These kits typically include ornaments, garlands, tree toppers, hooks, ribbons, and other materials to hang and display your decorations. Some kits may also have lights and other accessories to enhance your tree's look.
What Are the Must-Have Items on a Christmas Tree Decoration List?
When it comes to decorating your Christmas tree, there are a few must-have items that will help bring your vision to life. These include:
Ornaments – Whether you choose classic glass balls, personalized ornaments, or handmade creations, ornaments are essential to any Christmas tree décor.
Lights – From traditional white lights to colorful LED strands, tree lights add sparkle and shine to your display.
Garland – Tinsel, beads, popcorn, or ribbon garlands can add texture and interest to your tree.
Tree topper – A tree topper is the crowning glory of your tree and can be a star, angel, bow, or other decorative items.
Tree skirt or collar – A tree skirt or collar can hide the tree stand and add a finishing touch to your display.
What Are Some Creative Ways To Decorate a Small Decorative Christmas Tree?
There are many creative ways to decorate a small tree and make it stand out. Here are some ideas to get you started:
Use miniature ornaments – Instead of regular-sized ornaments, use miniature ones to decorate your small tree. These will add the same amount of charm and personality to your tree, without overwhelming it.
Add a colorful tree topper – A tree topper is the perfect finishing touch to any Christmas tree. Choose a colorful topper to add a pop of color to your small tree.
Wrap the tree in a decorative ribbon or garland – Wrapping your small tree in decorative ribbons or garlands is a great way to add texture and interest. You can choose a ribbon or garland matching your other decorations' color scheme.
Use unique ornaments – Instead of traditional ornaments, use unique ones that stand out on your small tree. You can use handmade, vintage, or ornaments that reflect your style.
Add lights or garlands – Adding lights or garlands to your small tree will make it look more festive and bright. You can choose clear or colored lights or a garland made from tinsel, beads, or popcorn.
Christmas tree decorating is an exciting and fun way to get into the holiday spirit. There are many different styles and themes available, and by following the tips and advice outlined in this guide, you can create a beautiful and memorable tree that will be the centerpiece of your holiday décor. With creativity and inspiration, you can bring joy and happiness to your loved ones during this festive season.
Find More Christmas Tree Decorating Tips
Read these next for more expert Christmas tree decorating tips and ideas: