The holiday season is a time of joy and one way to spread that joy is through decorating your Christmas tree with felt ornaments. In this article, we'll share a few ideas on how to spruce up your tree with felt décor to make your celebrations more memorable.
Felt Christmas ornaments are small decorative pieces made from soft, pliable felt fabric. They can take various shapes and designs, from vintage felt ornaments to whimsical felt animal ornaments. They're also lightweight, so you can easily hang them on Christmas trees, garlands, or wreaths, or use them as decorative accents at home.
Felt Christmas Ornament Ideas
Here are some felt ornament decorating themes you can try.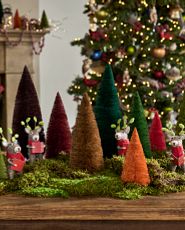 Whimsical
Infuse a sense of whimsy into your holiday decorations with caroling reindeer felt ornaments. This set features Santa's sleigh pullers in charming outfits, seemingly singing Christmas carols. Hang them on your tree or make them part of your tabletop décor.
Furry and Fun
Showcase your love for furry friends during the holiday season. Dog-shaped felt ornaments come in various breeds and poses, capturing the playful nature of your beloved pets. Hang them on your tree or use them as gift toppers to add a playful touch to your presents.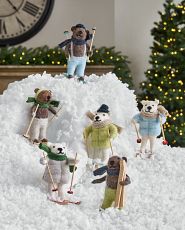 Winter Wonderland
Transport yourself to a snowy mountain retreat with bear felt ornaments in cozy winter attire and ski equipment. Hang them on your tree or incorporate them into a centerpiece to bring the beauty of the outdoors into your holiday décor.
Frequently Asked Questions
We answer more questions about felt Christmas decorations below.
What Kind of Felt Is Best for Ornaments?
The best felt ornaments use high-quality wool or wool blend felt. This type of material is durable and holds its shape well. Wool felt ornaments also have a unique texture that enhances the look of your décor.
How Do You Store Felt Ornaments?
Store felt decorations the way you would other ornament sets. Wrap them in acid-free paper or use dividers before putting them in storage bags. Avoid exposing them to direct sunlight or extreme temperatures, and pick a cool, dry place to store them along with your other seasonal decorations.
Why Should I Use Felt Ornaments?
Felt ornaments are lightweight, durable, and versatile enough for any decorating theme. Rustic felt ornaments are perfect for woodland-themed decorations, while DIY felt ornaments give a more personalized look. They also provide a cozy and nostalgic feel, creating a warm and inviting atmosphere during the holiday season.
What Kind of Décor Can I Mix With Felt Ornaments?
Pair felt Christmas décor with nature-inspired elements like wood and berries for a rustic look or choose metallic accents for an elegant touch. Whatever decorating theme you have in mind, you can mix and match different textures and colors to add depth to your décor.
Felt ornaments offer a delightful way to add charm and personality to your holiday decorations. Browse our complete selection of Christmas ornaments on our website for more choices.
Find More Holiday Decorating Tips
Read these next for more holiday decorating ideas.