Here at Balsam Hill, we're always on the lookout for the best Christmas décor. Whether nostalgic, rustic, or glam, we keep an eye on trends to make sure our customers enjoy a wide variety of options. Below we share our most popular Christmas decorations, including expert tips to help you spruce up your home for the holiday season.
10 Best Christmas Decorations
From heirloom-quality ornament sets to festive holiday accents, Balsam Hill offers everything you need to prepare for the merriest time of the year. Here's a list of some of our most popular Christmas décor this year.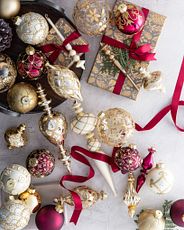 Biltmore Legacy Ornament Set
This ornament set brings the grandeur and elegance of the Biltmore Estate to your holiday décor. Available in burgundy and sapphire and gold sets, the collection features assorted balls, finial, onion, and drop ornaments decorated with glitter, pearls, and faux crystal accents.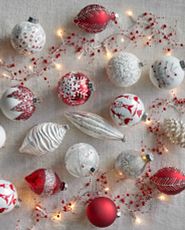 Nordict Frost Ornament Set
Our Nordic Frost collection celebrates the understated elegance of Scandinavian design. The base ornament set features glass balls, finials, and teardrops in white, silver, and red hues with hand-applied beading and glitter accents. Mix and match sets for a charming decorating theme.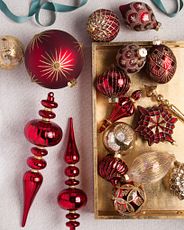 Brilliant Bordeaux Ornament Set
Crafted from mouth-blown glass and painted by hand, our Brilliant Bordeaux collection features intricate beading and glittery accents. The base ornaments perfectly complement the egg, jumbo, and finial sets, turning your tree into a stunning statement piece.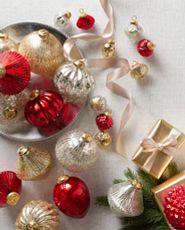 BH Essentials Mercury Glass Ornament Set
If you're looking for popular vintage Christmas decorations, our assortment of beautiful mercury glass ornaments features a mix of shapes and designs with a glossy finish. The collection comes in a variety of sizes and classic Christmas colors to suit your vintage decorating theme.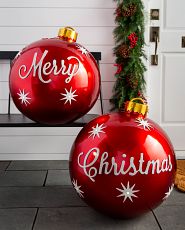 Outdoor Merry Christmas Ornament Set
This pair of oversized ornaments makes a festive holiday statement for your lawn, porch, or entryway. Designed with a flat base to keep them secure, each ball is coated with a clear UV-resistant finish to keep the color vibrant through the seasons.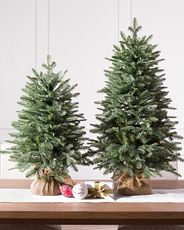 Balsam Fir Tabletop Tree
A miniature version of our best-selling BH Balsam Fir®, this tabletop tree features the same light green needles molded from real branch cuttings for a highly realistic look. The burlap sack adds rustic charm, while professionally strung lights lend a cozy glow your display.
Wooden Christmas Village
Our darling Christmas village is a charming addition to any holiday display. Crafted and painted by hand, each piece features amber LED lights that cast a warm glow to mantels, windows, and tabletops. Also available as an advent calendar to help you count down the days to Christmas.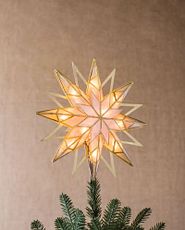 Double-Sided Starburst Tree Topper
Our double-sided star topper is the perfect finishing touch to your Christmas tree. Beautiful during the day and even more enchanting at night, this 16-point star comes in a variety of sizes and colors. Choose from the classic, natural, blue, and multicolor options.
Lodge Faux Fur Tree Skirt
Plush and luxurious, our faux fur tree skirt is a beautiful way to dress up your Christmas tree. This skirt is available in various colors and sizes to suit trees of any size. To perfectly complement your tree, make sure that the diameter of the skirt is at least 6 inches bigger than the full width of the tree.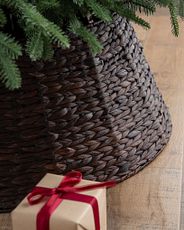 Woven Tree Collar
Made from handwoven cattail plant fibers, our woven tree collar adds a textured look to your Christmas tree. Each collar comes in two detachable parts for easy set-up and storage. Available in light brown and chestnut, the tree collar also comes in small and large sizes.
Christmas Decorating Tips
Here are some decorating tips to help you prepare your home for this year's holiday season.
What Is the Christmas Trend for 2023?
Blue and gold is a popular Christmas trend this year, much like our Biltmore Legacy Sapphire & Gold Ornaments. Nostalgia is also a popular theme, with bottle brush trees and vintage ornaments making a comeback. Check our Grove Brush Tree Set and Nutcracker Brigade Ornament Set for inspiration.
What Is the Most Popular Christmas Decoration?
Aside from wreaths and garlands, Christmas lights, and outdoor decorations, candles continue to be one of the most popular Christmas decorations. Whether real or artificial, candles are the easiest way to add light, warmth, and movement to any holiday setting.
What Date Do You Put up Christmas Decorations?
Many prefer to wait until the weekend after Thanksgiving, while some start decorating before that. If you plan to use a real Christmas tree, keep in mind that fresh trees typically only last four to five weeks. Invest in a high-quality artificial Christmas tree if you'd like to decorate earlier and keep it up for longer.
What Goes First When Decorating a Christmas Tree?
We recommend that ribbons go first, especially if you need to anchor them deeper into the branches. Ornaments should go last to avoid bumping and breaking them as you decorate. If you're stringing your own lights on the tree, make sure to do that first before adding your ribbons.
We hope this guide helped you learn more about our selection of the best Christmas décor. Visit the Balsam Hill website to see our full collection of tree decorations, holiday accents, and more.
Make It Merry
For more guides and decorating tips, read these next: