Thanksgiving is a special time when we come together with those we love and give thanks. It's also an opportunity to create a cozy and welcoming atmosphere in our homes. This guide offers Thanksgiving décor ideas and essential items from Balsam Hill that capture the essence of the season. 
How To Decorate for Thanksgiving
Follow the tips below to learn how to decorate your spaces for Thanksgiving. 
Clean and Organize Your Space
Tidy up your living spaces, clear out unnecessary items, and ensure there's ample room for your decorations. A clean canvas will make it easier to envision and execute your desired décor theme. 
Choose a Thanksgiving Theme
Whether you prefer a traditional harvest look, rustic farmhouse charm, or a modern twist on autumnal hues, choosing a theme and color palette will make the decorating process more enjoyable and cohesive. 
Decorate Your Living Room
The living room is the heart of holiday gatherings, and it deserves special attention. Add a stunning Thanksgiving wreath as the focal point, then enhance the cozy atmosphere with throw pillows, soft couch throws, and themed accent pieces. 
Style Your Thanksgiving Table
A good Thanksgiving centerpiece idea is to use foliage and complement it with tableware, linens, and other decorative elements. You can also add personalized place cards at each setting for a thoughtful touch. 
Set the Ambience With Lighting
Incorporate candles and lanterns throughout your spaces for a cozy glow. You can also wrap string lights around Thanksgiving decorations to highlight intricate details. 
Decorate Your Entryway
Give guests a festive welcome with Thanksgiving door décor on your entryway. Hang a beautiful autumn wreath on the front door, then add outdoor-safe decorations to add charm to your porch. You can also place lanterns and decorative pumpkins on porch steps. 
Balsam Hill's Thanksgiving Must-Haves
Bring the enchantment of the season into your home with Balsam Hill's Thanksgiving must-haves: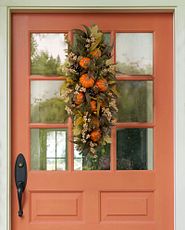 Fall Foliage
Capture the essence of the season with Balsam Hill fall wreaths, garlands, swags, and more. Crafted with meticulous attention to detail, they make stunning additions to your front door or as a centerpiece on your table.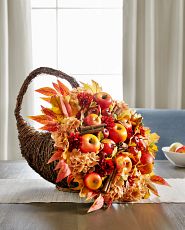 Seasonal Produce
 The cornucopia is a true symbol of abundance and the perfect way to showcase fresh harvest. Typically overflowing with fruits, berries, and leaves, it adds a touch of rustic charm to any Thanksgiving table setting.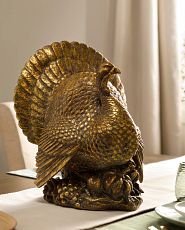 Themed Décor
Embrace the spirit of the holiday with unique accents, especially for Thanksgiving. From turkey decorations to Pilgrim hats and wheat stalks, these themed decorations add a special touch to your home.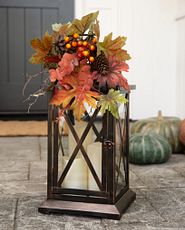 Lanterns
Create a cozy ambience with autumn lanterns. Choose ones with vibrant fall leaves and flameless candles that cast a subtle glow, adding charm to any room.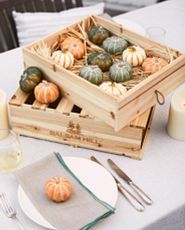 Pumpkin Décor
Add a playful touch to your décor with pumpkins and gourds, which are ideal for creating vignettes around your home. Opt for ones that come in different colors and sizes for visual interest. 
Frequently Asked Questions
Find answers to common Thanksgiving decorating queries below. 
What To Prepare When Decorating for Thanksgiving?
Before you decorate your home for Thanksgiving, clean and organize your space first, choose a theme and color palette, then create a list of things you'll need. 
How Should I Decorate My House for Thanksgiving?
When decorating for Thanksgiving, focus on key areas like the living room, dining table, and entryway. Choose a theme that resonates with the season and incorporate Balsam Hill fall décor to emphasize the festive atmosphere. 
When Should I Decorate for Thanksgiving?
You can start decorating for Thanksgiving anytime in November, allowing ample time to enjoy the décor throughout the season. Some begin decorating after Halloween, while others prefer to start closer to the holiday. 
We hope that these expert tips and must-have decorations help you create a heartwarming atmosphere in your home. Click the button below to see the rest of our Thanksgiving décor.  
Learn More About Decorating for Thanksgiving
Looking for more Thanksgiving decorating tips? Visit the links below.