Thanksgiving table décor won't be complete without a charming and elegant centerpiece. Highlight your style and creativity with a well-appointed Thanksgiving centerpiece sure to contribute to the festive atmosphere. Keep reading for our guide to one of the most essential Thanksgiving decorations for your dining table.
Common Elements
Thanksgiving usually brings about a sense of comfort, warmth, and abundance. Reflect this theme with a curated combination of the following common elements of DIY centerpieces. You can focus on one element for a simple centerpiece or mix two or three for a dynamic Thanksgiving place setting.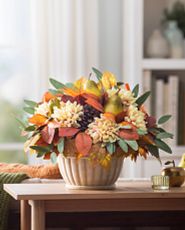 Foliage
Wreaths, garlands, and potted arrangements bring nature indoors and add beautiful fall colors to your centerpiece. Complement with acorns, berries, gourds, and other seasonal produce for an even more rustic look.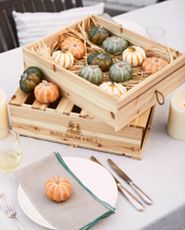 Receptacles
Glass vases or jars, rustic baskets and wooden crates or trays, and even mirrors or antique serving trays all contribute to your theme while serving the practical purpose of containing flowers and other decorative elements.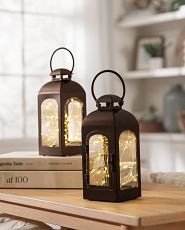 Lighting
Votive candles, tapers, and lanterns bring your centerpiece a warm and cozy glow. Take caution when using an open flame or choose battery-operated LED lights or flameless candles instead.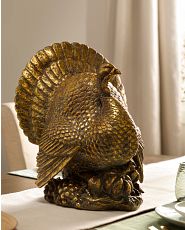 Themed Accessories
Turkeys, cornucopias, pumpkins, and other fall-themed tabletop décor are all essential décor for your Thanksgiving table. They're a focal point for building your autumn table setting around.
Considerations
Consider the following when choosing or designing the ideal centerpiece for your Thanksgiving dinner:
Table Shape and Size
Select a centerpiece that complements your dining table's shape and size. Choose a simpler centerpiece for smaller tables so as not to overwhelm the space. You can afford a more expansive centerpiece or full tablescape and more intricate table settings for Thanksgiving for formal dining rooms. Round-shaped or curved centerpieces like wreaths, bowls, and cornucopias suit round or square dining tables, while elongated pieces such as garlands and mirrored trays complement rectangular dining tables.
Centerpiece Height
Don't let a too-tall centerpiece get in the way of enjoying the company of those you're dining with. Sit down on one of the dining chairs and make sure you can still see the person across from you over your centerpiece.
Coordinating Table Settings and Other Details
For a professional-looking table decoration, select a centerpiece that picks up details from your table settings. For example, a more rustic or farmhouse-style centerpiece will match burlap table runners and bronze-toned cutlery.
Insider's Tip
Use artificial fall garlands as a table runner-style centerpiece if you have a long rectangular dining table. Decorate with mini gourds and LED fairy lights for an effortless fall-themed display.
Themes and Ideas
Your Thanksgiving centerpiece is an expression of your personal decorating style. Here are some ideas to inspire you:
Traditional
For a farmhouse feel, draw heavily on fall foliage, gourds, and rustic touches. Wood, wicker, burlap, and jute details work with the fiery colors of autumn leaves. Get inspiration from your fall outdoor table decorations for a truly homespun vibe.
Modern
Modern Thanksgiving table decor involves a more minimalist and polished take on the usual fall-inspired elements. Think pumpkins painted in gold or bronze, votive candles in gilt holders, and accessories in mercury glass or chrome.
Personalized
Create that homey atmosphere so entwined with Thanksgiving with heirloom decorations that pair perfectly with traditional turkey and family favorite recipes. Create a centerpiece featuring a vintage décor piece or inspired by a family custom or anecdote, with a focus on all things homemade and personal.
Frequently Asked Questions
Here are some answers to common questions about Thanksgiving centerpieces.
What Colors Are Usually Related to Thanksgiving?
Take your cue from the vibrant yellows, oranges, and reds of autumn foliage. Accentuate this palette with burnished metals like gold, bronze, and copper.
What Is the Most Popular Form of Thanksgiving Centerpiece?
A cornucopia remains a popular choice, as its elegant shape symbolizes a bountiful harvest. In recent years, pumpkin-centric table décor has come into fashion as well.
How Do I Arrange My Thanksgiving Table?
Plan a cohesive theme beforehand. Situate a centerpiece in the middle of the table or opt for smaller ones spaced evenly down the length of longer tables. Make sure there is enough room for the turkey, sides, and pies. Create formal place settings with your fine china and cutlery, and don't overlook the small details that make it even more special: Handwritten place cards, folded napkins, and a small treat or souvenir at each place.
We hope this guide to Thanksgiving centerpieces inspired you to put together your best one yet. Shop our selection of festive and elegant Thanksgiving decorations below.
Learn More About Thanksgiving Décor
Check out these articles for more guides and ideas for decorating for Thanksgiving.