How tall should your Christmas tree be? What size Christmas tree do you need? Should you go for the classic full shape, a narrow one, or something different? These are a few questions to consider when shopping for your new artificial Christmas tree.
Knowing the right height and shape ensures that your tree suits your space. It also helps you narrow down the size and type of decorations to buy. To guide you in finding your perfect artificial Christmas tree, we've broken down the process into four easy steps.
Step 1: Choose Where to Put Your Christmas Tree
Before you start looking for your tree, identify where you want to set it up. Here are the most popular areas for Christmas tree display, as well as important factors to think about when selecting your spot.
Common Rooms to Decorate
Practical Things to Consider
Visibility – A Christmas tree serves as the focal point of your holiday home. Place it in the center of a large room or in a cozy corner to command attention.
Foot Traffic – To avoid accidents, provide clearance between your tree and doorways or walkways. Allot extra space to accommodate gifts.
Furniture – You may need to rearrange or remove some pieces to make room for your tree. If you prefer to keep your furniture set as is, opt for a slim or tabletop Christmas tree.
Natural Light – Sunlight helps brighten and warm up your room, so leave space for it to filter in.
Power Source – Place your tree near an electrical outlet for easy lighting. This eliminates the need for unsightly extension cords that may pose safety hazards.
Safety – Keep your tree away from heat sources such as radiators, fireplaces, and candles.
Step 2: Measure Your Space
Now that you've chosen the location for your tree, it's time to size up your area. Wondering how to measure for an artificial Christmas tree? Follow our simple tips below.
Prepare the following materials:

Measuring tape
Step ladder
Pen and paper

Using the ladder, measure the distance between the ceiling and floor with your measuring tape.
If you plan to use a tree topper, subtract 12 inches from your ceiling height. If you don't need a topper, subtract 6 inches from your ceiling height. This measurement is the maximum height of your Christmas tree including its stand. Note that all Balsam Hill® trees are measured from the tree stand to topmost tip.
Get the available floor space for your tree using your measuring tape. It's best to do this after you've rearranged your furniture to give yourself a more accurate idea of your space.
Subtract 12 inches from this measurement and note it down. This is the maximum width of your tree.
Insider's Tip
Use a laser distance measure as a handy alternative when measuring your ceiling height.
Step 3: Find the Perfect Christmas Tree Size
Artificial Christmas trees are offered in various heights and shapes. As you review your options, don't forget to match them to the measurements you listed.

Choose the Right Height
Allot 12 inches clearance between the top of your tree and the ceiling to accommodate a standard tree topper. Here's our Christmas tree size chart for your reference:
Insider's Tip
Balsam Hill trees are measured from the tree stand to the topmost tip. If you plan to use an artificial Christmas tree stand or a special platform to raise your tree, consider this in your computations.
Below is a sample Christmas tree size chart showing how tree widths vary based on their specific shape.
Insider's Tip
For more details on a specific tree, select your preferred height. Then, scroll down the page to view the Christmas tree diameter, tip count, and other specifications.
Step 4: Consider Other Factors
Details such as your decorations and the scale of your space may influence the size of your Christmas tree, so take note of the following before making a purchase.
Room Proportions
When choosing your tree, it's also important to match the scale of your room. A small tree may get overlooked in a tall room, while a large one may make a compact room feel smaller.
Christmas Tree Accessories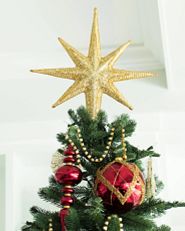 Christmas Tree Topper
Allot 6 inches of space between your tree topper and the ceiling. Check the dimensions of your topper to ensure your tree can accommodate it.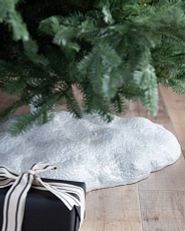 Christmas Tree Stand
Our artificial Christmas trees are measured from the tree stand to the top tip. If you plan to replace the standard tree stand, account for the height it adds to the tree.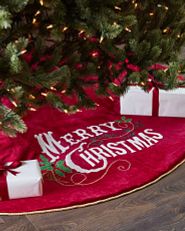 Christmas Tree Skirt
Allow 6 inches around your tree for your Christmas tree skirt and gifts. Follow the same guideline for tree collars.
Christmas Tree Alternatives
Consider the following sizes of Christmas trees for tight spaces or secondary displays:
We hope this Christmas tree size guide helps you find the right one for your space. Visit our store to browse the many options we offer. Want to know more about artificial Christmas trees?
Explore our ultimate buyer's guide.
Learn More
For more tree set-up guides and holiday decorating ideas, visit the links below.