This Christmas, spread festive cheer to all you hold dear with delightful gourmet food gift boxes. There's no better way to greet friends and family a 'Merry Christmas' than with an assortment of delectable treats that capture the spirit of the season. Discover Balsam Hill's new selection of gourmet food gifts specially curated with the goal of sharing joy.
Gourmet Food Gifts from Balsam Hill
Our elegant boxes make gift-giving a breeze. From traditional Christmas chocolates and candy to coffee and cocoa, you're sure to find the perfect present among our list of Christmas food gift ideas.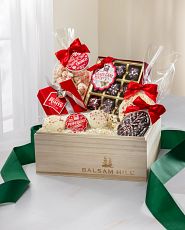 If you're looking for Christmas cookie boxes for the peppermint candy lovers in your life, our Peppermint Lane Gift Box contains an assortment that highlights this iconic holiday flavor: Dark Chocolate Candy Cane Mints, Jingle Bell Mints, Candy Cane Crunch, Peppermint Cookie Trio, and both Dark and White Chocolate Peppermint Snowflake cookies.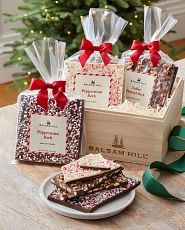 Make Christmas even more memorable with these sweet stocking stuffers. Our well-rounded selection highlights seasonal flavors at its finest: Traditional Peppermint, Dark Chocolate Toffee Pretzel, and Dark Chocolate Peppermint are all available in individual bark packs or combined in one gift box.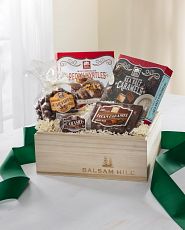 Celebrate the season with the rich and creamy taste of chocolate and caramel. This gift box includes Milk Chocolate Pecan Myrtles, Dark Chocolate Sea Salt Caramels, Dark Chocolate Pecan Caramel Bark, and Dark Chocolate Mocha Caramel Circles – a complete selection the whole family can enjoy.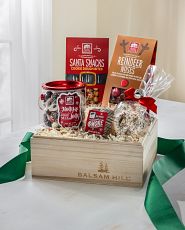 Who says only Santa gets a special treat on Christmas Eve? Share this delightful assortment of Christmas-themed confections with your nearest and dearest. Enjoy our Holly Jolly Snack Mix, Santa Snacks Cookie Dough Bites, Reindeer Nose Brownie Bite Treats, Holiday Bavarian Pretzel Bag, and S'mores Cookies all in one festive box.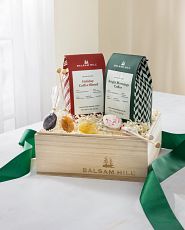 Our collection of Christmas food gifts wouldn't be complete without our very own Christmas coffee gift box. Feel the spirit of Christmas with every cup, made even more enjoyable with the inclusion of our coffee spoons in four festive flavors: Peppermint, Eggnog, Salted Caramel, and Hazelnut.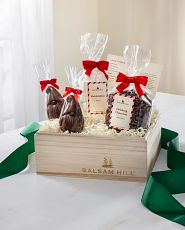 Perfect for the kids who love a warm cup of hot chocolate during the holiday season, our Christmas Hot Chocolate Gourmet Gift Box includes premium drinking chocolate, vanilla marshmallows, and a set of adorable chocolate gnomes for dunking.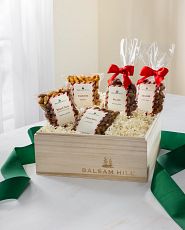 For a sweet and savory take on Christmas food gifts, consider an assortment of flavored nuts. Our Nuts About the Holidays Gift Box contains Roasted and Salted Mixed Nuts, Maple Glazed Pecans, Butter Toffee Almonds, Citrus Chili Pistachios, and BBQ Cashews – everything you need for fun holiday snacking as everyone gathers around the Christmas tree.
A little sweet surprise certainly spreads a lot of holiday cheer. Consider our Fruit & Nut Gift Box, filled with tasty morsels that are the perfect accompaniment to a drink by the fireplace on cozy winter evenings. This box includes Milk Chocolate Figs, Dark Chocolate Strawberries, Milk Chocolate Cherries, Amaretto Pecans, and Honey Raspberry Almonds.
Frequently Asked Questions
Here we answer common questions about holiday food gifts.
Which Food Is Best for Gifting?
Food gift boxes and holiday hampers featuring tasty and festive treats are both classy and practical options. Consider giving chocolates as gifts for Christmas, as people of all ages enjoy these sweet confections. Other more savory options include a selection of jams, cheeses, dried fruits and nuts, coffee, and tea. While your choice of food gift is a matter of preference, always consider any dietary or allergy restrictions your recipient may have.
What Gift to Bring to Christmas Dinner?
With the dinner menu already thoughtfully considered and prepared by your host, a sweet treat or wine to complement the meal will surely be appreciated. Homemade pies, boxes of chocolate or candy, or even a selection of cheeses are all popular choices.
Let your friends and family feel the Christmas spirit through the many flavors of the season. Balsam Hill's new gourmet food gifts have been thoughtfully prepared with our trademark attention to detail and quality. Check out our selection of Christmas confections and treats below.
Learn More About Christmas Gifting
Read the following articles for more tips and guides.