Create inspired spaces with Balsam Hill's collection of fall wreaths. From your front door to the patio, our seasonal foliage elevates your autumn décor and adds elegance to any room. See the selection below for our top picks of this year's best wreaths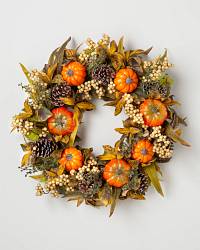 Autumn Abundance Wreath
Celebrate the harvest season with warm earth tones and natural accents. Designed with an array of fall leaves, pumpkins, berries, and pinecones, this wreath brings the splendor of autumn into your home.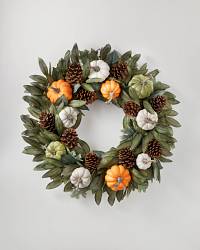 Storybook Pumpkin Wreath
A charming addition to any fall décor, the Storybook Pumpkin Wreath features pumpkins and pinecones on a bed of eucalyptus leaves. Hang it on the front door or set it on the fireplace mantel for a warm autumn welcome.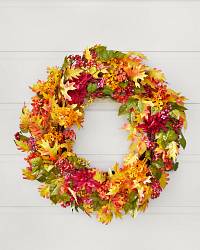 Outdoor Harvest Bloom Wreath
Usher in fall with the vibrant colors of the season. This elegant autumn wreath is a gorgeous arrangement of golden maple leaves, magenta dahlias, and orange wildflowers. Pair it with the matching garland to create a striking statement for your entryways.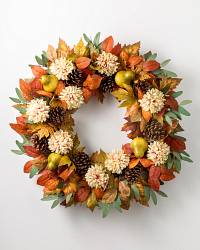 Sweet Pear Wreath
Crafted and painted by hand, the Sweet Pear Wreath features faux pears, ivory dahlias, pinecones, and mixed leaves in deep autumnal hues. Hang it on doors or windows for a cheerful display all season long.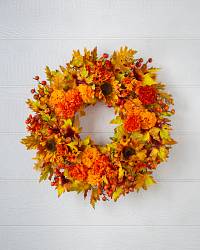 Outdoor Sunburst Mums Wreath
Enhance your fall decorations with a lively arrangement of sunflowers, autumn leaves, and mums. Displayed with the rest of the Outdoor Sunburst Mums foliage collection, this colorful wreath instantly brightens up spaces.
Tips for Choosing & Decorating With Fall Wreaths
Nothing says fall has arrived like a beautiful autumn wreath on the front door. If you're looking to refresh your décor this season, read our tips below.
How To Choose the Right Fall Wreath
Choosing the right size of a wreath is essential in making your fall décor cohesive. Too small and the wreath might fade into the background, while one that's too big may look out of place. Watch the video and note these tips to help you find the perfect wreath for your space.
Use a measuring tape to determine the width of your door or wherever you plan to display the wreath.
Subtract 12 inches from the width and the difference is your wreath's ideal size.
For standard doors, we recommend 22 to 26-inch fall wreaths.
For larger halls or rooms, 28 to 34-inch wreaths are more suitable.
Insider's Tip
Choose a larger fall wreath for your front door and leave at least two inches of space from the edges of your entryway to create a more dramatic effect.
How To Decorate With Fall Wreaths
Now that you've picked your dream wreath, it's time to dress up your spaces with it. Here are different ways to decorate with fall wreaths⁠—from the porch to your bedroom.
Entryway
Welcome guests with fall wreaths on your patio or foyer. Display pieces with matching garlands and
hanging baskets
near your home's entrance or set them on a coat rack. Not only do they create an inviting mood, they also make a lasting impression on visitors or passersby.
Doors
While wreaths are commonly hung on front doors, you can extend their beauty to interior doors like your home office or library. Choose foliage that complements the colors of your fall flower arrangements or urn fillers to tie up your décor.
Living Room
Spruce up your living room or lounge areas with an elegant fall wreath. Hang one over your fireplace mantel to create a point of interest. Another idea is to hook it up on a bookcase, its circular shape creating a contrast to the shelf's structure. Add visual interest with hardbound books, flameless candles, and faux pumpkins as bookends.
Kitchen
Showcase your bountiful harvest with a nature-inspired wreath. For easy decorating, hang it on furnishings with knob handles like shelves or cupboards. You can also add cheer to the sink area by putting a wreath above it. Just make sure it's far enough from waster splashes as that may cause the foliage to stain.
Dining Room
Put a creative twist to your tablescape by using a wreath as a centerpiece. Lay it on your dining table then put LED candles in the middle or use it as a cake stand base. Complete the look with another wreath over your buffet table or drink station. Choose fall greenery that matches the colors of your food spread to make the theme cohesive.
Bedroom
Add a touch of coziness and warmth to your bedroom. Use an adhesive hook to secure a wreath above your headboard or on closet doors. You can also place a matching arrangement in your bathroom to brighten up the space.
Where To Buy Autumn Wreaths
Wondering where to buy fall wreaths for your front door? Balsam Hill's collection of fall décor features matching wreaths and garlands that are perfect for entryways, outdoor areas, and more. We also offer Thanksgiving decorations, candles, and scents to complete your autumn display.
We hope this guide helped narrow down your choices for new fall wreaths this year. Visit the Balsam Hill website to see more of our lifelike autumn greenery and other home decorations.
Fresh Looks for Fall
For more wreath guides and autumn decorating ideas, visit the links below.