Halloween is the perfect opportunity to spark your creativity and create an atmosphere that's equal parts fun and frightening. Here's our guide to sprucing up your home for a spooktacular Halloween celebration using elegant Halloween wreaths and foliage.
Where To Display Halloween Wreaths
The first step to planning a Halloween wreath display is to consider your display area. Here are a few ideas on where to hang them: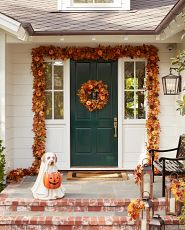 Front Door and Windows
Greet trick-or-treaters with a festive Halloween door wreath on your porch or windows. Accentuate with matching garlands or potted arrangements for the full effect. Consider displaying outdoor Halloween decorations on your porch to complete your spooky display.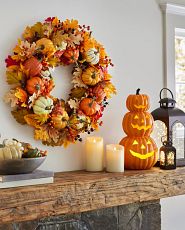 Foyers or Mantels
Make a themed vignette on your fireplace mantel or entryway console table, with a Halloween wreath as the focal point. Lanterns, flameless candles, and bowls full of Halloween accents make the perfect accessories.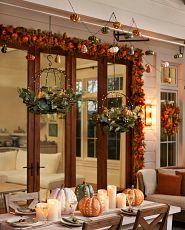 Tablescapes
Make a spooky chandelier by suspending wreaths over the dining room table. You can even style them to look like floating witch hat wreaths. Alternatively, use Halloween wreaths or garlands as centerpieces accompanied by Halloween-themed table décor.
Halloween Wreath Themes and Ideas
A theme makes your Halloween wreath display look more cohesive and professionally styled. Take inspiration from undecorated or fall-themed Balsam Hill wreaths and consider these ideas: 
Harvest Festival
Go for a classic and rustic Halloween vibe with wreaths and foliage adorned with pumpkins. Amplify the spook factor by accessorizing the wreath with mini scarecrows and black crow or bat cutouts. 
Gothic Glam
Start with a wreath with darker green or even purple-toned foliage, or a black or dark brown twig wreath. Decorate it with LED fairy lights, purple velvet or glitter ribbon, skulls or skeleton bones, and large felt or rubber spiders.  
Dia de Los Muertos
Celebrate Halloween with an homage to the vibrant energy of the Mexican Day of the Dead. Start with a vibrant spring wreath as the base. Top off the colorful yellow, orange, and pink flowers with a large sugar skull accent and matching ribbons. 
Spooky Forest
Choose a wreath and matching foliage with lush greenery and an overgrown feel. At the center of the wreath, add a mask featuring a scary character you wouldn't want to bump into while wandering the forest at night. Take it up a notch by adding small rubber or plastic creepy crawlies or faux spiderwebs to the foliage. 
Jack-o'-Lanterns
Halloween wouldn't be complete without the classic grinning pumpkin. Choose a pre-decorated fall wreath with mini pumpkins. Add simple black cutouts to each pumpkin to temporarily transform them into Jack-o'-Lanterns ready to elevate the Halloween atmosphere. 
Insider's Tip
Make a quick and easy witch wreath by securing a small witch's hat on the upper left edge of your fall wreath. Then, hang stuff a pair of striped children's socks with newspaper before hanging from the bottom of the wreath.
Frequently Asked Questions
Here are some answers to common questions about decorating your home with Halloween wreaths.
How Do I Choose the Right Size of Halloween Wreath for My Door?
Many wreaths come in 18- to 26-inch diameters. These are ideal for standard-sized doors. As a rule of thumb, you want a wreath with a few inches of allowance all around the door when hung, so it doesn't overwhelm the display area. For a more in-depth insight into choosing the correct wreath size, check out our Ultimate Guide to Wreaths & Garlands.
Where Can I Place Wreaths for Halloween?
Welcome trick-or-treaters with a Halloween wreath on your front door or front-facing windows. You can also incorporate a spooky wreath into your mantel décor, tablescapes, and other indoor areas.
What Do You Put on a Halloween Wreath?
You can decorate a plain wreath with mini pumpkins, miniature witch hats, ghost cut-outs made of felt fabric, and other spooky-themed details. You can also choose a fall wreath with darker foliage and add LED fairy lights to give it a sinister glow.
We hope this list of Halloween wreath ideas inspired you to make your own spookiest décor yet. To shop our selection of fall wreaths perfect for the Halloween season, click below.
Learn More About Halloween Décor
Design your best Halloween display yet with these guides.