Christmas Door Decorations That Will Inspire Your Neighbors
Enhance your outdoor spaces this yuletide season with our outdoor Christmas decorating ideas.
What's Inside
The most breathtaking homes radiate the beauty of Christmas from the inside all the way out. In the same way a Christmas tree tells a story with its bountiful display of ornaments, Christmas door decorations convey an enchanting and welcoming atmosphere – one that extends the holiday spirit to the entire neighborhood.
A beautifully decorated entryway is your invitation to celebrate the season beyond the four corners of your home.
With a sampling of some of the most gorgeous porticoes and porches across the country, we are highlighting a few unique and elegant outdoor Christmas decorating ideas that should inspire your decorating ambitions this holiday season.
Christmas Door Decorations with a Country-Style Charm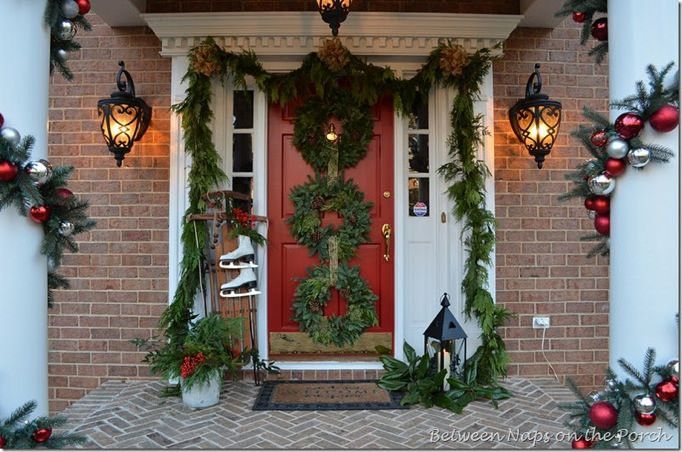 The simplest details can adorn your home in the most charming way. Classic evergreen wreaths and garlands as well as quaint decorations, such as a pair of skates hanging daintily on a vintage sled, or a rustic lantern set aglow by a candle, create a feeling of intimacy and warmth. These decorative accents evoke a "lived-in" atmosphere reflected through country-style décor and made all the more beautiful by the sprawling evergreens.
Bringing out the bucolic charm of her home, Susan of Between Naps on the Porch made use of an artificial garland as the base for the fresh greenery. The blending of artificial and natural foliage resulted in a fuller and more verdant assemblage of botanicals. At the same time, the contrast between the bright red door and forest green wreaths, tied together with a gold ribbon, effortlessly delivers the colors of Christmas. Even with simple pinecones as their detailing, the wreaths and garland stand out.
Recreating This Look
Capture the same country-style elegance by using personal items that conjure up heartwarming memories of home. You can take an antique rocking chair and wrap a tartan ribbon elegantly around one armrest or set a plush throw pillow gently against the backrest. Place this as a sign of welcome by the front door. Lastly, remember to add an antique lantern at the doorstep.
For your evergreen decorations, use the BH Fraser Fir three-tier decorated wreath set. You need not worry about having to tie together three individual wreaths. Each crown is made of artificial eucalyptus, cypress, and boxwood leaves, and adorned with a festive red ribbon. Decorate this trio with your own selection of country-style ornaments of bells or even pinecones and berries to keep the rustic charm of your front door year after year.
Christmas Door Decorations with a Whimsical Touch
A home that exudes a whimsical holiday vibe not only fills a space with fresh, vibrant décor – it also retains a level of Christmas playfulness within the area. This beautiful porch featured on the Worthing Court blog exemplifies how everyday decorations at your door front can be put to good use throughout the holiday season.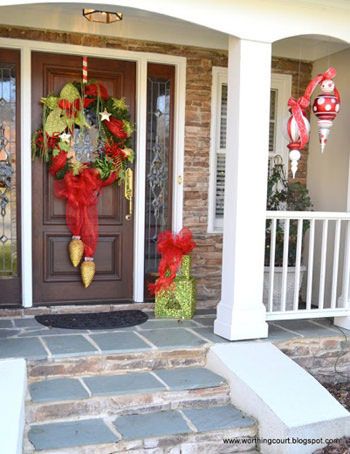 Take, for instance, this water fountain that doubles as a planter. The poinsettias add a burst of color to the space, and keep the fountain functional during the cold season. At the same time, the potted plants that line the steps deliver a message of joy to all who visit this home. Such unique accents match the fun and brilliant Christmas door decorations that swathe the entryway in red and gold.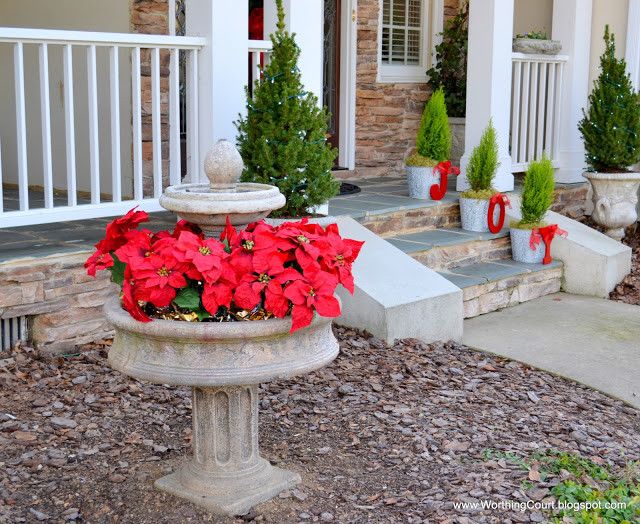 The porch uses traditional holiday hues, but amplifies them in a whimsical way, using the layering of ribbons and variations in texture and shimmer.
With the warmth and comfort this porch offers, it becomes more than just a showroom of delightful holiday style. It also serves as a place to relax and enjoy the season's festivities. The white wicker chairs, for example, are accented by a throw blanket and pillows, which have either a Christmas tree pattern or red ribbon to mimic a holiday present. These cozy details inspire a feeling of comfort and home.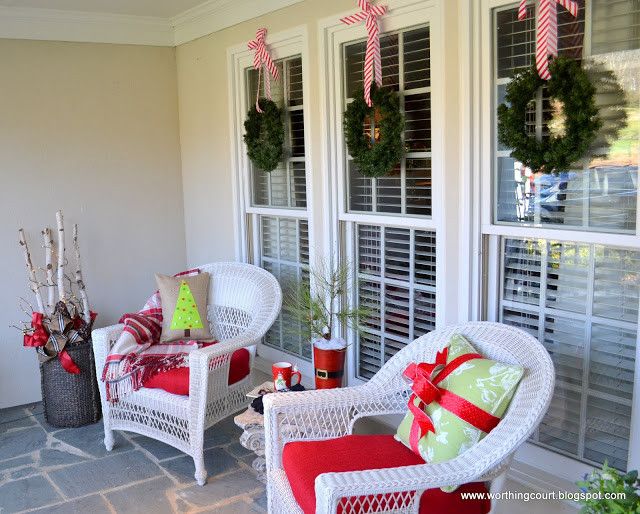 Recreating This Look
To evoke the same whimsical and carefree holiday spirit of this porch, incorporate pieces that are stylish, cozy, and functional. Decorate your front door in colors that not only catch the eye, but also invite people to stay on and enjoy the space.
Start off with the Autumn Harvest wreath and garland as the botanical base for your fanciful decorations. They offer little surprises of their own with red berries and pinecones accenting the foliage. Embellish your wreath and garland with red, green, and gold mesh ribbons for an abundance of color.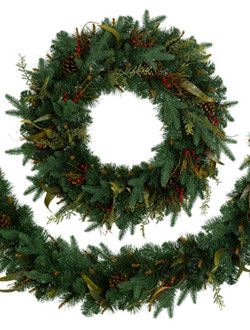 Christmas Door Decorations That Exude Traditional Elegance
When it comes to adding warmth and timeless elegance to your doorstep, traditional Christmas decorations work best. Classic pieces, such as harvest wreaths, garlands, and topiary trees, turn an otherwise bland and listless entryway into a more festive and welcoming highlight of your home. The secret to the classic style of ornamentation is the blending of rich details with warm, neutral colors. A traditional wooden door can instantly become a beautiful canvas for classic foliage decorations.
Unlike whimsical décor pieces that feature a myriad of hues, shapes, and sizes, traditional door decorations highlight only one or two colors but always give a variety of textures and a focus on balance.
The traditional dark green teardrop and garland create the quintessential holiday welcome for your guests. Our Orchard Harvest Teardrop features deep green foliage with copper-colored fruit, gilded detailing and bright red berries for a look of stately elegance. The pair of Greenwich Estates potted pine trees also frames the space and creates a vision of height.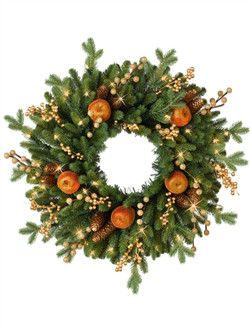 Recreating This Look
To create a variation of this look, choose a statement piece that dons the colors of luxury.
Balsam Hill's Regency Gate wreath delivers an array of gold and bronze-colored accents on an assemblage of spruce needles. The gold berries, pinecones, and apples create variations of texture. This resplendent piece turns any door front into an image of classic elegance.
Place a pair of exquisitely crafted topiary trees as doorway accessories. As a background to more opulent decorations, Balsam Hill's Arborvitae topiary trees offer a simple and clean profile.
In traditional home design, it is important to anchor an asymmetrical statement piece, such as a wreath, with symmetrical accents. This decorating technique draws attention to the focal point while balancing the visual weight of the surrounding space.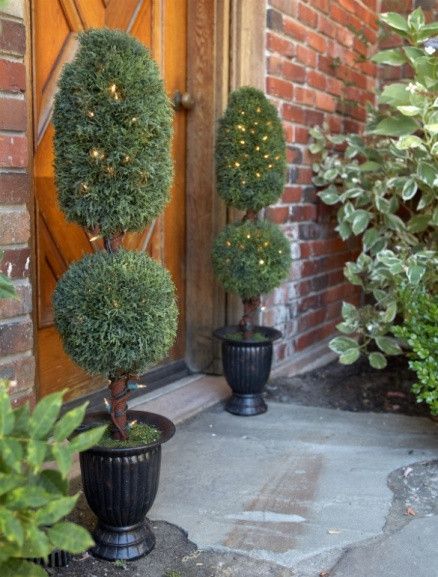 Lighting also plays an important part in creating a cozier and more enticing holiday ambiance. By placing a pre-lit wreath, garland or teardrop in your entryway, you can add soft illumination to make your space glow even in the dark winter evening. You can also use these decorations to complement an existing lighting piece, such as a traditional lantern.
For an ethereal Christmas highlight, consider adding the pre-lit Mountain Meadow wreath and garland to your front door. This holiday favorite features eucalyptus, cypress, and pinecone accents that add to the look of realism.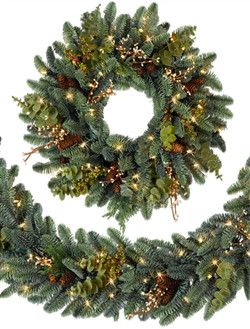 Adorn your entryway with luxurious wreaths and garlands made fuller and more unique with your precious ornaments. With our selection of the most elegant Christmas door decorations, you and your family can welcome the holidays in style.