A beautifully styled Thanksgiving table elevates any celebration – whether you're hosting a small dinner party or a feast for a large group. In this article, we show you how to create a stunning Thanksgiving tablescape to impress your guests.
Pick a Color Palette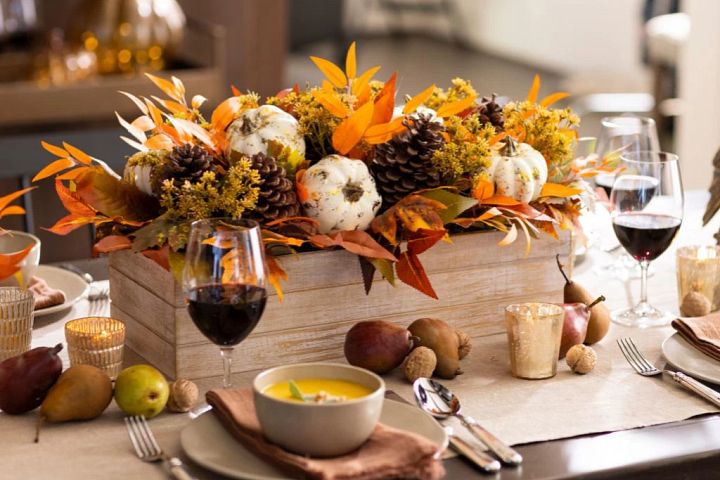 Start with a color scheme for your Thanksgiving table setting. Look to nature for inspiration. Think earth tones like brown, green, and white, or go for bolder shades like purple, orange, and crimson. You can also use your artificial fall greenery as the basis of your décor palette for a cohesive look.
Decorate With Fall Foliage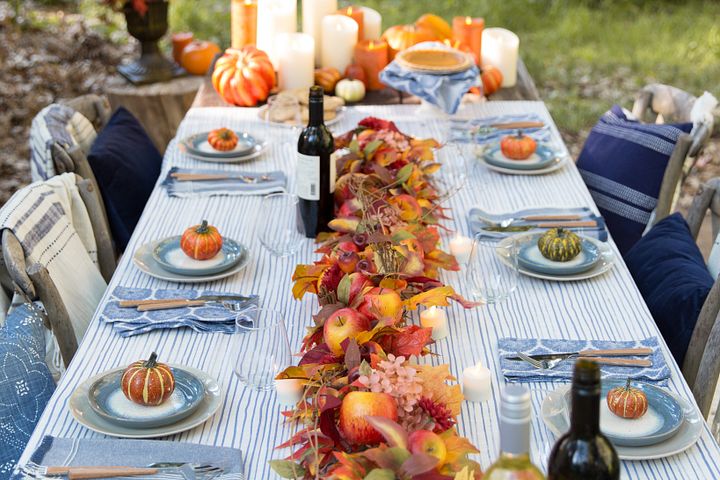 Capture the abundance of nature's beauty through fall WREATHS and GARLANDS. Use greenery decorated with autumn accents as your Thanksgiving centerpiece, then match it with food and table napkins in complementary colors. Small fruits or vegetables can also serve as napkin holders or place cards for the table. Bring the theme throughout the dining room by placing a SWAG OR HANGING BASKET on buffet tables or dessert carts.
PLAY WITH TEXTURES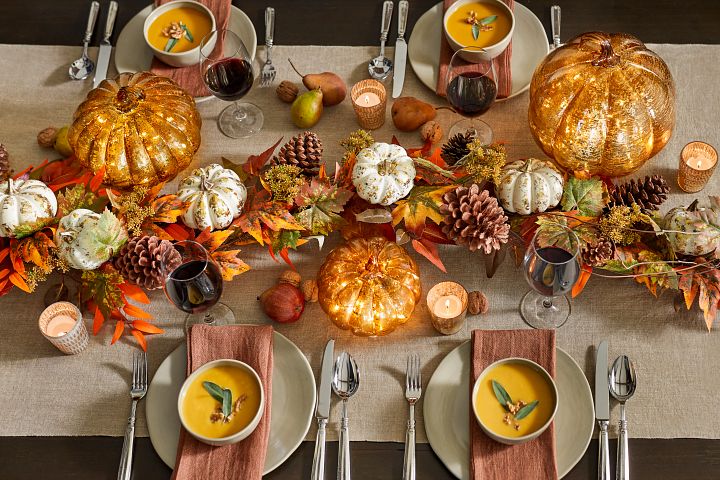 Give your Thanksgiving table a rustic feel with natural elements such as wood, burlap, and copper. For balance, incorporate softer textures like knitted seat covers, cotton tablecloth, or linen table napkins. You can place a garland on top of a runner and strategically nestle decorative pieces like pinecones, pears, and glass pumpkins for visual interest.
Insider's Tip
Layer different textures to add depth to your décor. If your dining table is made of hardwood, consider adding metal accents to create a nice contrast.
ADD THEMED ACCENTS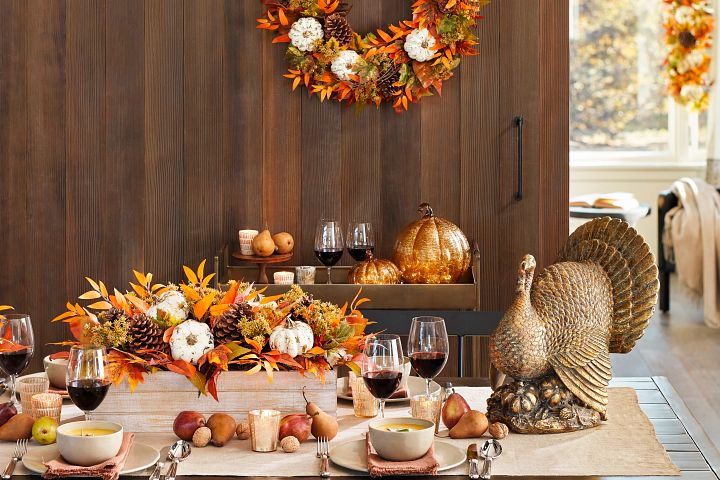 Using accents in the same theme is a great way to tie everything together. Think of your centerpiece as the anchor for the rest of your Thanksgiving decorations. From there, determine which elements you can repeat to keep it consistent. For instance, if your centerpiece features pumpkins, use mini pumpkins on every place setting. If it has earth tones, use a runner and table napkins in the same hues.
REPURPOSE OLD ITEMS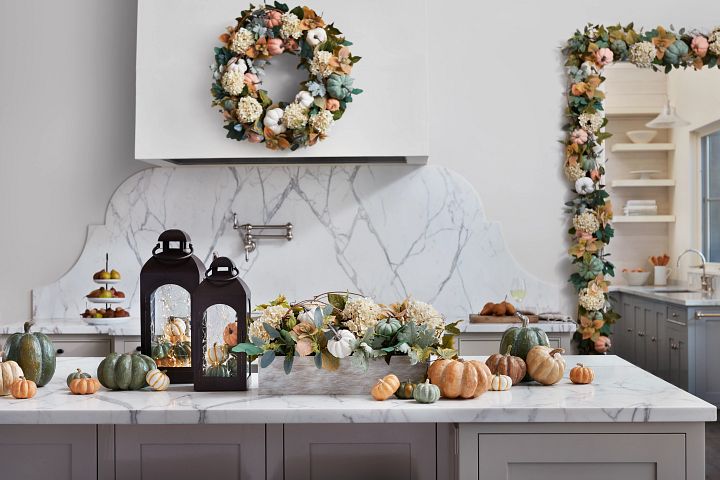 You don't have to spend a fortune to style a beautiful Thanksgiving tablescape. Highlight nature's bounty with items you already have at home. Fill an old wooden crate with fall harvest or foliage and use that as your centerpiece. Place mini pumpkins or fairy light strings inside lanterns and arrange tall bundles of wheatgrass in antique vases or rustic watering cans.
COZY IT UP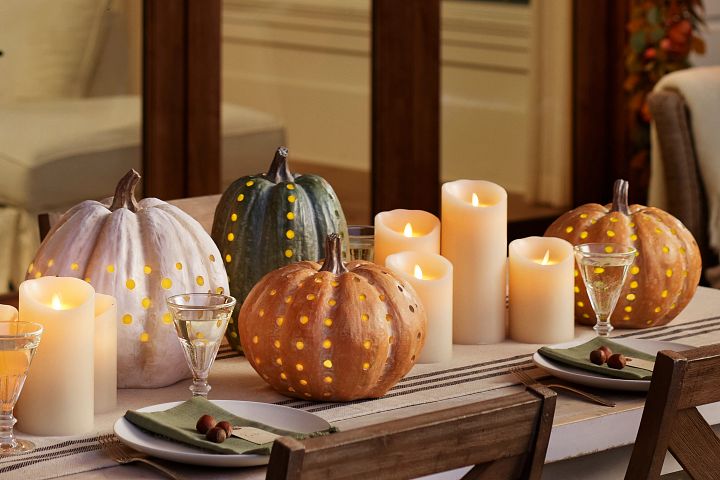 Add warmth and movement to your décor with FLAMELESS CANDLES. Scattered down the table and across your sideboard, they give off a welcoming glow without the risk of a rogue flame or wax drippings. Another option is to lay out some THROWS and blankets around your dining room to keep you and your guests cozy during crisp autumn evenings.
INFUSE WITH SCENTS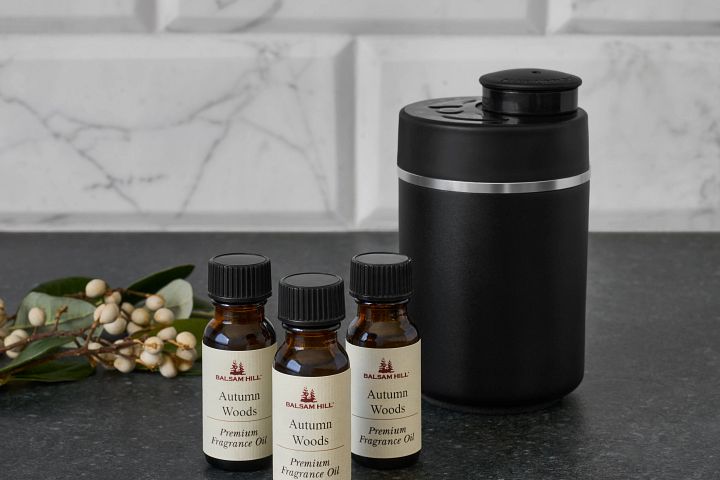 Smell is one of the strongest memory triggers and adding scents to the scene not only enhances your guests' dining experience, but also allows you to create unforgettable memories with them. Pumpkin spice, cinnamon, and fresh apples all have that warm, spicy aroma that's reminiscent of autumn. Used with our SCENTS OF THE SEASON™ FRAGRANCE MACHINE, our fall fragrance oils help set the mood for your celebrations.
DRESS UP YOUR OUTDOOR SPACES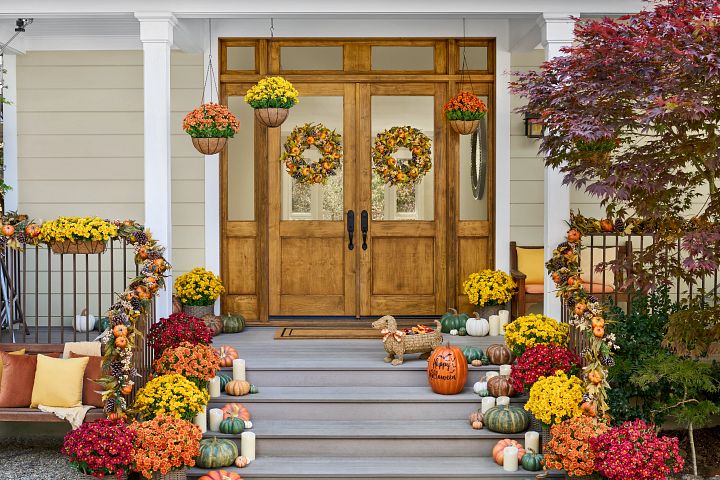 Create a warm welcome for guests as they enter your home. Display fall décor on your porch, foyer, or patio to draw attention to your entryway. Tie up the theme and use the same type of foliage as your dining table centerpiece for your al fresco areas. You can also dress up your doorways with TOPIARIES filled with mums, autumn greenery, and berries.
FREQUENTLY ASKED QUESTIONS
Below we answer some of your most asked questions on Thanksgiving table decorating.
WHERE TO BUY THANKSGIVING TABLE DECORATIONS

Whether updating your home for the season or entertaining guests for Thanksgiving, Balsam Hill's selection of fall décor is perfect for creating an inviting atmosphere. We have a wide array of seasonal pieces, from FALL FOLIAGE and DECORATIVE ACCENTS to STRING LIGHTS AND LANTERNS.

WHAT DECORATIONS ARE USED FOR THANKSGIVING?

Aside from FALL WREATHS and GARLANDS, other decorations used for Thanksgiving include PUMPKINS, CANDLES, and THROWS.

HOW TO MAKE A THANKSGIVING TABLE CENTERPIECE

Choose a unique container like a wooden crate, bowl, or glass vase. Fill the bottom with mixed fall leaves, then add harvest elements like pears, apples, and cinnamon sticks. A wreath is another great option – just arrange candles in varied sizes in the center. You can also use a garland in place of a table runner and fill the gaps with votive candles and pumpkins.
We hope these Thanksgiving table décor ideas provided a little inspiration for your celebrations this year. Visit the Balsam Hill website to see our full collection of Thanksgiving decorations.
LEARN MORE
Find more fall home decorating tips and style ideas below.
FALL TABLE DÉCOR AND CENTERPIECE IDEAS
THE BEST FALL DÉCOR IDEAS TO TRY THIS YEAR