The fireplace often symbolizes feelings of warmth and family togetherness, and a well-decorated one radiates with inviting festive charm. Create a captivating focal point in your home for the holiday season and beyond with our guide to the best lights for your fireplace mantel below.
Safety First
When decorating your working fireplace with lights, it's crucial to practice extra safety and caution. Before displaying your light strings or other lights for your mantelpiece, carefully inspect them for broken bulbs or damaged wiring. Keeping lights and other flammable décor at a safe distance from the firebox and other heat sources is also essential. Additionally, using properly rated cords and outlets when plugging in your lights can help minimize fire hazards. Remember to prioritize safety and take all necessary precautions when decorating your fireplace with lights.
Elegant Mantel Lights and Lanterns from Balsam Hill
Here are our top picks for fireplace mantel lighting.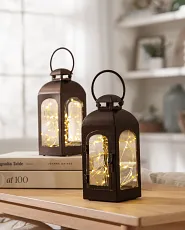 This versatile lantern suits a variety of decorating styles and themes. Place groups of varying sizes on either end of your fireplace mantel and enjoy the subtle glow of LED fairy lights contained inside.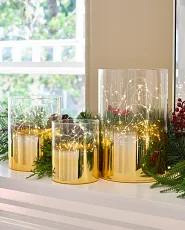 Add elegant polish to your fireplace mantel décor with this set of gold hurricanes. Fairy lights give off a warm glow that accentuates the burnished gleam of the glass receptacle.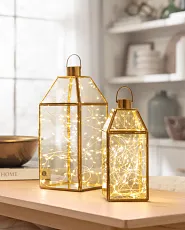 A traditional lantern with a gold finish makes this brass décor accent perfect for modern or luxe decorating themes. The glass panes allow light to filter through, giving your mantel a warm and welcoming feel.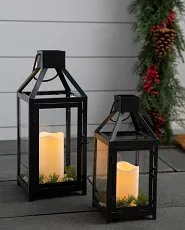 This vintage-looking lantern is perfect for holding flameless pillar candles, fairy light strings, or even seasonal accents like pinecones in the fall. Combine varying sizes to add interest and visual depth to your fireplace mantel.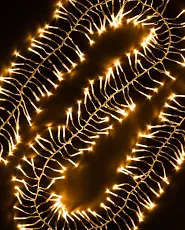 LED lights burn just as bright as traditional Christmas lights but consume less energy, making them a viable choice for festive fireplace mantel lighting. Drape this light string around your mantel décor for an enchanting glow.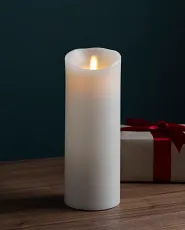 Pillar candles nestle perfectly inside decorative lanterns or candle holders. Choose battery-powered LED flameless candles to eliminate the hazard of a real candle flame. These candles come in various sizes, so you're sure to find the perfect one for your chosen theme.
Decorating Tips
Achieve an appealing and cozy display with these elegant mantel decorating ideas.
Stick to a Theme
A theme helps tell a cohesive story and allows you to show your style. Trendy themes include Modern Farmhouse with rustic lanterns and foliage and monochromatic, Scandinavian-chic design using neutral palettes and wooden textures.
Add Depth With Foliage
Start with a layer of foliage, like a long garland or wreath. It immediately adds warmth and charm to your fireplace mantel and creates a nice contrast against your lighting and other décor. Then, use stacks of books or small pedestals to vary the heights of your lanterns and candles and give your overall display a more inviting look.
Aim for Balance and Symmetry
Place the same kind and number of lanterns or candleholders on either end of your fireplace mantel for a symmetrical display. If you're going for a more eclectic look, just make sure both ends of your fireplace mantel décor mirror each other in terms of visual weight. Step back and check your display to make sure it looks balanced.
Personalize It
Your fireplace mantel is the perfect spot to share your family's story through cherished photos, travel mementos, and artwork. Then, add seasonal touches you can swap out throughout the year to keep your mantel looking fresh and updated.
Frequently Asked Questions
Here we answer some common questions about year-round decorative mantel lights.
How To Decorate Your Mantel With Lights?
Place lanterns filled with fairy lights or LED candles directly on your fireplace mantel. Similarly, you could use LED candles in decorative holders or receptacles that reflect your style. You could also opt for artificial wreaths and garlands pre-lit with LED lights for more decorating flexibility.
Can You Put Lamps on a Mantel?
Yes. Lamps on a fireplace mantel help heighten the warm and cozy ambience in your living room. Choose lamps with battery-operated LED lights for the most convenience.
How Do I Hang Christmas Lights on My Fireplace?
Use hooks or clips that are safe for the material of your fireplace mantel. Exercise caution when draping or hanging fireplace string lights, making sure they maintain a safe distance from the firebox. Another option is to hang Christmas or fairy lights on your mantel garland or wreath or use pre-lit foliage instead.
With the right accessories and accents, your fireplace mantel will be the charming focal point of your living room. Design a delightful fireplace mantel vignette with beautiful string lights, lanterns, and other lighted decorations from Balsam Hill. Click the link below to shop our selection.
Learn More About Fireplace Mantel Decorating
Read these articles next for more tips and inspiration.