The fireplace mantel is often a natural focal point where family and friends gather. Embrace the heart of your home with stylish decorations for the mantel, where every detail can tell a story. Balsam Hill's timeless décor essentials invite you to create a space that reflects your style and celebrates the charm of each season. Check out our list of popular mantel decorations below.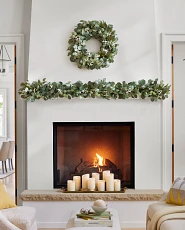 Our Mixed Eucalyptus Foliage offers a fresh, vibrant touch to mantels all year round, blending seamlessly with any home style. Its natural appearance and muted green hues provide a calming effect.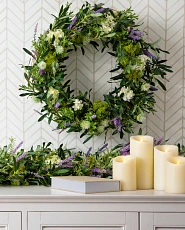 Elevate the look of your mantel with the French Market Floral Foliage. Its delicate flowers and diverse greenery exude sophistication and charm, adding depth and a hint of romance to your fireplace.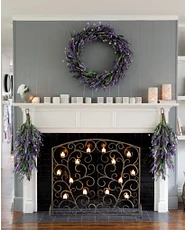 Nothing says Provence like the soothing sight of lavender. The Provencal Lavender Foliage captures the essence of the French countryside, adding a sense of tranquility to your mantel.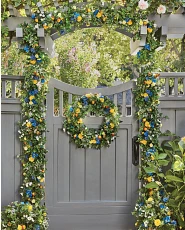 The Outdoor Summer Breeze Foliage brings freshness to your fireplace. It evokes memories of picnics and sunshine with colors inspired by the sun and sky.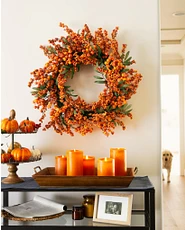 Our Fall Berry Foliage offers a festive touch as the air turns crisp and leaves change colors. With its rich oranges, reds, and browns, it can make your autumn mantel the centerpiece of your celebrations.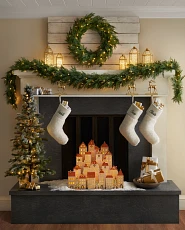 Embrace the rustic charm of the forest with the Cedar Woods Foliage. Its nature-inspired beauty perfectly matches homes aiming for a cozy, cabin-inspired feel.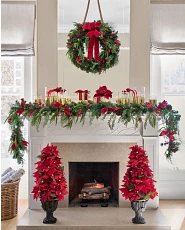 For a luxurious touch, look no further than the Grand Heritage Foliage. Its lush greens and bold red accents make it a timeless choice for homeowners who appreciate a bit of grandeur.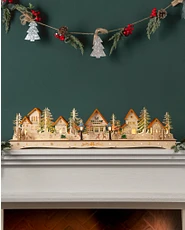 Let Balsam Hill's Wooden Christmas Mantel Village transport you to the Victorian era. Its intricate details and festive colors will inspire joy in every guest.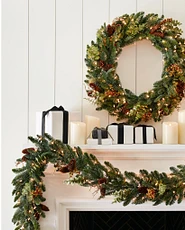 Set the mood with the soft glow of Balsam Hill's Miracle Flame LED Wax Pillar Candle. It offers the beauty of natural candlelight without the risk associated with open flame.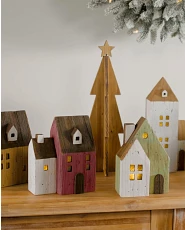 Celebrate the holidays with the rustic charm of the Lit Farmhouse Wooden Village. Its subtle lighting and wooden craftsmanship evoke nostalgia for Christmases past.
Decorating Tips
Below are some ideas for styling your fireplace mantel for any season.
Create Balance
When decorating your mantel, balance doesn't necessarily mean symmetry. While symmetrical designs are visually appealing, an asymmetrical layout can be beautiful if done correctly. Place a tall object on one end, then balance it with a cluster of smaller items on the other.
Stick to a Theme
Pick a theme to simplify your decorating process. Whether based on a color, a season, or a style, having a guiding theme ensures that all elements come together. For example, use the Wooden Christmas Mantel Village as a centerpiece, then surround it with other rustic elements for a cohesive look.
Layer Your Décor
Put some items partially in front of others to create depth. For instance, place the French Market Floral Foliage in the foreground with the Lit Farmhouse Wooden Village slightly behind for more dimension.
Mind the Space
While showcasing all your favorite pieces is tempting, leave space between items to allow each piece to stand out. This ensures the mantel doesn't look cluttered and lets each decorative accent shine.
Frequently Asked Questions
Read our answers to some of your common questions on mantel decorating.
What Should I Decorate My Mantel With?
Fresh or realistic artificial foliage and themed mantel décor are always a good choice.
How Many Items Should Be on a Mantel?
It depends on the size of the mantel, but using three items or less on each side is a good rule of thumb.
How Should I Style My Mantel?
Go with what feels suitable for your home's aesthetic. Whether minimalist, rustic, or festive, there's plenty of room to get creative with your mantel décor.
What Can I Put on My Mantel?
Anything from foliage and candles to decorative accents can enhance its appeal. You can also put seasonal items like Christmas stockings and pumpkins on the mantel.
Your mantel can shine every season with quality décor from Balsam Hill combined with your creativity and personal style. Click the button below to see our selection of fireplace mantel decorations.
Learn More About Decorating the Mantel
Visit the links for more mantel decorating guides.