Trying to decide on how to decorate your home for fall is always a fun task. This means using a brand-new color palette, replacing soft fabrics with thick ones, and incorporating more nature-inspired elements into the mix. Learn more fall décor ideas below.
Key Elements in Fall Decorating
When should you start decorating for fall? Some people start putting up autumn décor in late August. Another option is to wait until leaves change colors come September or October. Wondering how to decorate for fall and what elements to incorporate into your home décor? Here are a few tips from Courtney of French Country Cottage
1. Start With a Fall Table Centerpiece
Look outside to get great fall ideas for your home décor. This is an easy way to capture the abundance of nature's beauty. For example, gather fallen leaves, acorns, September wildflowers, and clip some long field grass to decorate your spaces.
2. Display Fall Pumpkins
Making use of pumpkins is another good autumn décor idea. They come in many shapes and colors, and will look great on the mantel, cupboard, or porch. Display gourds that come in white or muted green and orange for a lovely early autumn look. Another way to use white pumpkins is by pairing them with fresh flowers. Blooms are always in style, and they help create a soft romantic ambience in spaces. You can also fill lanterns with miniature pumpkins for an enchanting look.
3. Use Warm Metals
On the mantel, mix metals like copper mugs with dried greens and flowers for a simple, rustic look. Use old buckets or galvanized metal as containers for your outdoor

 
fall topiaries or potted arrangements
 

to add a farmhouse touch to your garden.
4. Incorporate Harvest Elements
Another handy fall decoration idea is to use fruits and vegetables. You can also tie loose pieces of wheat with a ribbon and display them on a door or banister for an unexpected look. A couple of those spread throughout your home will bring a feeling of abundance that will last until Thanksgiving.
Fall Design Trends in 2023
Welcome autumn with these popular fall home décor ideas. With nature as the main inspiration, you can draw from its changing colors to warm up your home.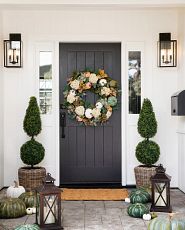 Earth Tones
Incorporate different autumn hues into your decorations to transition from summer to fall. Start with muted shades of brown, green, gold, and white. As the season progresses, switch to bolder tones like orange, yellow, red, and deep purple.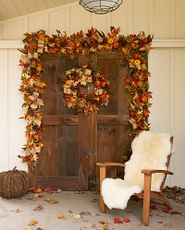 Cozy Exterior Spaces
Create a sanctuary with greenery and outdoor fall decorations. Flameless candles also help warm up spaces in the crisp evening weather. Meanwhile, chunk throws and cotton blankets make your lounge areas more comfortable.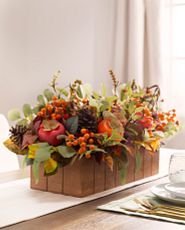 Nature-Inspired Accessories
Mix and match pieces that fit your decorating theme, such as a bucket or watering can filled with fall flowers. Put pumpkins, apples, and persimmons in a wooden container then place it on your porch or use it as a centerpiece.
We hope these simple fall décor ideas inspired you to add unique touches of the season's colors and charm to your home. To get the first look at seasonal decorating trends, sign up for our newsletter.
Usher in the Season
Learn more ways to make your home cozy this autumn. Read more fall home décor tips below.