Learn more about the best outdoor Christmas lights to help you plan and execute the perfect festive display. Here are our tips for choosing the perfect lights for your roof, windows, and outdoor spaces.
A Note on Outdoor-Safe Lights
Not all Christmas lights are suitable for both indoor and outdoor use. Unless specified otherwise, most lights should only be used indoors.
The best Christmas lights for your house should be specifically marked "outdoor-safe." Look for lights that have been approved by trusted companies such as UL (Underwriters Laboratory) or ETL (Edison Testing Laboratories).
Choosing Lights by Type
Christmas lights come in a wide array of colors, sizes, and special features to suit different decorating styles. Survey the outdoor area you intend to decorate and determine which light type will accentuate the space best. Learn more about common light types to help narrow down your options. You can opt to combine different kinds for a dazzling display.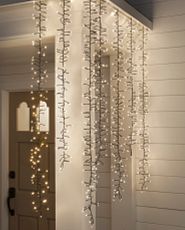 Cascading String Lights
Also referred to as icicle lights, these long light strings hang vertically and cover large areas with a curtain-like effect. They're a great place to start if you prefer simple Christmas lights in your house.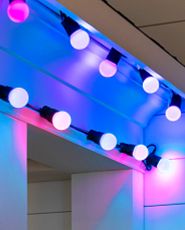 Festoon String Lights
Festoon lights are often considered the ideal Christmas lights for your roof, as they feature small to mid-sized bulbs evenly spaced out along the length of the string meant to hang horizontally across roof gutters and moldings.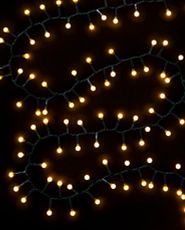 Outdoor-Safe Christmas Lights
Outdoor-safe traditional Christmas lights with either classic warm white or multi-colored bulbs that can be wrapped around porch railings and posts or used to illuminate trees and shrubbery.
Choosing Lights by Color
Whether you want to create a timeless display or dazzle friends and family with the latest in Christmas light technology, your choice of light color matters. Check out your options below.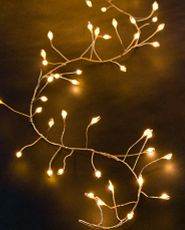 Warm White
Delight guests with the warm and welcoming glow of classic Christmas lights. Hang them from tree branches for an easy outdoor Christmas light display.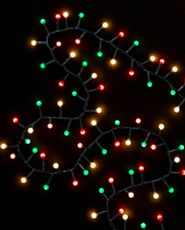 Multicolored
Celebrate the season with a colorful showcase. Drape them on shrubbery or around porch railings for a festive feel.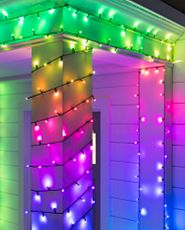 Twinkly
Customize and control the color changes and effects of your very own light show, right from your phone.
How To Measure Your Display Area
Use a tape measure to get the length of your roof line, window edges, and other exterior surfaces before calculating how many light strings you will need. Save the measurements so you can access the information the following year.
After measuring the length or width of your display area, compare the values with the length of the light strings to determine how many strands you'll need. The standard length for a 50-light strand is 25 feet, while a 100-light strand usually measures 50 feet. For example, if you need to cover a 120-foot space, you'll need at least five 50-light strands or three 100-light strands. You may need more if you're hanging the lights in a pattern.
Insider's Tip
Invest in a Light String Storage Box. This allows you to store your lights safely and efficiently when the season is over.
Frequently Asked Questions
Learn more about displaying outdoor Christmas lights below.
How Do You Make Christmas Lights Look Good Outside?
Identify the key features of your home's façade that you wish to highlight, be it your porch steps, trees and foliage, or roof line. Then, use the right kind and number of lights for a professional-looking display. Accentuate with festive YARD DECORATIONS to complete the look.
What Are the Best Lights To Use for Outdoor Trees?
Regardless of the outdoor Christmas light you choose, consider the bulb type. The best LED Christmas lights emit less heat and consume less energy compared to traditional incandescent bulbs. They may be a bigger investment upfront, but LED bulbs last longer and can help you save on electricity costs and replacement bulbs.
What Color Is Best for Outdoor Christmas Lights?
The best outdoor tree lights are a matter of personal preference. For a whimsical display, choose color-changing lights. For a soft glow akin to that of traditional Christmas trees, consider warm white outdoor Christmas lights.
We hope this guide to outdoor Christmas lights is helpful for you as you plan your next festive display. For more easy outdoor Christmas light ideas, visit the Balsam Hill Resource Center. To shop our range of outdoor Christmas lights, tap on the link below.
Learn More About Christmas Lights
For more information on decorating with Christmas lights, check out these articles below.