Summer is a great time to refresh your porch décor and welcome the warmer weather. It's also perfect for experimenting with brighter hues, playful patterns, and lighter fabrics. In this article, we'll share tips and ideas on how to update your front porch décor for summer.
Tips on Decorating Your Summer Porch
Here are some summer porch decorating tips to keep in mind.
Switch to Summer Colors
Summer is all about bright, vibrant hues – think yellow, orange, green, and blue. Incorporate these colors into your greenery, cushions, and other décor accents to create a fun, summery vibe for your porch.
Refresh Porch Furniture
Updating your porch furniture can help create a cheerful atmosphere for the space. This can be as simple as changing your cushion covers or as bold as trying a new paint color. You can also add outdoor throw pillows to soften the look and make your seating area more relaxing.
Use Cozy Lighting
Candles , lanterns, and string lights create a cozy ambience in any space. Wrap string lights around columns and porch railings, set lanterns on porch steps, and arrange multiple candles at various heights on tabletops.
Add Greenery
Greenery adds a touch of freshness to your porch. Hang a wreath on the door, drape garlands along the frame, and display potted arrangements by the door. Choose pieces with summery colors or flowers that reflect the season to brighten up the space.
6 Summer Porch Décor Ideas
Whether you have a small porch or a sprawling wrap-around, these summer front porch ideas will have your space ready for the sunny season.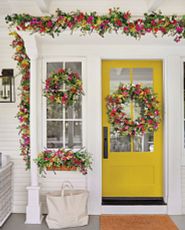 Bright Front Door
A fresh coat of paint gives your front door a new look and elevates your home's curb appeal. Choose a bold color like yellow or blue to make a statement and complement it with bright foliage to complete the look.
Colorful Wreaths
Think beyond the front door when hanging wreaths on your porch. You can suspend multiple wreaths from the ceiling or display them in groups on a wall. Choose pieces that feature colorful blooms like daisies and gerberas for that cheerful summery vibe.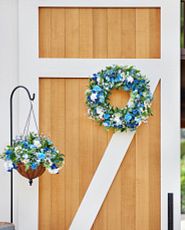 Nautical Charm
Create a cozy coastal retreat right on your front porch with a white and blue color palette. Inspired by the tranquil tones of sky and surf, this collection features daisies, forget-me-nots, lisianthus, baby's breath, and ivy leaves.
Citrus-Inspired
Incorporate citrus fruits reminiscent of the summer season such as lemons and oranges into your décor. They can be used as accents on your wreaths and hanging baskets or placed in a bowl as a centerpiece.
Natural Elements
Add extra warmth and texture to your front porch summer décor with accents made from natural elements. Wicker, jute, and sisal are all great materials that add a touch of nature to your home.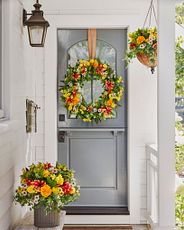 Matching Greenery
Go all out and decorate the front porch with matching greenery – from wreaths to garlands and hanging baskets to potted flowers. For convenience, select pieces with summery colors such as oranges and yellows that can easily transition into fall.
Frequently Asked Questions
Below we answer more questions on summer porch décor.
How To Decorate the Front Porch for Summer?
Start by choosing a color palette that reflects the season – blues, yellows, and greens are some of the more popular summer hues. Next, add a natural touch by incorporating flowers and greenery. Lastly, add cushions and throw pillows to seating areas to make the space cozy and relaxing.
How To Decorate a Small Front Porch for Summer?
A wreath on the door is all you need to spruce up a small front porch for summer. If there's space, you can add planters and a hanging basket to add freshness and color. Consider a trellis that you can mount on a wall to save up on floor space, then hang more accents for visual interest.
What Are Popular Color Schemes for Summer?
Bright and bold colors like yellow, turquoise, and coral are popular summer colors, as well as soft pastel shades like mint green and lavender. Ocean-inspired hues like blue and green are also trendy, especially with coastal or nautical themes.
What Flowers Are Best for Summer Porch Décor?
Geraniums, daisies, dahlias, and peonies are classic summer blooms known for their vibrant colors and fragrance. Roses and lilies are also popular and they can be mixed and matched to create beautiful arrangements. If you're allergic, opt for artificial flower arrangements so you don't have to worry about having a reaction.
We hope these summer porch ideas inspired you to create a vibrant space for your home this season. Click the link below to see our full assortment of greenery, décor accents, and more.
Find More Porch Decorating Ideas
Read the articles below for more tips and decorating ideas for your porch, patio, and outdoor spaces.