Elevate your home's festive atmosphere with top decorations from Balsam Hill. Whether you're aiming for a rustic look or a whimsical spin, our range of fall and Thanksgiving decorations will transform your space into a warm and inviting haven.
Foliage
Cozy up your home with our most-loved autumn wreaths, garlands, and other greenery
Décor
Turn your home into a Thanksgiving haven with our themed décor.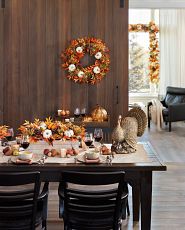 Make a statement with the Bronzed Tabletop Turkey as your table centerpiece. Its rich bronze finish captures the elegance of the classic Thanksgiving icon, creating a unique focal point.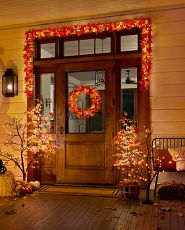 Add some excitement to your get-togethers with the Outdoor Lit Autumn Maple Tree. This tree features stunning orange rice lights that evoke the essence of crisp autumn evenings.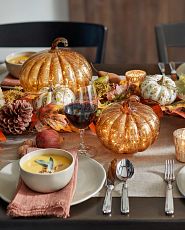 Make your home cozy with the Glowing Glass Pumpkins. Their amber foil finish radiates a warm, inviting glow perfect for Thanksgiving. Use them on the dining table, mantel, or credenza as accents.
Thanksgiving Decorating Tips
Wondering how to use our themed home accents? Try these Thanksgiving decoration ideas:
Create depth and visual interest by layering different foliage pieces. Pair Fall Harvest garlands with Briarwood Cottage arrangements for a rustic yet classy Thanksgiving decoration idea.
Decorate your porch with Outdoor Sunburst Mums potted arrangements and hanging baskets, then pair them with Glowing Glass Pumpkins for a magical evening ambience.
For a stunning yet simple Thanksgiving table decoration idea, place the Bronzed Tabletop Turkey in a Fairytale Pumpkin wreath as a centerpiece.
Add warmth to your evenings with the Outdoor Lit Autumn Maple Tree near windows or in the foyer to infuse your spaces with fall colors even after dark.
You can also pair Fairytale Pumpkin Foliage with Glowing Glass Pumpkins to lend a whimsical touch to your Thanksgiving decorations.
Frequently Asked Questions
Read our answers to more of your questions on decorating for Thanksgiving.
What Kind of Decorations Do People Use for Thanksgiving?
Traditional Thanksgiving decorations include autumn foliage, centerpieces, and themed accents like turkeys, pumpkins, and cornucopias.
What Is the Traditional Thanksgiving Centerpiece?
A traditional Thanksgiving centerpiece often features pumpkins, gourds, cornucopias, and fall flowers.
Why Do People Decorate for Thanksgiving?
Decorating for Thanksgiving not only creates a welcoming atmosphere for loved ones but also expresses gratitude for a bountiful harvest season.
What Color Is Best for Thanksgiving?
Warm, earthy tones like deep reds, oranges, browns, and gold are popular Thanksgiving colors.
What Are Common Decorations for Thanksgiving?
Typical Thanksgiving house decorations include wreaths, garlands, candles , table runners, placemats, and themed figurines like turkeys and cornucopias.
We hope this article gave you ideas on how to decorate your house for Thanksgiving. Click the button below to view the rest of Balsam Hill's best Thanksgiving decorations.
Learn More About Decorating for Thanksgiving
Need more inspiration? Visit the links below.