Nothing says "the holidays are here" quite like a home lit up in festive Christmas lights. A well-lit roofline creates a magical effect that will surely delight neighbors and passers-by. In this article, we'll share the best Christmas lights for the roofline along with tips on how to determine the right ones for your home.
Best Christmas Lights for Different Rooftops
The best Christmas lights for roofs depend on several factors such as the size and type of roof, as well as your desired lighting effect. Traditional string lights are a popular option for pitched roofs and outlining the roofline, while LED rope lights or net lights are ideal for flat roofs as they provide even coverage. Icicle lights that point towards the ground are the best Christmas lights for metal roofs as they can be challenging to light because of their reflective surface.
Other types of roofs include green, solar, tile, and shingle which can also benefit from different types of Christmas lights. When choosing the best outdoor Christmas lights for the roof, keep in mind that it's important to consider the safety and functionality of the lighting.
Best Size of Christmas Lights for Rooftops
When choosing the best size Christmas lights for the roof, consider the rooftop's size and the distance of the lights from the ground. You can use mini lights for outlining the roofline or larger C7 lights for a more dramatic effect. C9 lights are great options if you have a large rooftop or you're setting up a commercial display.
The Best Roof Lights
From traditional light strings to dainty fairy lights, here are some of the best Christmas lights for your roofline: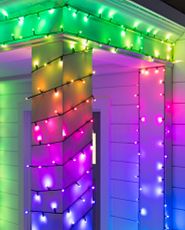 Twinkly Lights
Twinkly lights are the best Christmas roof lights if you want a fully customized display. These are available in a range of options: traditional, icicle, festoon, curtain, and cluster string lights. You can choose from a variety of pre-sets or change the colors and effects from a mobile app.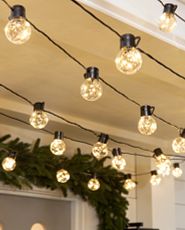 Globe Fairy Lights
Hang these globe fairy lights from the eaves to create a warm and cozy atmosphere for your home's façade. They're the best Christmas lights for a house roof if you're after that chic Parisian café look. You can also use them to create a canopy effect in your patio or backyard.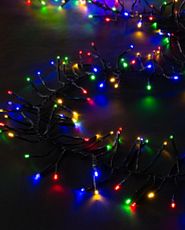 Cluster Micro Led Lights
These lights include a wireless remote control, a built-in 8-hour timer, and an 8-function control box. Choose Steady On, Combo, In Waves, Sequential, Slo Glo, Chasing/Flash, Slow Fade, and Twinkle/Flash. These are the best LED Christmas lights for the roof if you want a grand light display.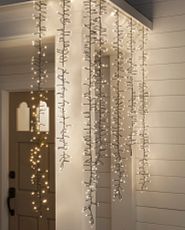 Cascading Micro Led Lights
These are great rooftop Christmas lights if you want a cascading or curtain effect for your home's exterior. You can connect up to five light strings together and use them to set the perfect scene for events or gatherings. Includes remote control and four different lighting modes.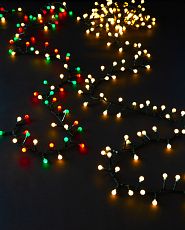 Cherry Lights
Whether it's Christmas lights on top of the roof or the tree, these cherry light strings add a festive glow to any holiday décor. Choose the warm white LED option for a classic look or the multicolor bulbs for an extra cheerful display.
Frequently Asked Questions
Below we answer some of your most common questions about Christmas lights for the roof:
Is It Safe To Put Your Lights on the Roof?
It's safe to put lights on the roof as long as they're installed and used properly. Make sure that your Christmas lights, light clips or hooks, extension cords, and electrical connections are all designed for outdoor use and not damaged in any way. Use a stable and sturdy ladder and have someone hold the base while you hang the lights.
Should Christmas Lights Be on Gutters or Shingles?
Whether Christmas lights should be installed on gutters or shingles depends on the light type you plan to use and the effect you want to achieve. If you're using icicles or standard string lights, hang them from the gutter using clips or hooks to keep them straight. For larger bulb types such as C9, you may want to hang them from the shingles instead to create a more dramatic effect.
What Type of Christmas Lights Are Best for the Roof?
This depends on the type and size of the roof, the distance of the lights from the ground, and the effect that you're trying to achieve. C7 or C9 lights are ideal for pitched roofs because the bulbs are larger and can be seen from a distance. On the other hand, Icicle lights are elegant choices for roofs with overhangs and awnings.
What Is the Best Color for Christmas Lights?
The best color for Christmas lights depends on your personal style, preferences, and the theme you're going for. Warm white lights are a classic and elegant choice for creating a warm, cozy glow, while cool white lights have a bluish tint that's perfect for a modern look. Multicolor lights are festive and add a playful touch to your holiday display.
What Is the Best Way to Outline the Roofline With Christmas Lights?
Using light clips is the best way to outline your roofline with Christmas lights. Start at the corner and space them 6 to 12 inches apart, ensuring each clip faces the same direction. Attach the light strings to the clips, keeping them taut but not too tight.
How Many Christmas Lights Do I Need for My Roof?
A good rule of thumb is to use 100 to 150 lights per foot, but this can vary depending on the density of lights and spacing between them. Measure your roofline and multiply the length by the number of lights you want to use per foot. For example, if your roof is 60 feet long and you want to use 150 lights per foot, you need 9,000 lights.
How Do I Measure the Length of My Roofline To Determine How Many Lights I Need?
Use a measuring tape to find the length of your roofline. Stand on one edge under the roof and have another person stand on the other edge. Multiply the length by the number of sides you plan to decorate, then add a few extra feet to account for gaps or overlaps in the lights.
Can I Use Indoor Christmas Lights for Outdoor Decorating?
Unless the lights are specifically designed for both, you shouldn't use indoor lights to decorate your outdoor spaces. Outdoor-safe lights are specially made to be weather-resistant and withstand certain elements like heat and rain.
Can I Leave My Christmas Lights on the Roof Overnight?
We don't recommend leaving your Christmas lights on the roof overnight. Make sure to turn them off before going to sleep or set them to a timer that automatically turns them off at a specific time.
We hope this helped you determine the best Christmas lights for your roofline. Click the button below to see our full collection of Christmas lights, yard decorations, and more.
Learn More About Christmas Lights
For more guides and tips on decorating your home with Christmas lights, read these articles next: