Make your home's exteriors match the festive mood of your indoor decorations this holiday season. Why not show off the natural beauty of your trees and landscaping and put together the perfect outdoor lighted display? Check out our guide to the best Christmas lights for outdoor trees and bushes below.
Best Lights for Outdoor Trees
Create a festive outdoor holiday showcase in your yard or garden with the best outdoor tree lights.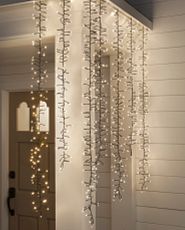 Cascading String Lights
Cascading or icicle light strings hang vertically with a curtain-like effect, making them ideal for hanging from branches. If you want a timeless and elegant design, these are the best lights for trees outside.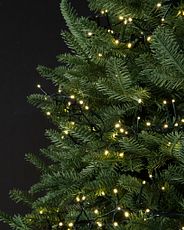 Easy Wrap Led Light String
A simple and convenient setup makes these the best Christmas lights for wrapping tree trunks. Easy Wrap LED light strings boast a classic golden glow and come with adjustable settings via remote control.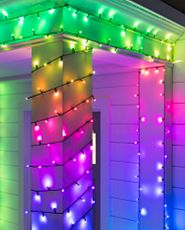 Twinkly
Wrap Twinkly light strings around tree trunks or hang them from branches and use the Twinkly mobile app to customize your very own multicolored and interactive light show. These are also the best Christmas lights for palm trees to give them that retro tropical feel perfect for summer parties.
Best Lights for Bushes and Shrubs
Use the same type of lights as your trees for a cohesive effect. You can also consider the additional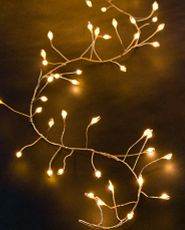 Fairy Lights
If you prefer a subtle glow with a magical effect, fairy light strings are the best Christmas lights for outdoor bushes. Simply drape them directly on your shrubbery or cluster them at the base of your bushes to light them from below.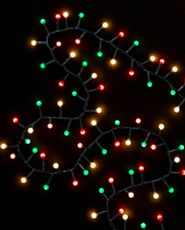 Multicolored Light Strings
Cherry light bulbs in traditional Christmas colors give your bushes and shrubbery a holiday feel. This is also the best light for a Christmas cactus as the festive light colors suit the tropical vibe.
More Outdoor Lighting Ideas
Complement your lighted foliage with even more illuminated decorations. Check out these options.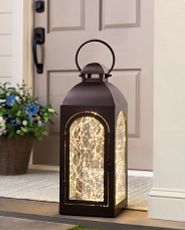 Lanterns
Lanterns filled with fairy lights make lovely decorative accents. Place groups of them in the bases of trees or shrubs or hang them directly from branches.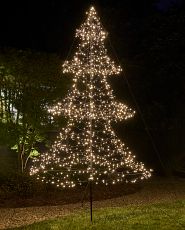 Lighted Yard Décor
Greet guests with a beautiful outdoor Christmas tree made entirely of lights in your front yard.
Frequently Asked Questions
Learn more about decorating your trees and bushes with Christmas lights by reading the answers to common questions below.
Can You Put String Lights on Bushes?
Yes, you can. However, make sure you use quality string lights specifically for outdoor use to minimize any hazards. Lights can be draped directly on bushes or shrubs. Plug them in to check if the lights are distributed evenly and adjust accordingly.
What Are the Best Lights To Hang On Outdoor Trees?
Outdoor-safe cascading or icicle lights create a curtain-like effect and give your garden or yard a festive feel all year round. Quality LED light strings are energy-efficient and impart a timeless soft glow.
Can All LED Christmas Lights Be Used Outdoors?
Choose lights specifically marked as outdoor-safe to avoid potential hazards. Read the product label carefully or refer to the manufacturer's guide to make sure you are decorating with outdoor-safe Christmas lights.
We hope this guide helps you plan your most magical lighted outdoor display yet. For more decorating inspiration, visit our online catalog. To shop our selection of outdoor Christmas lights, click the button below.
Learn More
Click on the links below to learn more about outdoor decorating for the holidays.