There's nothing quite like seeing a Christmas tree all aglow to celebrate the holiday spirit. Christmas tree lights are an essential part of seasonal decorating, and your choice of light colors can set the tone for spreading festive cheer. Why not let your Christmas tree make a colorful statement this year? Check out Balsam Hill's guide to decorating your holiday centerpiece with colored lights below.
How Do You Decorate a Tree With Colored Lights?
At Balsam Hill, we offer innovative solutions to make lighting up the star of your holiday decorations as easy as possible. Our easy wrap LED light strings come in the best Christmas light colors and make manually stringing lights convenient and fuss-free. You may also opt to choose from our wide range of pre-lit Christmas trees that come professionally pre-strung, so all you must do is plug in your tree to instantly spread some Christmas cheer.
Best Christmas Light Colors for Your Tree
From classic choices to the latest in cutting-edge technology, Balsam Hill offers the best Christmas light options for your tree.
Best Colored Christmas Lights for Your Home
Find the best colored Christmas lights for your house from Balsam Hill and create the perfect holiday display. Decorate both interior and exterior spaces to echo the festive feel of your Christmas tree.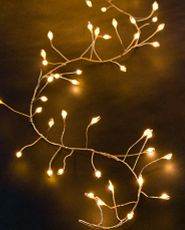 Warm White
Welcome guests with classic Christmas lights hung from porch beams or wound around railings. These lights offer a subtle glow perfect for lighting up exterior spaces at night, or to warm up common gathering areas like dens and living rooms.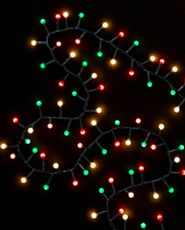 Multicolored
Red, green, and white bulbs make a festive and welcoming display. Wrap them on porch railings, drape them on shrubbery, or use them to light up wreaths and garlands.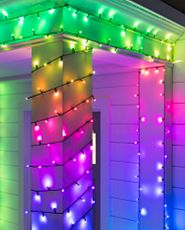 Twinkly
Become the most festive house on the block by putting on your very own holiday light show. Customize light color, speed, and other effects right from your mobile phone.
Frequently Asked Questions
Learn more about using colored lights on your Christmas tree.
Are Colored Christmas Tree Lights Tacky?
When done well, colored Christmas lights are a delight during the holiday season. Choose tree lights that allow you to dim their brightness or even switch or combine them with plain or classic warm white lights to help you customize your colorful display.
What Is the Most Popular Christmas Light Color?
Classic golden hues remain the most popular color for their comforting glow, but traditional holiday hues red and green are also the favored choice for a livelier display. Blue and icy white lights are also a trendy combination, especially when paired with silver ornaments.
Can You Mix Colored and White Christmas Lights?
Yes, you can. Like your choice of christmas ornaments, the lights on your tree are largely a matter of personal preference. Explore all the different lighting options available to see which one suits your holiday décor and personal style the best. Consider matching the colors of your tree lights to your home's aesthetic or to complement your chosen Christmas tree theme.
We hope this guide proves helpful as you plan and decorate your Christmas tree this year. Visit our Resource Center for more expert guides and tips. You can also tap on the link below to see our selection of the best colored Christmas lights.
Learn More About Christmas Lights
For more on Balsam Hill's Christmas lights, check out these helpful articles below.