Welcome the warmer season and refresh your front porch with spring décor. From vibrant ARTIFICIAL FLOWERS to soft furnishings in muted or pastel shades, there are different ways to spruce up your entryway. In this article, we share some tips and design inspiration you can try at home.
HOW TO DECORATE A FRONT PORCH FOR SPRING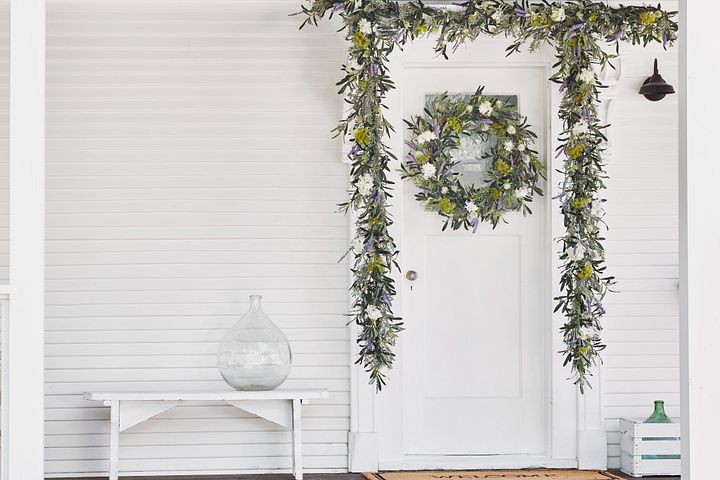 Consider these ideas when dressing up your front porch for the spring:
USE MATCHING FOLIAGE
When sprucing up your entryway, you can never go wrong with using FLOWER WREATHS, GARLANDS, and potted plants in the same foliage. Not only does this make decorating easier, but it also creates a cohesive theme.
ADD A POP OF COLOR
After a gloomy winter, welcome spring into your home with cheerful hues. Choose blooms in complementary shades for visual contrast or decorate with neutral tones and one bold color for a minimalist look.
DECORATE WITH REAL AND ARTIFICIAL FLOWERS
Mix real flower stems into your artificial flower arrangements for a more lifelike appearance. Make sure to use seasonal blooms like hydrangeas, lavenders, peonies, or chrysanthemums, and remove wilting flowers after a few days.
6 SPRING FRONT PORCH IDEAS
Here are ways you can deck out your porch this spring.
FREQUENTLY ASKED QUESTIONS
Below we answer some questions about decorating your front porch for spring.
WHAT DO YOU PUT ON A SMALL FRONT PORCH?
Decorate with greenery such as wreaths and small potted plants featuring seasonal flowers. You can also add outdoor-safe STRING LIGHTS AND LANTERNS so onlookers can still appreciate your décor in the evening. A small bench or accent chair with soft pillows will also give your space a cozy ambience.
HOW DO YOU DECORATE A PORCH FOR SPRING AND SUMMER?
Highlight seasonal flowers in your décor such as petunias, geraniums, or touch-me-nots. Hang a wreath or garland on the front door, then add pillows or cushions to outdoor furniture, along with a matching outdoor rug to define the space. To complete the look, hang light strings or lanterns for a cozy atmosphere during spring and summer evenings.
Usher in the warmth of spring with these spring porch ideas. REQUEST A CATALOG for more decorating inspiration.
FIND MORE DECORATING IDEAS
Read these next for more ideas on how to decorate for spring.
BEST SPRING WREATHS FOR YOUR FRONT DOOR
HOW TO DECORATE WITH REAL AND ARTIFICIAL FLOWERS
ENTERTAINING OUTDOORS? HERE ARE 6 SPRING DECORATING IDEAS FOR YOUR NEXT GATHERING