No matter the season or occasion, decorating with flowers is one of the best ways to brighten up a room. If your favorites are out of season, you can still create a beautiful floral display by combining fresh and artificial flowers. This guide will walk you through how you can mix real blooms with your faux flower arrangements.
Why Choose Artificial Flowers?
Aside from the occasional dusting and cleaning, faux florals require little to no maintenance. And if you're allergic to pollen, you don't have to worry about having a reaction. Here are the other benefits of artificial flowers:
Realism
The quality of artificial flowers has vastly improved since they first came out on the market. From velvety silk flowers to colorful arrangements, modern faux florals look and feel like real blooms more than ever.
Ease of Use
Artificial florals are easier to display than real ones. You can place a vase of decorative flowers in a room and leave it there for as long as you want — no water or sun necessary.
Cost-Effective
The price of fresh flowers fluctuates according to their seasonal and regional availability. If you're keen on having specific blooms for an event, consider artificial florals to save money. Putting that expense into a permanent flower arrangement is a one-time investment you can use repeatedly.
Versatile Designs
Artificial flowers allow you to try different designs per occasion or season. For instance, you can use artificial white hydrangeas with fresh lavender stalks and white lilacs for your spring décor. Reuse the same hydrangeas and combine them with real yellow azaleas and citrus fruits for a summer table centerpiece.
How To Mix Real and Artificial Flowers
Here's how you can update the look of your faux flower decorations by adding fresh blooms.
Step 1 | Start With an Artificial Flower Arrangement
When choosing faux flowers, it's important to invest in quality so they can last for years. Consider arrangements that feature neutral shades so you can easily mix and match them with other colors.
Step 2 | Select Fresh Flowers As Accent
For a seamless look, choose real blooms that complement your floral arrangement. Pick seasonal flowers and showcase their vivid colors or go for a minimalist palette, then emphasize symmetry with different flower bud shapes.
Step 3 | Clean the Fresh Flower Stems
With a sharp knife or pruning shears, cut stems at varying heights to create depth in your design. Remove leaves along the stems to make them easier to insert into the arrangement.
Step 4 | Add the Real Flowers to Your Artificial Flower Arrangement
Insert the stems at an angle to create structure. Turn the vessel as you go to check if you've achieved your desired silhouette.
Step 5 | Remove Wilting Flower
Many fresh flowers can last up to 7 to 12 days, depending on how they're used and where they're placed. Prune out wilting parts or stems to preserve the beauty of your floral arrangement.
Decorating Tips for Beginners
Find more helpful tips for decorating with artificial blooms below.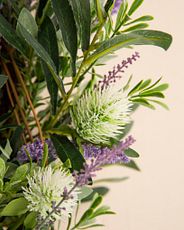 Opt for Realism
Highly realistic flowers are worth the extra cost to achieve a picture-perfect look whether you have fresh flowers or not. At Balsam Hill, we make high-quality artificial florals to ensure lifelike realism and longevity.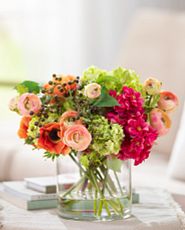 Use Flowers in Seasonal Colors
Find inspiration in nature and match your color palette with the season. Use pastels in spring, bright hues in summer, warm shades of yellow and orange in fall, and festive red tones in winter.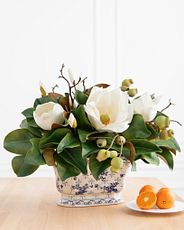 Add Greenery in Gaps
Another way to add volume to your floral home décor is to insert trimmings from artificial plants. This helps balance the structure of your flower display and build a canvas to make the colors of your blooms stand out.
Frequently Asked Questions About Artificial Flowers
We answer some of your commonly asked questions about real and artificial flowers below.
What Artificial Flowers Look the Most Realistic?
Balsam Hill's artificial flowers are hand-painted and assembled by professionals to closely resemble their natural counterparts. We make each piece with slight variations, so all flower arrangements are unique.
How To Decorate Your Home With Artificial Flowers
Display them on tables, lounge areas, and entryways in colors that mimic those in nature. Place them in unique containers like clear vases, wicker baskets, and metal buckets to update their look every season. Another option is to place them next to real plants in your garden to make them look more realistic.
What Are the Different Types of Artificial Flowers?
Artificial flowers come in stems, picks, and pre-made arrangements. They're also made with different materials that affect their durability and realism like polyester, foam, plastic, paper, or silk flower arrangements.
Can Artificial Flowers Be Used Outside?
When decorating exterior spaces, use only outdoor artificial flowers that can withstand certain levels of weather damage. We recommend displaying them for up to 3 months per year to make their beauty last longer.
Browse our catalog to see our latest spring décor styles and offerings. Create unique centerpieces with high-quality artificial flowers from Balsam Hill.
Learn More
To learn more about permanent flowers, visit the links below.