Aside from putting up spooky décor and watching scary movies with the family, carving pumpkins for Halloween is a favorite tradition for many. In this article, we'll give you some pumpkin carving ideas and additional tips to help make your Halloween décor equally elegant and eerie.
BEST PUMPKIN CARVING IDEAS FOR DECORATION
Whether you're throwing a pumpkin carving party or honoring a yearly tradition, you can show off your skills with these creative Halloween-carved pumpkins:
BLACK CAT
This is one of the easiest pumpkin carving ideas as you only need two pumpkins – one small and one large – and some spray paint. Carve out a pair of eyes on the smaller pumpkin, then spray both with black paint and allow them to dry. For ears, cut out four triangles from felt paper, then glue two pieces together with a toothpick or skewer in between. Stack the pumpkins on top of each other and place an LED tealight candle inside the head to make the eyes glow.
PUMPKIN PROJECTORS
Carve one side of the pumpkin with a spooky design then etch a fun Halloween quote on the other. Place an LED CANDLE in the hull of the pumpkin with the carved side facing the wall. When your design is projected onto the wall, your fun quote is illuminated on the pumpkin.
GNOME HOUSE
Cut out holes for the door and windows on a medium-sized squash, then insert toothpicks to create grilles and secure the door in place. Next, etch floral patterns on either side of the door and add mini glass balls attached to acorn caps for lights. On a smaller squash, carve out a window and repeat the floral etching, then place it on top of the bigger piece to complete your design.
NO-CARVE PUMPKIN DECORATION IDEAS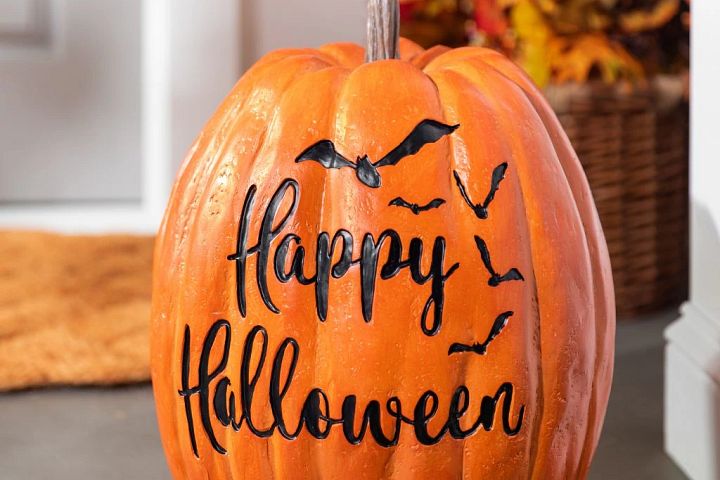 If you don't feel like making a mess from hollowing out a gourd, here are a few easy ways to decorate a pumpkin without carving it.
HALLOWEEN HOME
Personalize your Halloween and autumn décor by painting your house number on pumpkins. Spray paint your pumpkins in a solid, matte color so the numbers stand out. You can also display your family name or a use a decal of the state you grew up to in to tie up the look.
PRESSED AUTUMN LEAVES
Use real leaves or trace some onto red, orange, and yellow paper, then glue them onto a white pumpkin to make their colors stand out. Stick them randomly to mimic the appearance of fallen leaves or in a circular pattern that goes around the pumpkin.
PUMPKIN CANDLE HOLDERS
Take mini pumpkins then cut off their stems to create an indention where you can place votives or tea light candles. Display these on your dining table, library, or bedroom to create a cozy atmosphere.
ADDITIONAL PUMPKIN DECORATING IDEAS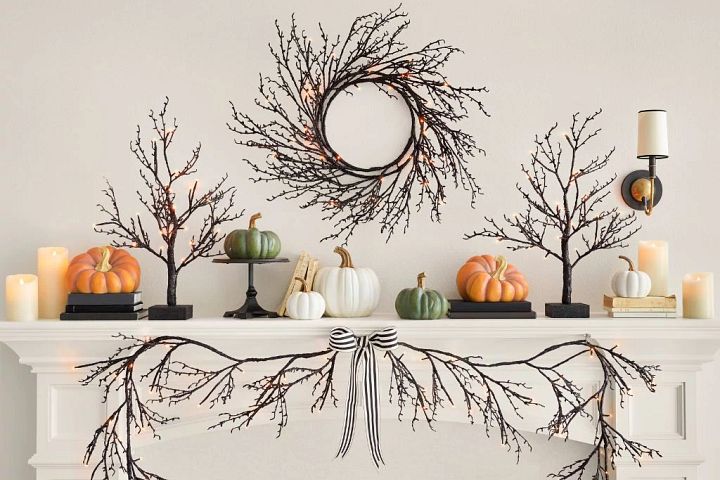 If you're looking for more ways to decorate with pumpkins, here are a few pieces from Balsam Hill's Halloween collection that you can incorporate into your décor.
We hope our pumpkin carving ideas and other decorating tips inspired you to get even more creative this Halloween. Celebrate fright night with Balsam Hill's latest selection of Halloween decorations.
NO TRICKS, ALL TREATS THIS HALLOWEEN
For more pumpkin decorating guides and tips, visit the links below.
EASY PUMPKIN DÉCOR IDEAS FOR FALL
FALL DÉCOR IDEAS FOR YOUR OUTDOOR SPACES