You found the perfect tree and you've planned your theme this year, but when is a good time to start decorating for Christmas? The weekend after Thanksgiving is ideal since you're done with hosting and entertaining duties by this time. In this article, we share expert tips and recommendations to help you decide when to put up your tree, greenery, and other holiday décor.
When To Start Decorating For Christmas
When is too early to decorate for Christmas? There's no hard rule when it comes to holiday decorating. Some put up their décor after Thanksgiving, while others wait until the first of December. There are also those who prefer to start as soon as Halloween ends. No matter when you start, it's all about what you enjoy the most.
When To Put Up Your Christmas Tree
When to put up your tree depends on whether it's real or artificial. Fresh trees typically last 4 to 5 weeks, so you might have to wait closer to Christmas if you want it to last through the season. You also need to consider the maintenance such as watering the tree and cleaning up fallen needles. Artificial Christmas trees, on the other hand, are more convenient since they don't require much upkeep and last for many years. And unlike real trees that dry up over time, artificial ones are less likely to become a fire hazard.
When To Put up Christmas Decorations
Greenery, stockings, lights, and other décor complete the full holiday decorating experience along with your Christmas tree. We recommend gradually dressing up your spaces with different pieces for a smooth transition from fall to Christmas and winter. Below is a guide you can follow.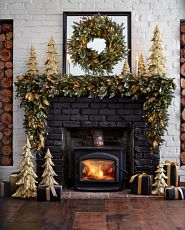 Christmas Wreaths and Garlands
Switch out your fall wreaths and garlands for winter greenery in late November. If they're not explicitly Christmas-themed, you can put them up even before Thanksgiving. Hang them on the front door, mantel, and outdoor spaces.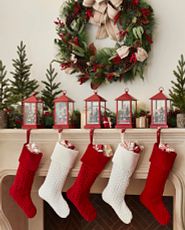 Christmas Stockings and Holders
Stockings are traditionally hung on Christmas Eve, but you can display them at the same time as your mantel decorations. Use decorative stocking holders to make the most out of your décor.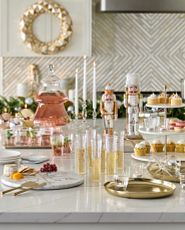 Christmas Tablescapes
Swap out your fall and harvest table décor as soon as Thanksgiving passes. You can keep it neutral for the first two weeks of December and add more holiday accents as Christmas draws near.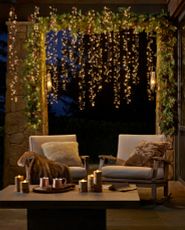 Christmas Lights
Christmas lights are versatile and can go up as early as Halloween. Clear lights look great any time of the year, while multicolor ones create a more festive ambience. You can also choose customizable lights so you can easily change the colors to match the season.
The best time to decorate for Christmas is up to you. If you start early, you get to enjoy and appreciate your holiday décor longer. If you prefer to wait, that gives you more time to do other things that matter to you. No matter which you choose, your holiday celebrations will always be special.
Ring in the Season
Find more decorating tips and style inspirations for Christmas. Read these next: