Thanksgiving is the highlight of the fall season. Celebrate the spirit of the holiday by elevating your fall décor with Thanksgiving-themed displays. A prime spot to consider is your fireplace, as the hearth symbolizes all things warm and homey – apt sentiments for the Thanksgiving holiday. Read on for Thanksgiving mantelpiece décor ideas for a memorable celebration.
Thanksgiving Mantel Decorations
The fireplace and Thanksgiving decorations are a match made in home styling heaven. Here are some of the décor elements essential to creating an impressive Thanksgiving fireplace mantel display.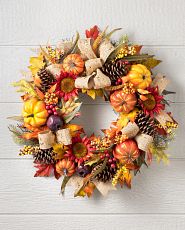 Fall Foliage
Bring the splendor of autumn foliage indoors with lifelike wreaths and garlands. Add coordinating small potted arrangements or tabletop trees to the display to enhance the warm and cozy feeling.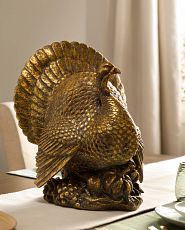 Turkey Décor
Thanksgiving is synonymous with turkey decorations. Incorporate tasteful touches to elevate your fall décor and drive home the festive feel of the Thanksgiving holiday.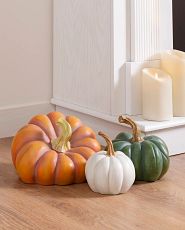 Gourds
Pumpkin decorations are a classic fall and Thanksgiving décor accent. Place them on the mantel to bring a natural and homespun feel to your Thanksgiving display. Paint them to suit your theme or leave as is for a rustic touch.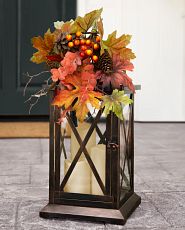 Candles and Lanterns
Candles and lanterns are the ideal fireplace mantel décor when you want to evoke a warm and cozy atmosphere perfect for the spirit of Thanksgiving.
Thanksgiving Mantelpiece Décor Ideas
When decorating your mantel for Thanksgiving, consider a theme that highlights your style and helps keep your décor cohesive. Here are some classic ideas sure to delight guests.
Rustic Farmhouse
Uphold classic Thanksgiving tradition with pumpkins, vibrant fall foliage and arrangements in galvanized buckets, and homespun textures. Consider a burlap garland with personalized signage or family photos to make it even more homey.
Modern and Minimalist
One of the most popular modern Thanksgiving fireplace ideas involves choosing a monochromatic neutral palette for your foliage, gourds, and other decorative accents. This gives your display a polished look.
Vintage Elegance
For vintage Thanksgiving fireplace décor, use mirrors, votive candles, stacks of old books, and framed family photos in gilt-edged frames to add a touch of old-world elegance to your Thanksgiving celebration. Add subtle flameless candles that let light bounce off the burnished finishes of your décor pieces and give your display a warm glow.
Insider's Tip
Artificial pumpkin decorations impart the same look and feel as fresh gourds, without the hassle of maintaining them. They're a good investment as they are versatile accents you can use year after year.
Thanksgiving Mantel Tips
Here are some extra considerations when planning your Thanksgiving mantel display.
Practice Fireplace Mantel Safety 
If you have a working fireplace, clean and inspect it as part of standard safety procedures before decorating the mantel.

Use flame-retardant décor pieces as an added safety precaution.

Before starting a fire, remove decorations closest to the fireplace to eliminate potential fire hazards.
Personalize Your Mantel Décor
Get the younger members of the family in on the decorating fun by trying some Thanksgiving mantel crafts you can then incorporate into the display. Consider handprint or paper plate turkeys, hand-painted pennants, or decorated pumpkins.

Embrace your family's rich history and honor those who have gone ahead by adding framed photos or heirloom decorations to your mantelpiece.

Try adding a gratitude jar activity as part of your Thanksgiving dinner activities. Display the jar on your mantel to celebrate the spirit of the holiday.
Frequently Asked Questions
Here we answer some common questions about decorating your fireplace mantel for Thanksgiving.
How To Decorate a Mantel for Thanksgiving?
Use wreaths and garlands featuring fall foliage, pumpkin decorations, and Thanksgiving-themed elements like turkey décor and cornucopias to evoke the feeling of warmth and reminiscent of the Thanksgiving holiday.
How Do I Make My Fireplace Mantel Look Nice?
Clean your fireplace and organize unsightly tools or gear. Stack or store firewood properly to give your fireplace a neat look. For the mantel, hang beautiful greenery and display small decorative accents that show off your personal style. Add themed elements for special holidays.
We hope this guide has inspired you and given you fresh ideas for decorating your mantel for fall and Thanksgiving. Click below to see our selection of fall decorations from Balsam Hill.
Learn More About Thanksgiving Decorations
Check out more articles on decorating your home for harvest season and the Thanksgiving holiday.