A bewitching Halloween atmosphere doesn't have to be confined to either your indoor or outdoor spaces. By blending décor, you can achieve a seamless, immersive experience perfect for the spooky season. In this guide, we'll provide practical tips and ideas for cohesive indoor and outdoor Halloween decorations that will leave a lasting impression on your guests.
Tips for a Cohesive Halloween Décor
Choose a Theme That Transcends Spaces
When thinking of Halloween ideas for outdoor decorating, opt for a theme that also effortlessly transitions into indoor areas. Whether it's a haunted graveyard or a wicked witch's lair, a consistent theme creates a unified look that ties both spaces together. This ensures your guests experience a seamless transition from the front yard to the living room.
Coordinate Color Schemes
Select a color palette that complements your theme and use it consistently throughout your décor. This could mean incorporating the same hues in your indoor throw pillows, outdoor banners, and even the costumes you and your family wear. A coordinated color scheme enhances the overall look and feel of the space.
Extend Outdoor Elements Indoors and Vice Versa
Bring elements from your outdoor home decorations inside and vice versa to blur the lines between your spaces. If you're using pumpkins and scarecrows in your yard, display smaller versions on your mantel or dining table. Similarly, if you're using eerie portraits or cobwebs indoors, bring some of these elements outside to create a sense of continuity.
Incorporate Consistent Props
Choose a few key props that you can replicate in both areas. For example, if you have ghostly figures hanging from trees outside, consider hanging similar ones indoors. This repetition of key props ties your spaces together and elevates the overall thematic experience.
Illuminate Both Spaces Creatively
Lighting plays a crucial role in achieving a cohesive décor theme. Use similar lighting techniques both indoors and outdoors to maintain consistency. String lights, lanterns, and flickering candles can create a magical glow that sets the perfect Halloween mood.
Use Pathway Décor to Connect Spaces
Create a pathway that leads from your outdoor decorations to your indoor space. This could involve lanterns, luminaries, or even a faux cobweb-covered archway. The pathway guides your guests and enhances the feeling of transitioning from one realm to another.
Integrate Shared Accessories
Select a few accessories that can be used in both areas. For instance, if you're using spiderweb-themed table runners indoors, place a few spiderweb accents outdoors as well. These shared accessories reinforce the cohesive look and bring together the different parts of your décor.
Plan a Unified Sound Experience
Like lighting, sound enhances the Halloween atmosphere. If you're playing spooky sound effects outdoors, extend this auditory experience indoors. A consistent soundtrack can heighten the immersive quality of your décor.
Maintain a Balanced Intensity
Strive for balance when it comes to the intensity of your outdoor and indoor Halloween decorations. Ensure that both areas exude the same level of spookiness. If your front yard is a chilling graveyard, your indoor space should maintain a similar eerie atmosphere to avoid jarring transitions.
Personalize With a Creative Touch
While aiming for consistency, don't forget to infuse your unique personality into the décor. Incorporate personal touches like handmade crafts, family photos, or even carved pumpkins that resonate with your Halloween theme. These individual touches will add depth and authenticity to your decorations.
Matching Indoor and Outdoor Décor Ideas
Here are some indoor and outdoor Halloween decoration ideas you can try: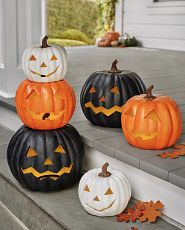 Pumpkin Enchantment
Place carved pumpkins with spooky faces on your porch steps and use smaller decorative pumpkins as centerpieces on your indoor dining table. Consider using pumpkins of varying sizes and styles in both areas for a coordinated effect.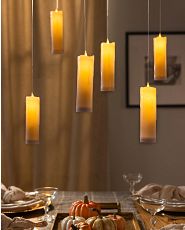 Mystic Lighting
Hang string lights or lanterns with flickering candles both indoors and outdoors. This consistent lighting style creates an enchanting glow that beckons guests into your Halloween wonderland. Opt for lights with a similar color temperature and intensity to achieve a harmonious look.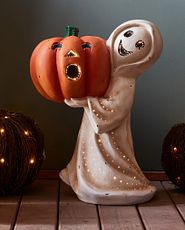 Creepy Creatures
Use life-sized skeleton figures and creepy creatures like ravens and spiders for a spooky atmosphere. Place them near windows inside and bushes outside for a unified eerie effect, like a skeletal figure reaching out from your living room window or emerging from a planter outdoors.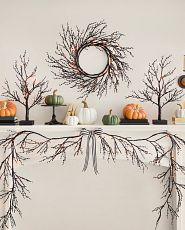 Frightening Foliage
Create an ominous ambience with twisted vines and black branches woven into wreaths and garlands. Place them above your fireplace mantel indoors and along your porch railing outdoors. This approach uses consistent foliage and vines to establish a unified look.
Spooky Silhouettes
Lit Halloween silhouettes create the perfect spooky ambience, especially at night. Envision a witch with a cauldron casting a mysterious spell or jack-o'-lanterns glowing with an otherworldly aura. Place these silhouettes indoors and recreate them outdoors, using backlighting to cast eerie shadows.
Frequently Asked Questions
Below are the answers to some of the most common questions about decorating for Halloween.
How Do You Blend Halloween and Fall Décor?
One way to combine fall and Halloween décor is to incorporate spooky elements into traditional autumn displays. Carve pumpkins with scary faces, hang spider webs in your wreaths, or place black crows next to your outdoor fall decorations. You can also use warm colors like orange, red, and brown or mix in some fall foliage with your spooky accents.
How Can I Decorate the Outside of My House for Halloween?
Decorating outdoors for Halloween includes hanging spooky decorations like fake spiderwebs, putting up Halloween-themed lights, carving pumpkins and displaying them on your porch, and even setting up a creepy graveyard scene in your front yard. Consider adding some spooky music or sound effects to set the mood.
How Do You Connect Indoor and Outdoor Decorations?
Match colors and themes to connect inside and outside home decorating ideas. Use similar or complementary colors and design elements to achieve a unified appearance between the two spaces. For instance, you can use the same fall outdoor wreaths on your mantel or interior walls. Decorate with versatile pieces like potted plants or lanterns that can be used indoors and outdoors.
How Do You Transition Fall Décor to Halloween?
One way to decorate for Halloween without completely changing outdoor or indoor fall decorations is to add Halloween-specific elements such as spider cut-outs, cobwebs, and black and orange accents. Think of front-yard Halloween ideas that you can easily replicate indoors, such as jack-o'-lanterns or carved pumpkins. This way, you can easily remove the pieces after the holiday.
We hope our guide helped you plan your indoor and outdoor Halloween decorations this year. Click the button below to see our complete collection of Halloween décor.
Find More Halloween Décor Tips
Read these next for more decorating guides and expert tips: