Set the scene for the spookiest night of the year by illuminating your Halloween display. Create the perfect atmosphere for things that go bump in the night with these Halloween outdoor lights from Balsam Hill.
Outdoor Lighting Ideas for Halloween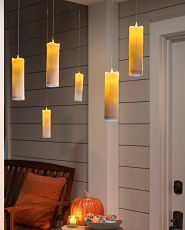 Welcome young witches and wizards to your magical castle with these floating LED candles. Even more whimsical, these candles come with a magic wand remote control that the kids (and kids at heart) are sure to get a kick out of.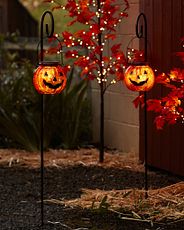 Let the iconic grins of Jack-o'-Lanterns guide the way to your doorstep. These solar-powered pathway lights are perfect for those looking for practical and eco-friendly Halloween yard lighting ideas.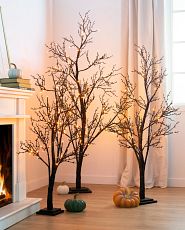 The sinister appearance and subtle glow emanating from these lighted glitter twig trees create an eerie ambiance when placed in clusters on your porch or entryway.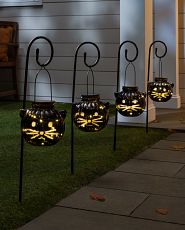 If love cats, you can line your pathway with solar lights in the image of witches' favorite familiars. The darker color palette is ideal for those leaning toward an elegant and monochromatic Halloween display.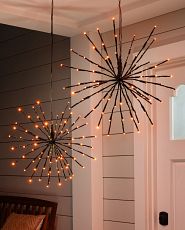 For an updated take on Halloween string lights, choose fixtures or décor in unique shapes. This starburst hanging light's spiky shape is sinister enough for the spooky season.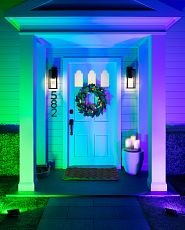 Go big and bathe your entire home's façade with mood lighting. Choose this as your yard lights for Halloween to create a wash of color ideal for setting a spooky scene.
Decorating Tips
Here are some things to consider when planning your outdoor Halloween light display.
Use the Right Lights
Check the product specifications for display and make sure your lights are marked safe for outdoor use. Exercise caution when setting up your lights, being careful not to overload your power sources. Consider LEDs, battery-operated pre-lit décor, or solar lights as more energy-efficient options.
Embrace the Subtlety of Silhouettes
The balance between light and shadow is what makes Halloween lighted displays so alluring. Put this into practice with silhouette décor cast against your home's façade or garage doors. This is a novel way to use lights in your outdoor decorations.
Try Layering Your Lights
Create nuance with varying degrees of brightness. Play around with the flickering effects of flameless LED candles juxtaposed against brighter lighted décor. Move your pieces around or adjust their brightness when you test your display at night. This creates spooky mood lighting instead of an overwhelming glare.
Frequently Asked Questions
Here we answer common questions related to the best Halloween lighting.
What Lights Do You Use for Halloween?
Use lights to elevate the eerie atmosphere and bring your Halloween display to life. Outdoor string lights on trees and on your porch railings cast a ghostly glow over your yard. Lanterns, pathway lights, and pre-lit decorative accents contribute to your spooky theme. You can also consider flood lights to illuminate your home's façade.
How Do You Light Up Your Yard for Halloween?
Large lighted décor serves both a practical and aesthetic purpose. Add lanterns to your porch steps or pathway lights to guide trick-or-treaters up to your door.
Balsam Hill has all the lights and décor you need to make your most impressive Halloween display ever. Tap the button below to check our selection of premium Halloween decorations.
Learn More About Halloween Decorating
Create a boo-tiful Halloween display with these expert guides from Balsam Hill.