Set the perfect spooky scene for trick-or-treaters that come flocking to your door. But how you do update a front porch for Halloween? Check out Balsam Hill's newest selection of spellbinding outdoor Halloween decorations and our expert decorating tips below.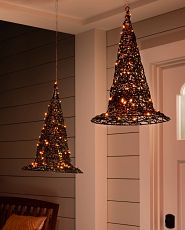 Add a little mystique to your Halloween door decorations with these lit witch hats. These versatile accents add ambient lighting whether suspended from the ceiling or placed on the porch steps.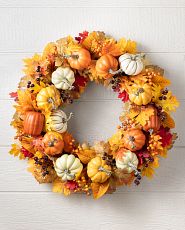 Have a Halloween celebration straight out of a fairytale with Balsam Hill's Pumpkin Patch & Berry wreath. It's a simple fall décor for your front porch that can be elevated for the Halloween holiday by adding Jack-o'-Lanterns and black cat accents to your overall display.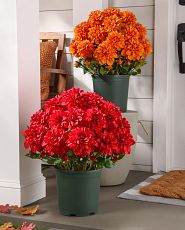 Add a touch of nature to your Halloween porch decorations with lifelike dahlias in crimson and orange – the perfect color palette for a vibrant Halloween display.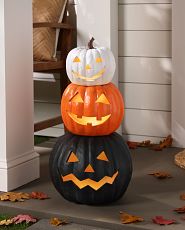 These versatile Jack-o'-Lanterns are pre-lit, stackable, and available in different colors, giving you the flexibility to style this quintessential Halloween décor as you like.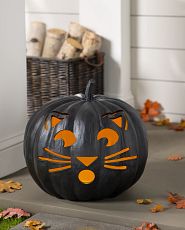 The best pumpkin decorations aren't afraid to be playful. Switch it up with a Cat-o'-Lantern this year and your Halloween display is sure to be a-meow-zing.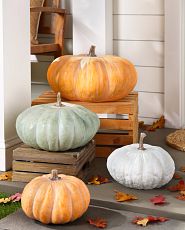 While already in-theme on their own, you can dress up these rustic pumpkins with artificial cobwebs and spiders for a spookier take. Add some lanterns filled with fairy lights and you have an enchanted forest right at your doorstep.
Decorating Tips
Perfect your Halloween outdoor decorating skills with these tips.
Safety First
Make sure you are using Halloween decorations marked safe for outdoor use. Clear walkways and paths of wires or other hazards that might be dangerous for trick-or-treaters.
Don't Scrimp on Lighting
Playing with light and shadow is integral to a creepy Halloween display. Get creative with string lights, lanterns, and LED candles to set the right atmosphere. You can even use colored lights for a festive ambience.
Stick to a Theme
Create a cohesive and impactful display by selecting a theme and decorations that suit your vision. Marry your outdoor and indoor Halloween decorations by echoing the same theme or using the same décor elements.
Try the Rule of Threes
When making an eye-catching vignette, try this trick by decorating experts: Group together three complementary items into an attractive display. Choose décor in contrasting sizes and textures for visual interest, but all related to one theme.
Frequently Asked Questions
Here are some answers to common questions about Halloween porch décor.
How Can I Decorate My Door for Halloween? 
Celebrate the spooky season with festive door wreaths, garlands, or banners decorated with Halloween ornaments.
How to Decorate a Small Entryway for Halloween?
You don't need a lot of space to make a significant impact. You can update your existing fall porch décor with Halloween-themed accents. If you don't have much floor space, consider going vertical – hang Halloween wreaths and garlands or display lighted décor accents on existing console tables or benches.
How Do You Hang Something on a Front Door Without Nails?
Adhesive hooks allow you to hang décor on your door without damaging it. Make sure you use heavy-duty hooks suitable to the heft of the décor you intend to hang.
Make this year's Halloween porch décor your most festive and frightening one yet. Click the button below to see our selection of elegant and on-trend Halloween decorations.
Learn More About Fall and Halloween Décor
Decorate your home for the holidays like a pro with these expert guides.