From designing spooky costumes to transforming an ordinary room into a realm of fantasy, Halloween is a celebration of creativity. In this guide, we share with you how to use Balsam Hill's Halloween indoor and outdoor décor to create a bewitching display.
Foliage
Here are some of Balsam Hill's wreaths, garlands, and other greenery that bring an autumnal feel to your Halloween décor.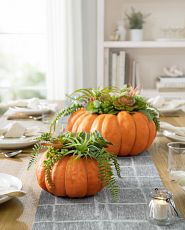 With the evergreen charm of succulents, this table décor effortlessly steals the show. Display it on its own or arrange it with faux mini pumpkins, berries, and trimmings to create a visual delight.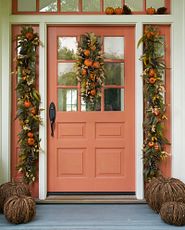 Autumn Abundance Foliage is the perfect fall decoration for doorways, hallways, and any space you wish to warm up with the colors of the harvest season. It features an array of leaves, berries, and pinecones that creates an ambience of festivity and abundance.
Lights and Halloween Candles
Up the spooky ante with the soft, warm glow of Balsam Hill's Halloween indoor lights.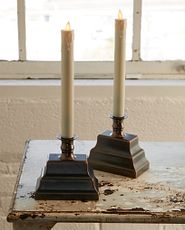 Flameless candles mimic the flicker of their real counterpart without the mess or fire hazard. Use its timer function so you can enjoy its mesmerizing glow from dusk to dawn.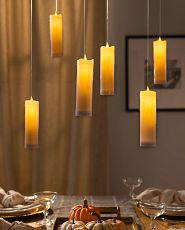 Bewitch trick-or-treaters with the Spellbound Floating Candles Set. Controlled by a magic wand remote, these LED candles add charm to your Halloween festivities.
Halloween Home Accents
Set the scene for telling scary stories with Balsam Hill's elegant Halloween décor.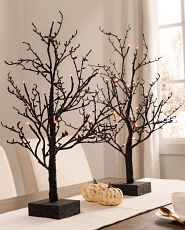 This pre-lit tree casts a magical glow reminiscent of haunted woods. Whether placed on a tabletop or entryway, it's an eerie addition to your Halloween display.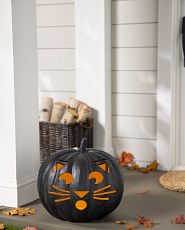 The Outdoor Lit Cat-o'-Lantern is a whimsical take on the traditional Jack-o'-Lantern. This polyresin feline-themed pumpkin adds a playful aura to your Halloween décor.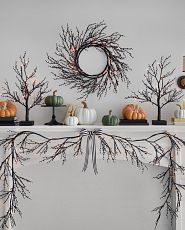 Rich in detail, our Tabletop Heirloom Pumpkins' intricate craftsmanship, ensures your tablescape or mantel looks nothing short of a Halloween feast.
Halloween Decorating Tips
Here are some decorating tips to make the most of your Halloween home accents:
Play With Light and Shadows
Use Halloween candles in areas where their reflection can create a mesmerizing shadow play, like near mirrors or in ponds.
Complement With Natural Elements
Surround Halloween lanterns with pumpkins, gourds, and fallen leaves. The contrast between real and artificial decorations gives off a balanced look.
Focal Points Matter
Choose a statement piece like the Lit Halloween Glitter Twig Tree and make it the focal point in your living space, then build the rest of your décor around it for a cohesive look.
Tell a Story With Placement
Create scenes or vignettes using related items. For example, place LED candles, vintage books, and apothecary bottles on the fireplace mantel, then intersperse them with Halloween garlands for a mystical look.
Frequently Asked Questions
We offer quick answers to some of your questions on Halloween decorating below.
How To Decorate the Inside of Your House for Halloween?
Adorn your spaces with accents like themed throw pillows, Halloween candle holders, and statement centerpieces to showcase a mix of traditional and modern pieces in your décor.
How Do You Elegantly Decorate for Halloween?
Choose muted color palettes, incorporate metallic touches, and blend in sophisticated accents like glass pumpkins and LED candles for an elegant set-up.
When Should I Start Decorating for Halloween?
There's no hard rule on when you should decorate for Halloween, but many people start in early October as it gives you ample time for a detailed, layered look. Meanwhile, some wait until after Thanksgiving to start decorating for Halloween.
What Are the Most Sought-After Halloween Decorations?
Lifelike foliage, LED candles, pumpkins, and glittery accents are some of the most popular decorations this year.
With Balsam Hill's Halloween accents, your spaces can echo the festive spirit of the season. Click the button below to see our complete Halloween décor collection.
Learn More About Halloween Decorating
Want more Halloween décor ideas? Visit the links below.