Regardless of the season, flowers always add a beautiful and unique element to your decorating. How about keeping your Christmas tree up all year round and using it as a backdrop for all things floral? It's a décor trend perfect for Christmas lovers. Seamlessly transition from one season to the next by changing up your tree decorations with flowers and other themed accents, and you will have a decorative conversation piece that will wow guests any time of the year.
Read on for tips and recommendations on how to decorate your Christmas tree with flowers to celebrate the spring and summer seasons.
Choosing Your Flowers
You can use fresh flowers on your Christmas tree but do note that delicate blooms don't last very long and require more maintenance. A DIY flower Christmas tree only needs to be decorated once and you can enjoy it for the rest of the season. Consider a combination of the options below: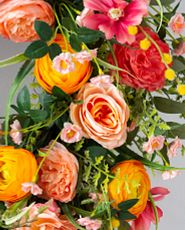 Roses & Peonies
Mirror the myriad colors of springtime sunrises and sunsets with peonies and roses in a burst of orange, yellow, and pink hues. Both flower varieties are also symbolic of warmer seasons, making them the perfect choice for your summer Christmas tree.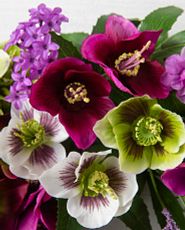 Hellebores & Lilacs
Make your summer tree the epitome of peace and tranquility by decorating it with a choice selection of hellebore and lilac blooms. These jewel-toned flowers offer a refreshing take on spring and summer blossoms.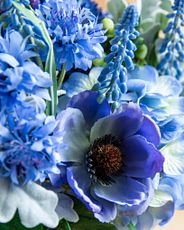 Cornflowers & Hydrangeas
Call to mind clear blue summer skies with cornflowers and hydrangeas in azure tones. Timeless and elegant, they also suit homes with coastal decorating themes.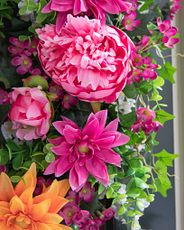 Peonies & Daisies
Paint a pretty picture with peonies and daisies in bold pink and orange hues. These classic spring blooms will bring vibrant color to your living spaces and make your summer Christmas tree the perfect décor piece for Easter, Mother's Day, and bridal or baby showers.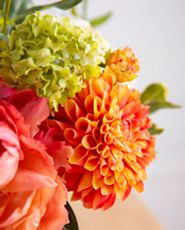 Hydrangeas & Mums
Welcome guests with a summer Christmas tree awash in the watercolor hues of hydrangeas and mums. Delicate and delightful, this flower combination embodies the cheerfulness of the season.
Picking Your Accents
Add nuance to your summer Christmas tree with accent fillers that complement the natural beauty of your chosen blooms. Here are some options to consider:
Fresh Greens and Flowers
Choose Christmas tree flowers and greens that dry well as they are displayed. This allows you to enjoy them longer with minimal upkeep. Eucalyptus sprigs, baby's breath, amaranth, and bunny tail grass are all good choices, as they lend a wonderfully rustic woodland look to your summer Christmas tree.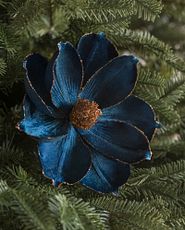 Artificial Floral Tree Picks
Tree picks are easy to arrange and attach to your Christmas tree, making for stress-free decorating. Opt for realistic floral or botanical designs that impart a natural feel perfect for spring and summer.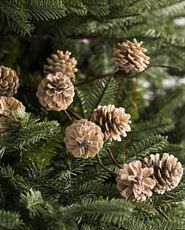 Natural Accents & Ornaments
Complement your Christmas tree flowers with ornaments in nature-inspired designs, like pinecones and berry clusters. Don't shy away from shimmery or metallic finishes – these impart an elegant and polished look.
Decorating the Tree: A Step-By-Step Guide
Once you've selected your combination of flower decorations, it's time to deck out your tree. For more fuss-free decorating, start with a pre-lit artificial Christmas tree so you don't have to worry about lighting up your finished tree later.
Step 1 | Use Natural Accents as a Base
Create a base with your bulkier or larger-shaped elements, like leaf sprays or pinecone picks. Leave the ends of your picks sticking just a bit further out to get a more rambling and natural look.
Step 2 | Add More Greens
Tuck in bunches of eucalyptus stems and the like into the branches of the tree until you have them filled in. Create more volume with a variety of fresh sprigs distributed evenly throughout your tree. Trim and tuck in as you see fit.
Step 3 | Tuck In Flowers and Ornaments
If using fresh flower Christmas tree decorations, insert them last into the tree branches. Start with the largest Christmas tree flowers and tuck them into areas that need more fullness. If you have simple ornament sets or other Christmas decorations that complement your flowers, add them into the mix to give your tree an even more romantic and elegant look.
One of the best things about using greens and fresh flowers for your Christmas tree is that you can enjoy the feel of Christmastime all year long—just change the flowers and décor for each season. Get more inspiration and creative new summer Christmas tree ideas by checking out our selection of artificial flower arrangements.
Learn More About Artificial Flowers
See what sets our artificial flowers apart from the rest by clicking on these articles below.