Fairy lights are a versatile and enchanting way to add a touch of magic to your patio décor. With their twinkling glow and delicate appearance, these lights can create a cozy atmosphere that's perfect for entertaining or enjoying a nice evening under the stars. In this article, we'll share tips and ideas on decorating with fairy lights.
Choosing Fairy Lights for Your Patio
Keep these factors in mind when choosing fairy lights for your patio:
Color and Style Options
Aside from traditional strings, fairy lights come in a variety of colors of styles. They can be in lanterns or pathway lights as well as pre-lit greenery. Choose clear lights if you prefer the classic glow or go for multicolored lights if you want a more festive look.
Energy Source
Fairy lights can be powered by batteries, electricity, or solar panels, so choose the energy source that best fits your space and needs. Solar-powered lights are cost-effective and eco-friendly but require direct sunlight to charge. Electrical ones are bright and last long, but you need access to an outlet. Battery-powered fairy lights are convenient but may not be as bright as the other types.
Length and Durability
If you're using fairy light strings, measure the space where you plan to display them to determine the length you need. Make sure to use outdoor-safe lights especially if your patio area is uncovered.
Fairy Lights Ideas for the Patio
Whether you have a small patio or a big one, these décor ideas will transform your space into a magical place.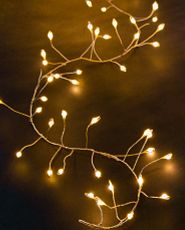 Highlight Special Features
Whether it's a unique artwork or a beautiful fountain, you can highlight your favorite statement piece with fairy lights. You can also cluster them together in one area to create a warm and cozy setting for any gathering.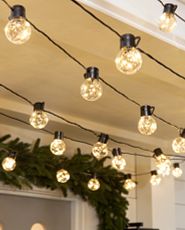 Create a Canopy Effect
Outdoor fairy lights strung across the patio create a magical look for the space. You can hang them from the roof, pergola, or trees to create that whimsical effect. Make sure to leave some slack so the lights hang in a gentle curve.
Place in Lanterns
Any type of lantern will do, but ones with clear glass panels are ideal for displaying fairy lights. To create visual interest, select different sizes and group them together. Place them in a corner or any area you wish to highlight.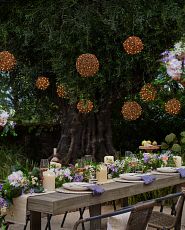 Hang From Trees
If you have trees on your patio, vertically hang LED fairy lights from branches to create a wonderful ambience. You can also choose outdoor pendant lights with built-in fairy lights for convenience.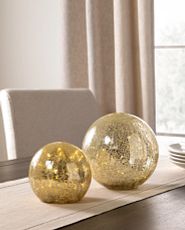 Use as Centerpiece Lights
Place them in a clear vase or bowl and use them as fairy lights centerpiece for your outdoor table décor. These make for great accents when you're entertaining friends and family on the patio.
Tips on Decorating the Patio With Fairy Lights
Remember these tips when planning your patio design ideas.
Combine Fairy Lights With Other Light Sources
Create a layered and dynamic lighting display by combining fairy lights with other light sources. Lanterns, candles, and pendant lamps are great options and will help set the mood for gatherings on your patio.
Ensure Proper Installation and Safety
If you're plugging your LED string lights into an electrical outlet, make sure to properly wire and ground them to avoid accidents, and take care not to overload outlets or extension cords. It's also a good idea to keep them protected from moisture to prevent damage.
Be Creative
Fairy lights are not just beautiful, they're versatile and can be used in many different ways. Don't be afraid to experiment and try to be creative in how you display them – whether it's creating shapes, patterns, or spelling out words.
Below we answer some of the most common questions about fairy lights.
How To Decorate With Fairy Lights?
Whether indoors or outdoors, there are many ways to decorate with fairy lights. You can drape them around mirrors, hang them on walls, and place them in old jars and vases. You can also put them in lanterns or drape them around your wreaths and garlands.
Can Fairy Lights Be Used Outdoors?
Fairy lights can be used outdoors, but make sure you choose outdoor-safe ones to protect them from elements such as water and heat.
Where Do You Put Fairy Lights Outside?
You can put outdoor-safe fairy lights wherever there are hanging points such as the roof, fences, or trees.
How Do You Display Outdoor Fairy Lights?
Display fairy lights outdoors by hanging them from trees, draping them around shrubberies, and wrapping them along your fences and railings. You can place them inside lanterns or glass bowls and use them as a centerpiece for your outdoor gatherings.
We hope these decorative patio ideas inspired you to spruce up your outdoor spaces with fairy lights. Click the button below to see our full collection of lights and more.
Learn More About Decorating With Lights
Read these next for more guides and tips on decorating with lights: