Christmas dinner platters and drinkware sets are functional and beautiful, making them a great addition to your festive holiday atmosphere. They can accentuate your decorations and add a special touch to your celebrations. Check out our collection of elegant serveware and drinkware below, along with some tips on decorating your Christmas dinner table.
The Best Holiday Serving Platters and Drinkware Sets from Balsam Hill
Eat, drink, and be merry with our Christmas serving dishes and glassware selection.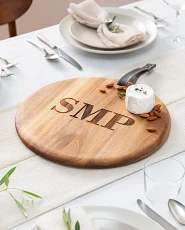 Our wooden charcuterie boards offer a timeless look that suits every holiday tablescape. Choose from round boards or rectangular trays and have them monogrammed for that extra classic touch. These make perfect hostess gifts, too.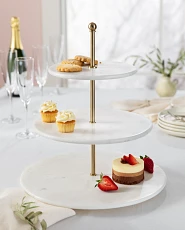 A tiered serving stand is a versatile workhorse when entertaining. Use it to offer an assortment of pastries at brunch or display desserts after Christmas dinner. Its marble finish lends a touch of elegance to your buffet table and matches most decorating themes.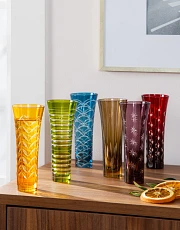 Toast to the season with colorful stemless flutes that gleam and catch the light like the ornaments hanging from your Christmas tree. These elegant glasses heighten the cheery mood of your holiday gathering.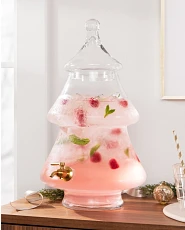 Keep guests' glasses filled with this charming Christmas tree drink dispenser. The clear glass allows you to show off your festive fruit punch or signature drinks, and it's an effortless way to add a holiday feel to your buffet table.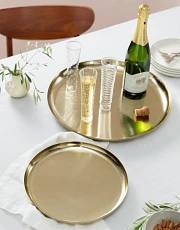 Evoke festive luxury at your next holiday gathering with these handcrafted serving trays that feature a brass finish. Serve up your cocktails or dress up your centerpieces for your Christmas dining table with the glamorous sparkle of this essential serving ware.
Decorating Tips
Here are some ways to jazz up your Christmas parties with special platters and glassware from Balsam Hill.
Create a Centerpiece
When setting the dining table for Christmas, consider your centerpiece first and see how your dining accessories can complement it. For example, trays in marble, brass, or other shiny finishes reflect the glow of string lights or votive candles, creating a warm and cozy effect.
Make Your Own Cocktail Bar
Assemble an assortment of glasses, trays, and serving stands on a sideboard or bar cart and use them to display drink mixes and garnishes artfully. Put a small chalkboard sign encouraging guests to mix their cocktails.
Design a Candy and Treat Station
Wide-mouthed jars, shallow dishes, and serving trays can hold a large variety of goodies. Guests of all ages will adore filling their loot bags with Christmas candy and treats.
Repurpose Them for Decorations
Your holiday serving platters and glassware can be helpful beyond the dining table. Create charming Christmas vignettes with them as bases or receptacles. Glasses can hold holiday-themed accents like acorns, mistletoe, holly berries, or small candles. Bigger jugs or platters can contain beautiful ornaments illuminated by fairy lights.
Frequently Asked Questions
Read answers to common questions about Christmas tableware and drinkware below.
Where To Find Christmas Dining Accessories?
In addition to premium artificial Christmas trees and seasonal décor, Balsam Hill offers elegant Christmas dinner platters and glassware perfect for your holiday gatherings. Shop on our website for utmost convenience and to enjoy free shipping. Most big box stores also carry Christmas-themed dining ware as part of their holiday inventory. If you're searching for unique accessories, try your hand at vintage stores or thrift shops.
How To Decorate a Dining Room Table for Christmas?
When designing your dining table for the holiday season, get creative with wreaths, garlands, lanterns, decorative candles, and seasonal décor. Look up dining table centerpiece ideas for Christmas for inspiration, then let your chosen theme or concept inform which kinds of plates, glassware, and cutlery you will use for a cohesive feel.
How Do You Make a Christmas Dinner Table Special?
Elevate your Christmas dinner table with intentional decorative choices. Now is the time to let your best dishes and silverware shine alongside an elegant centerpiece. Additionally, use decorative or themed serving ware to amplify the festive feel. Use fresh or lifelike artificial flowers and seasonal foliage to bring a touch of nature to your dining table.
Make your celebrations even more memorable with a beautifully decorated dining table. Shop Balsam Hill's selection of Christmas platters and drinkware by tapping the link below.
Learn More About Christmas Decorating
Read these next for more tips and inspiration.