Windows can be overlooked when it comes to décor, but they're a wonderful place to showcase your creativity all year round. Not only do beautiful window treatments give onlookers an inviting display, they also make guests inside your home feel cozy. Here are some window decoration ideas for spring, summer, fall, and winter.
Spring & Summer
The warmth of spring and summer makes it ideal to decorate your windows. Your décor will be visible from many angles, making it a great opportunity to update the look of your home. Here are some spring and summer window design ideas using Balsam Hill's outdoor-safe artificial florals.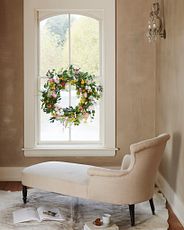 Nice and Simple
If you want to keep things neat and homely, display one foliage item on each window. This will draw the eyes of visitors and serve as a point of interest. Place a spring wreath in the middle, a garland across the entire frame, or a window box planter at the bottom.
Pair Up
Add symmetry and style to your window décor by combining two types of greenery. Another idea is to use more than one floral style. Not only does it showcase your creativity, it's also a great way to have fun with beautiful blooms.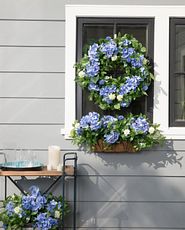 In Full Bloom
Celebrate the season and all its colors with windows dressed from top to bottom. Start with pieces directly on the window, such as a wreath, then add a pair of hanging floral baskets on both ends. Finally, add box planters or a window garland across the length of the sill. Accent the look with a matching potted arrangement on the ground or on top of a table.
Fall
Add a touch of the harvest season's warmth with a bountiful window display. With just a few decorative accents, you can create a charming fall scenery right on your windowsill.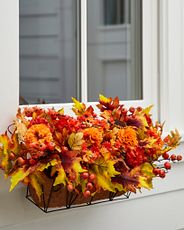 Autumn Abundance
If you had wreaths and garlands for most of spring and summer, switch it up with a window box for autumn. Fill it with beautiful outdoor foliage or use a pre-arranged one. Complement it with a matching swag draped over your mailbox or a hanging basket near your window surround.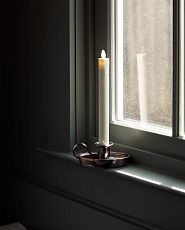 After Dark
Placing candles on your windowsill is a good living room window idea. Candles bring warmth to your spaces while creating an inviting look when viewed from the outside. Balsam Hill's Miracle Flame LED Chamberstick candles are a charming way to light up your windows all year long. Display just one or arrange them in groups on the window ledge for a serene effect.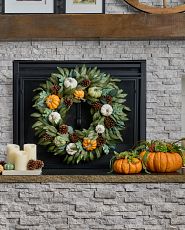 Pumpkin-Spiced
Highlight your window with clusters of pumpkins in different shapes and sizes or use small pieces to decorate your wreaths and other greenery. Add interesting details with fall window accents like metal watering cans and wicker baskets filled with harvest items and stalks for a farmhouse-style look.
Winter
From setting up Christmas wreaths for windows, hanging festive garlands on doorways, and drawing up the lights, here are some ways you can make the most out of your windows for the holiday season.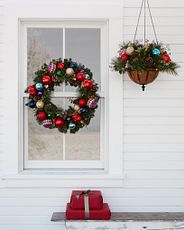 Festive Frames
Hanging multiple Christmas window wreaths creates an abundant, celebratory mood. For consistency, choose foliage that are similar in design or color. You can also create your own version of a white Christmas with frosted greenery even if it doesn't snow in the area that you live in.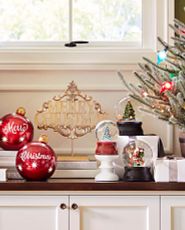 Set the Scene
If you have a window seat or a spacious ledge, set up a Christmas village or nativity scene. From inside the room, your window view serves as a natural backdrop to the scene you've created. When viewed from the outside, your little window scene complements any outdoor lighting you have.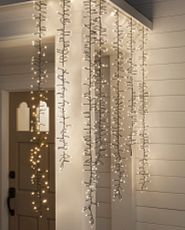 Cheery Drapes
Velvet red and green curtains make for simple but attractive window treatments, which you can cinch with beaded garlands for a more festive touch. You can also use cascading LED lights in place of a curtain to create a waterfall effect that goes well with a winter wonderland theme. Bring sparkle to your windows by placing Christmas lights on window jambs.
Frequently Asked Questions
We answer some of your common questions about window decorating below.
What Can I Use To Decorate My Windows?
Aside from wreaths and garlands, you can also use other types of greenery like window boxes and hanging baskets to dress up your exterior surround. For interior windows, you can use candles, light strings, and seasonal accents as decorations.
How Can I Decorate My Windows for Christmas?
A good rule of thumb is to follow the theme of your indoor decorations to tie everything together. Mix and match ornaments with different types of greenery for visual interest or hang undecorated wreaths and garlands for a minimal look. You can also wrap them in light strings for a dazzling display at night.
How Do You Decorate a Window Surround?
Make sure to use outdoor-safe greenery when decorating a window surround. Hang a wreath then pair it with a matching garland or potted arrangement. Another option is to set tabletop trees on your windowsill from the inside, then flank your exterior windows with accent trees for an enchanted forest-inspired display.
We hope this article gave you some ideas on how to update your window decorations for each season. Visit Balsam Hill's website for artificial greenery and premium decorations to help you create inspired spaces all year round.
Learn More

Read these next for more window design ideas.