Autumn florals in rich, deep hues add warmth, color, and texture to any space. While real blooms are certainly beautiful, they can be costly and only last a short time. Faux fall flowers are great alternatives since they last longer and require less maintenance. In this article, we'll share the best artificial fall flowers and tips on how to use them to spruce up your home for the autumn season.
5 Best Artificial Fall Flowers
Balsam Hill offers a wide range of fall artificial florals, from arrangements to potted blossoms. Here are some of the best faux fall flowers in our collection: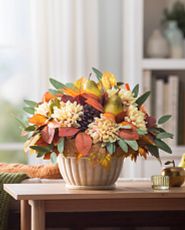 Sweet Pear Arrangement
Crafted and painted by hand, this features faux dahlias, pears, and pinecones mixed with vine maple, oak, beech, and eucalyptus leaves. The arrangement is set in a whitewashed resin pot that goes well with contemporary décor. Display it on a side table or use it as a table centerpiece for fall gatherings.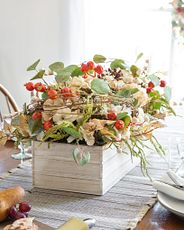 Briarwood Cottage Arrangement
Designed with hydrangeas, white berries, pinecones, rose hips, and mixed autumn leaves, this arrangement is a warm blend of autumn hues and lifelike flowers. The whitewashed wooden box is perfect for a rustic or farmhouse setting whether on a dining table or the entryway console.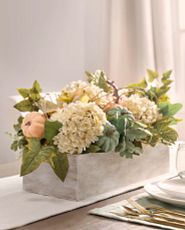 Fairytale Pumpkin Arrangement
Set in a rustic wooden planter, this fall floral arrangement features artificial hydrangeas, pumpkins, ivy, eucalyptus leaves, and assorted foliage. If you have a long table, place 2-3 of them as a centerpiece for your Thanksgiving celebrations, and then finish the look with candles or hurricanes.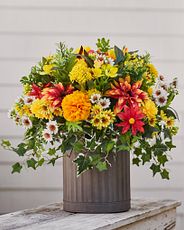 Outdoor Sunrise Dahlia Potted Flowers
With their brilliant shades of orange and yellow, these potted flowers are a beautiful way to transition from summer to fall. The arrangement features a lush assortment of dahlias, daisies, carnations, ivy, and desert narrow leaves. Display it on the porch or the foyer to give guests a cheerful welcome.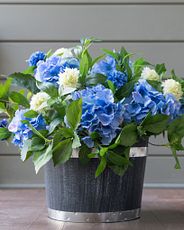 Outdoor Hydrangea Potted Flowers
While not a traditional fall color, blue hydrangeas can offer unexpected pops of color to your autumn décor. These potted flowers also feature ivory chrysanthemums and mixed leaves, adding elegance to the arrangement.
Decorating Outside With Fall Flowers and Topiaries
Here are some ways to decorate with artificial fall flowers for outside your home.
Display Fall Greenery
Hang wreaths, garlands, and hanging baskets on your porch or patio to welcome the autumn season. Choose greenery with fall flowers in colors such as yellow, orange, and red to keep with the theme. You can also use fall window boxes with artificial flowers to spruce up windows or railings. artificial fall plants
Pile on the Pumpkins
Pumpkin decorations are classic pieces for fall and you can't go wrong piling them up in different areas. Use assorted sizes and colors to add depth and dimension to your display. Set them on porch steps, tabletops, or in a rustic wagon.
Illuminate With Candles
Candles add a warm glow to spaces and create an inviting atmosphere that's perfect for the season. Display them in groups to illuminate pathways and porch or patio steps. You can also place them inside lanterns or hurricanes if you want to soften the light further.
Our Favorite Fall Flower Potted Arrangements
Below are a few of our favorite fall flower potted arrangements:
Outdoor Harvest Bloom
Warm and welcoming, this potted arrangement features golden maple leaves, magenta dahlias, and orange wildflowers. It comes in a milk can-style vessel perfect for rustic themes.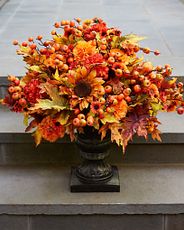 Outdoor Sunburst Mums
Featuring a vibrant mix of sunflowers, autumn leaves, and mums, this fall arrangement is UV-protected to retain its beauty all season long. Set a pair by the front door to welcome friends and family into your home.
Apple Spice
Crisp and colorful, this potted arrangement is designed with two-toned fall apples, cinnamon sticks, hydrangeas, maple leaves, and oak leaves. The vessel features a bronze finish that's ideal for classic and traditional themes.
Outdoor Sunset Mums
Available in gold, orange, and scarlet hues, this potted arrangement features realistic chrysanthemum flowers and foliage in a green nursery garden pot. Pair with your favorite pots to brighten up outdoor spaces for the season.
How To Make a Fall Flower Wedding Arrangement
Follow these steps to create stunning fall flowers in artificial arrangements for a wedding:
Step 1 | Decide on Color Scheme

Autumn is known for its rich, deep hues. Choose a warm color palette that reflects the season – think burgundy, yellow, deep red, and orange.

Step 2 | Select Flowers

Hydrangeas, dahlias, chrysanthemums, and zinnias are some of the most popular fall wedding flowers. Choose flowers that complement your color scheme, wedding theme, and personal preference.

Step 3 | Choose Greenery

Add foliage to provide texture, depth, and contrast to your arrangement. Some options include fern, ivy, eucalyptus, silver dollar vines, and maple leaves.

Step 4 | Gather Supplies

Prepare your vessels, flowers, greenery, floral foam, floral tape, scissors, and wire cutters.

Step 5 | Prepare Vessel

Soak the floral foam in water until completely saturated then place it in the vessel and secure it with floral tape.

Step 6 | Trim Stems

Before adding flowers and greenery to the arrangement, trim the stems at an angle using a pair of sharp scissors or secateurs. This will help them absorb water more easily and keep them looking fresh longer.

Step 7 | Arrange Flowers

Start by sticking your foliage and greenery into the foam, then add the largest flowers and place them in the center of the arrangement. Add the smaller flowers and fill in any gaps as you work your way outwards.

Step 8 | Step Back and Adjust

Now and then, take a step back to assess your arrangement. Make adjustments where needed to ensure the colors and sizes are all balanced out.
Frequently Asked Questions
Below we answer some of the most common questions about fall flowers.
How Do You Make Fall Artificial Flower Arrangements?
Start by choosing your color palette, flowers, greenery, and accents. Gather your supplies, including your vessel of choice, floral foam, wire cutters, and hot glue. Arrange the flowers and greenery in the vase, using the foam to secure them in place. Add accents like berries, pumpkins, or pinecones for extra texture and interest. Use hot glue to attach any loose stems or accents and make any final adjustments before displaying your fall arrangement.
What Flowers Do You Decorate With in the Fall?
Popular fall flowers include hydrangeas, chrysanthemums, dahlias, sunflowers, and ranunculus. Lilies, roses, marigolds, and anemones are also beautiful and elegant choices for your fall flower arrangements.
Can Artificial Flowers Be Kept Outside?
Unless they're specifically made for outside use, we don't recommend leaving artificial fall flowers outdoors as they won't be able to withstand elements such as direct sunlight and rain. Make sure to choose OUTDOOR-SAFE wreaths, garlands, and arrangements as these are specially designed to be weather-resistant.
What Flowers To Put in a Window Box for Fall?
Mums, pansies, crotons, asters, and goldenrods are just some of the flowers you can put in a window box for fall.
What Flowers Are Best for a Fall Bouquet?
Roses are a classic choice for a fall bouquet and they come in different colors. Sunflowers, zinnias, dahlias, and chrysanthemums are also great options as they add pops of color to a bouquet.
How Do You Put Faux Flowers in a Window Box?
Use floral foam to secure faux flowers in a window box, taking care to arrange them in a way that makes them look natural. Consider combining them with artificial fall plants to create a lush and colorful display.
How To Make a Fall Wedding Bouquet With Artificial Flowers
To make a fall wedding bouquet with artificial flowers, select blooms that match the season and your color scheme. Build the bouquet using floral wire and tape, then add accents such as berries or fall leaves for texture and interest. Finish the bouquet with ribbon to cover the wire and create a handle.
We hope this inspired you to refresh your spaces for the autumn season with artificial fall flowers and topiaries. Click the link below to see our full collection of wreaths, garlands, arrangements, and more.
Learn More About Artificial Flowers
For more guides and tips on decorating with artificial flowers, check out these articles: