A front door wreath gives your home a warm and welcoming look, no matter the season. Summery blooms against vibrant evergreens brighten up your porch, while fall foliage celebrates harvest and autumn's vivid colors. Christmas wreaths, on the other hand, are holiday decorating staples that spread cheer to all those who come knocking.
In this guide, we share our best-selling wreaths for your front door as well as expert tips to help you decorate for each season.
Best Christmas Wreaths For Your Front Door
Balsam Hill offers a wide variety of foliage items, including BATTERY-OPERATED WREATHS and outdoor-safe greenery. Below are some of the best wreaths you can use to spruce up your front door for the holiday season.
Best Spring Wreaths For Your Front Door
Refresh your home for the new season with vibrant SPRING WREATHS, garlands, and other greenery. Check out some of our realistic and outdoor-safe floral wreaths below.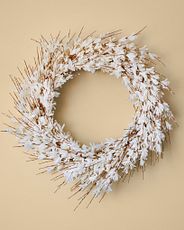 WHITE FORSYTHIA
The White Forsythia is a simple yet elegant everyday wreath for the front door. Designed with white forsythia blooms and buds on light brown stems, each wreath is unique and assembled by hand with slight variations. Hang it on your main entryway as a transitional piece between seasons.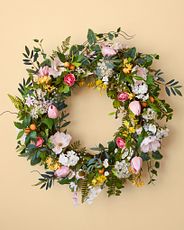 SPRING IN BLOOM
One of our best wreaths for your front door during spring, this floral wreath is designed with a hand-gathered look. The wreath features an array of poppies, orchids, freesia, wild statice, ranunculus, cherry blossoms, kumquats, and tulips in soft colors to welcome the new season.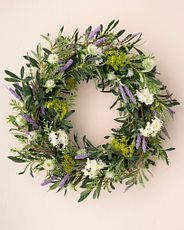 FRENCH MARKET FLORAL
Inspired by French floral markets, this charming wreath features a blend of artificial purple cattails, white lilacs, and thistle with mixed greenery. Hang on your front door along with the matching garland to recreate the beauty and romance of springtime in Paris.
Best Fall Wreaths For Your Front Door
Elevate your autumn décor with this year's best FALL WREATHS. From classic pumpkins and gourds to fiery fall leaves, our autumn wreaths bring the splendor of the season into your home.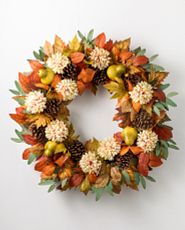 SWEET PEAR WREATH
Our Sweet Pear Wreath features mixed leaves in deep autumnal hues, faux pears, pinecones, and ivory dahlias. Hang on your front door or windows for a bountiful display all season long. Also available as an arrangement that you can set on tabletops in the living room or kitchen.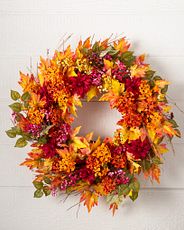 OUTDOOR HARVEST BLOOM WREATH
This elegant autumn wreath is a stunning arrangement of magenta dahlias, orange wildflowers, and golden maple leaves. Pair it with the matching garland to create a striking statement for your front door. Also available as a mailbox swag, window box, hanging basket, and potted arrangement.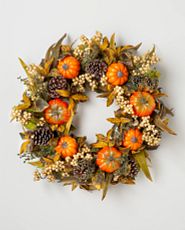 AUTUMN ABUNDANCE WREATH
Designed with warm earth tones and natural accents, this wreath celebrates harvest with its array of fall leaves, pumpkins, berries, and pinecones. Display on your front door with the matching garland to create a cozy welcome. Also available as a swag and arrangement for your fall tablescapes.
FREQUENTLY ASKED QUESTIONS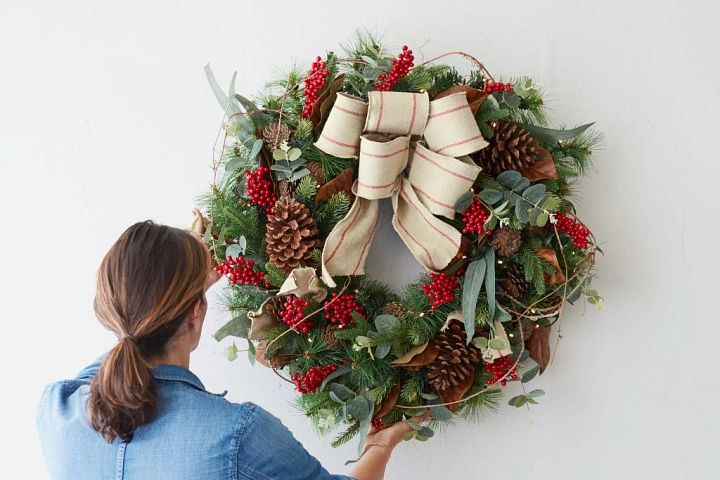 Below are questions and answers to the most common topics about wreaths and how to decorate your home with them.
What Does A Wreath On The Front Door Mean?
Back in the 16th century, wreaths were a symbol of hope and spring during the winter season. It's also believed that they're hung on the front door as a way to invite the spirit of Christmas to enter the home. These days, wreaths can be used to decorate the front door whether it's spring, fall, or winter.
What Size Wreath Should I Put On My Front Door?
Measure the height and width of your front door. A wreath should cover 50 to 75% of the door's width and shouldn't be wider or taller than the hanging surface. For a standard 30 to 36-inch door, allot about 6 inches of space on each side of the wreath. Choose a bigger wreath and leave at least 2 inches of space on each side for a more dramatic effect.
How Do I Hang A Wreath On My Front Door?
Use a wreath hook for your front door to make decorating easier and more convenient. This way, you also won't have to worry about damage from adhesives or screws. Our METAL WREATH HANGER for front doors is adjustable and can support wreaths weighing up to 20 pounds.
What Can I Put On My Front Door Instead Of A Wreath?
Swags and hanging baskets are great alternatives if you're looking for ways to decorate your front door other than with a wreath. Check our collection of CHRISTMAS SWAGS & TEARDROPS, FALL SWAGS & HANGING BASKETS, and SPRING HANGING BASKETS & WINDOW BOXES and you're sure to find one that's perfect for your home any time of the year.
Balsam Hill's beautiful range of lifelike and vibrant wreaths elevates any home décor regardless of season. Whether it's for the holidays, spring, or fall, you'll find greenery and wreaths for your front door that suit your space and style.
LOOKING FOR MORE WREATH INSPIRATION?
For more decorating tips and guides, read these next:
HOW TO DECORATE CHRISTMAS GARLANDS & WREATHS
HOW & WHEN TO TRANSITION FROM ONE SEASON TO THE NEXT