Have you heard of the phrase, "Say it with flowers?" There's a literal meaning behind it, as there exists a history and social etiquette associated with gifting and displaying flower arrangements. Read on and master the art of communicating with beautiful blooms.
FLORIOGRAPHY: THE HISTORY AND MEANING OF FLOWERS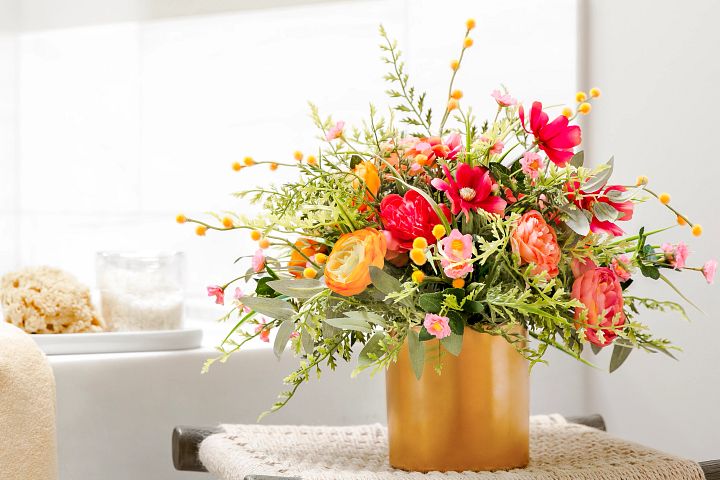 Different blooms have always been used to convey meaning in various cultures throughout history. You'll see it in several forms of written pieces—from the Hebrew Bible to Shakespearean plays. However, it was in the Victorian era that floriography, or the language of flowers, grew in popularity. Flower arrangements were used as a mode of communication to convey coded messages. Households even had guidebooks to decode the meaning behind flowers. Today, we continue to use blooms to express our feelings without words and show our appreciation, care, and more.
FLOWER MEANINGS: LIST OF MOST POPULAR BLOOMS
Here's a list of popular flowers, the associated meanings behind them, and how you can best use this flower language to your advantage today.
ROSE
The rose is widely considered the timeless symbol of love, but various colors connote different meanings. Red roses represent romance and passion and are usually given to a lover. Yellow ones connote friendship and care, while white roses are an homage to new beginnings. Pink roses, on the other hand, represent joy and gratitude.
TULIP
Tulips symbolize perfect, deep, and undying love. It applies to anyone near and dear to you, whether it's a family member or a treasured friend. Tulips are a thoughtful gift to show someone that you love them unconditionally. They also suit many spaces as your home décor. A floral wreath or garland with these blooms is sure to brighten any room.
ORCHID
Orchids often symbolize elegance. During the Victorian age, these tall, slender flowers only grew in the tropics. People would collect and give these blooms as a sign of luxury and refined taste. In China, orchids are emblematic of wealth and fortune. Use them to manifest prosperity and good luck in your home.
HELLEBORE
The hellebore represents serenity, tranquility, and peace. This beautiful flower thrives in cold weather and usually blossoms in winter and early spring. One of its variants is called the "Christmas rose" because it blooms around the holidays in warmer regions.
DAHLIA
The most common meaning of the dahlia is finding inner strength, rooted in the flower's ability to withstand harsh conditions. Indigenous to the highlands of Central America and Mexico, the latter considers the dahlia its national flower.
PEONY
The peony is an important flower in both history and mythology, holding many flower meanings. The showy blossom has been cultivated for more than 1,600 years, which spans different Chinese dynasties. Dubbed the "king of flowers," it symbolizes nobility, honor, and wealth. Meanwhile, Greek mythology ties the peony to either compassion or bashfulness.
RANUNCULUS
Symbolizing charm and attractiveness, the ranunculus is the perfect tribute to someone you admire. It comes in a wide range of colors and suits different types of celebrations. White ranunculus flowers are ideal for weddings, birthdays, and anniversaries. For housewarming parties, go for pink, orange, and yellow blooms.
LAVENDER
Lavender is commonly associated with healing and relaxation. Many use real blooms and their essential oils for aromatherapy and sleep. Others adore the flower for its distinct look. Bunches of lavender call to mind pictures of idyllic fields in Provence, France. Elevate the cozy feel of any space with these graceful stems.
DAISY
Daisies were a sacred symbol for Freya, the Norse goddess of love, beauty, and fertility. An emblem of childbirth and motherhood, they're occasionally given as a congratulatory present for new mothers. Old English refers to it as "day's eye" because the petals fold into their yellow center at night and open again during the day.
PROTEA
The protea represents diversity and courage. These make it a wonderful addition to celebrations such as Memorial Day and Veteran's Day. Proteus, the Greek god of shapeshifting, inspired the name. Aptly, the protea comes in many different shapes, sizes, and colors.
CHERRY BLOSSOM
The cherry blossom symbolizes spring or a time of renewal. In Japan, the flower is called "sakura" and is a major part of the country's identity. They use it in many aspects of their culture as their national flower. Cherry blossoms also serve as a metaphor for human life—each bud only blooms for around two weeks, representing the transience of life.
BOUGAINVILLEA
Widely considered a sign of welcome, peace, and free trade, the bougainvillea is native to South America and grows in tropical regions around the world. Locals use it in leis to welcome visitors to Hawaii, while countries including Australia, Fiji, and India celebrate the flower through festivals.
BIRTH FLOWERS AND THEIR SYMBOLISM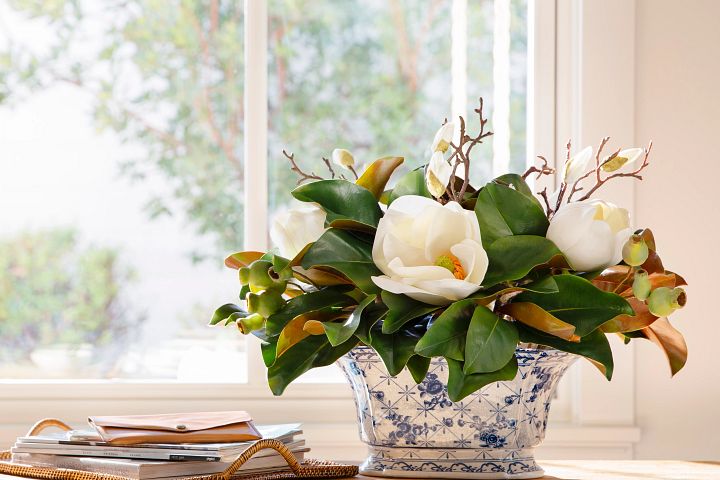 Many believe that the idea of birth flowers originated in Ancient Rome, as they were among the first to both celebrate birthdays and use flowers as gifts. Today, birth flowers inspire home decorations, gifts, and even tattoos. See the chart below to learn about your birth flower and the characteristics they connote. Use this as a guide when considering flower arrangement gifts for birthdays or decorating for birthday parties and baby showers.
| Month | Flower | Characteristics |
| --- | --- | --- |
| January | Carnation | Loyalty, Love |
| February | Primrose | Good Luck, Youthfulness |
| March | Daffodil | Fresh Starts, Happiness |
| April | Daisy | Optimism, Playfulness |
| May | Lily of the Valley | Sweetness, Practicality |
| June | Rose | Beauty, Honor |
| July | Larkspur | Positivity, Potential |
| August | Poppy | Imagination, Success |
| September | Aster | Faith, Elegance |
| October | Marigold | Creativity, Passion, Warmth |
| November | Chrysanthemum | Friendship, Longevity |
| December | Narcissus | Hope, Prosperity |
THE BEST FLOWER ARRANGEMENTS FOR EVERY OCCASION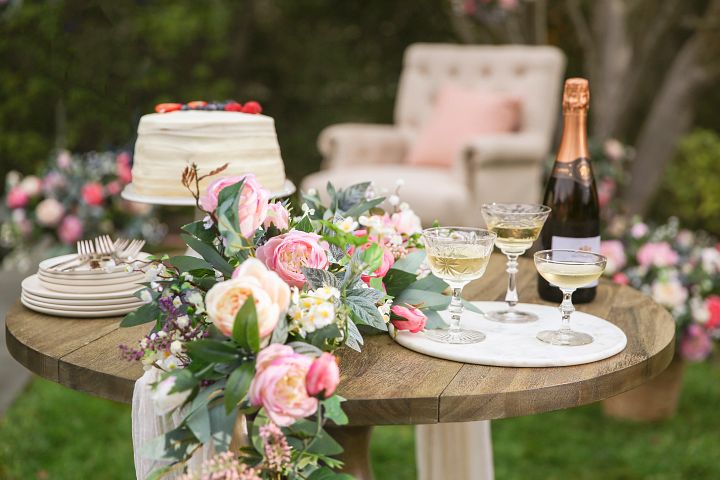 Flowers are always a thoughtful and elegant gesture for most occasions. The right POTTED ARRANGEMENT , WREATH , or bouquet, whether gifted or as décor, conveys the appropriate sentiment and adds a celebratory touch to the moment. Take flower meanings into account when planning floral displays or sending ARRANGEMENTS in these situations:
EXPRESSING CONDOLENCES
It's important to send flowers that evoke a sense of peace and sympathy. White lilies, roses, and carnations are popular choices for funeral arrangements as these blooms symbolize love and remembrance.
SENDING WELL WISHES
Celebrate personal or professional milestones with bright and beautiful blooms. Flowers like sunflowers, daisies, and tulips convey happiness and success, making them ideal for graduations, promotions, retirements, and other similar scenarios.
CELEBRATING BIRTHDAYS, BRIDES, OR BABY SHOWERS
Birth flowers are a popular choice for birthdays and welcoming a new bundle of joy. Other flowers that connote purity, innocence, and new beginnings include lilies, chrysanthemums, and daisies. Roses, peonies, and hydrangeas are perfect for bridal showers as they symbolize love, romance, and beauty.
We hope this guide helped you become better acquainted with the subtle language of flowers. Lifelike artificial floral arrangements allow you to send eloquent messages and leave a longer-lasting impression. Click the link below to see our full collection of floral wreaths, garlands, and arrangements.
LEARN MORE ABOUT ARTIFICIAL FLOWERS
Get more expert tips on choosing and decorating with artificial flowers from these articles:
ARTIFICIAL FLOWERS: THE BALSAM HILL DIFFERENCE
WHY CHOOSE ARTIFICIAL FLOWERS: THE BALSAM HILL GUIDE