Fall decorating is all about adding autumnal touches to your home – and nothing says fall more than pumpkins and gourds on display. With their shapes and vibrant colors bringing life to every corner, pumpkins are one of the simplest and most charming way to decorate for fall. In this guide, we share how PUMPKIN DÉCOR can create a cozy atmosphere for any space — from your porch to the living room and dining table.
Why Are Pumpkins Related To Fall?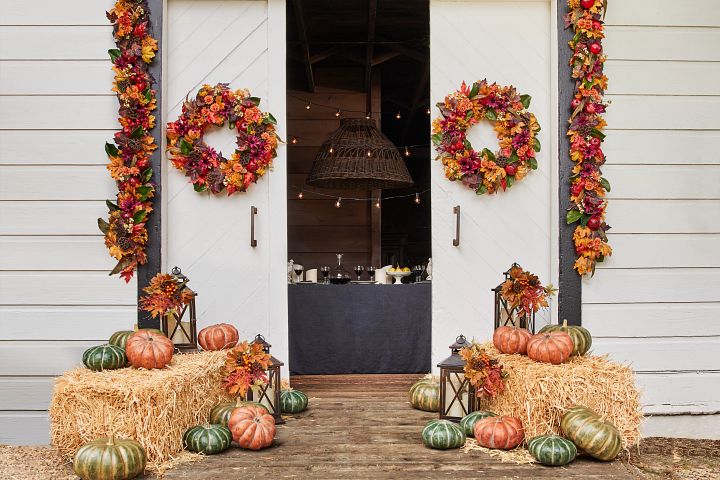 Pumpkins are harvested in autumn and most abundant at this time of year, along with winter squash varieties like acorn and butternut. They became a staple during Halloween in the 19th century when Irish immigrants brought with them the tradition of using pumpkins to scare evil spirits away. Soon after, many households also adapted this practice every October 31st.
How To Decorate With Pumpkins
Pumpkins are versatile pieces that you can use throughout fall, including Halloween and Thanksgiving. Display them in key areas such as the porch, living room, dining room, and patio to spruce up the space. Here are some of the best ways to use pumpkins as decorations.
We hope this guide inspired you to decorate with pumpkins this fall season. For more entertaining and styling ideas, sign up for our NEWSLETTER and browse our collection of fall décor at the Balsam Hill website.
BE INSPIRED
Update your home décor for the new season with these fall decorating guides:
UPDATING YOUR SEASONAL DECORATIONS? HOW TO TRANSITION FROM ONE SEASON TO THE NEXT
THANKSGIVING DÉCOR TO CREATE AN INTIMATE AND COZY CELEBRATION