The living room is one of the most common areas where guests gather, so its focal point must be well-decorated. However, it can be daunting when starting from scratch—considerations like the suitable size of the fireplace and the right decorations for the mantel come into play. Design a memorable fireplace mantel display that shows off your taste and personal style with our fireplace sizing and decorating guide below.
Fireplace Mantel Size Guide
If you are choosing or constructing a fireplace mantel, here are some general rules of thumb you can follow for sizing. Also, always remember to follow fire safety codes when designing a fireplace.
Width: About a foot wider than the fireplace box, and at most the same width as the hearth (the flooring part of your fireplace) for symmetry
Depth and Thickness: Usually 8 inches from the wall, with a face of about 5 ½ - 7 ½ inches
Mounting Height: At least a foot above the fireplace box
Following the correct sizing ensures you can comply with common fireplace dimensions and standard-issue gear, and the focal point of your living room is to scale with the rest of the space.
Fireplace Mantel Decorations Size Guide
The scale of your décor is dependent on your fireplace dimensions. Accent pieces of the right size and scale make your fireplace mantel décor safe and visually appealing. Here are some tips when selecting fireplace decorations. 
Mounted Mirrors and Artwork
Base your décor on the available wall space above the mantel. Ideally, mounted mirrors or frames should cover two-thirds of the space when centered above the mantel, with an allowance of 10-30 cm from the mantel shelf.
Wreaths and Other Foliage
Similarly, a wreath should be large enough to cover two-thirds of the space above the mantel. For garlands displayed on the mantel shelf's edge, you can opt for a shorter one with no overhang for a clean look or a longer garland that hangs generously over either end for a more lush and festive feel.
Mantel Shelf Décor
Avoid too tall and narrow mantel décor to minimize the risk of them toppling over and breaking. Try stable-bottomed vases and tapers, stacks of books and lanterns, and pillar candles with a more robust shape. Try to keep them within the 4 to 12-inch space between the mantel shelf and the bottom of your hung wreath or mirror.
Insider's Tip
When decorating your mantel, always take a step back and review your vignette from various points in the room. Adjust the arrangement and add or remove pieces as necessary.
Mantel Design Principles and Other Considerations
Here are some points pros consider when decorating a fireplace mantel.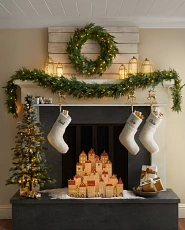 Triangle Principle
Step back and visualize a triangle above your fireplace mantel. Your hung wreath or mirror, being the high point, place two sets of décor on either lower point of the triangle, ensuring they don't overpower the visual weight of the triangle's peak.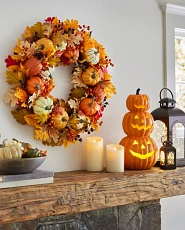 Symmetry and Balance
You can mirror both sides of your mantel shelf with identical sets of décor, or for a more eclectic feel, two different groupings of decorative accents that complement each other visually and balance each other out.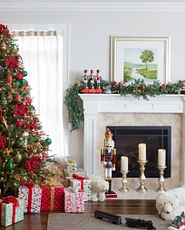 Ceiling Height and Wall Space
Higher ceilings afford you large, framed artwork or more ornate mirrors. For lower ceilings, try frames hung crosswise or smaller wreaths.
Frequently Asked Questions
Here, we answer some common questions on fireplace mantel décor and sizing.
How Can I Decorate My Mantel?
Consider evoking the themes of the current season when decorating your mantel. Try wreaths and floral arrangements featuring colorful blooms in the spring and summer, lanterns, gourds, fall foliage in the fall, and Christmas accents during the holiday season.
What Decorations To Put on a Mantel?
Framed artwork, mirrors, and wreaths are some of the most common home décor accents used to decorate the area above the fireplace mantel. Tabletop decorations like candles and lanterns, vases, small sculptures, or ceramic figures are placed on the shelf.
What Do You Put On Either Side of a Fireplace?
Try flanking your fireplace with pairs of tall potted arrangements or mini trees. You can also consider decorative baskets and large lanterns. Regardless of décor, ensure you don't place them too close to the firebox.
Your fireplace mantel is perfect for making your living room feel even warmer and cozier. We hope these ideas for mantels and fireplaces can help you create the perfect mantel vignette. To see more actual Balsam Hill products you can use to decorate your mantel, check out our wreaths, garlands, and other home accents by clicking the link below.
Learn More About Mantel Decorating
Read these next for more ideas for fireplace mantel décor.