Halloween is always a high point of the fall season. It's the perfect opportunity to infuse your home with fun and festive energy and allow you to flex your creativity as you put on an inventive spooky display. Get inspiration and learn how to decorate for Halloween with this guide.
Themed Décor
Mix and match these décor elements to cast a captivating spell and make Halloween magic.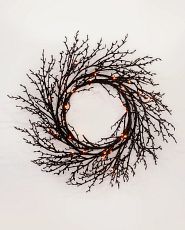 Foliage
Eerie twig foliage makes the perfect Halloween wreath. You also can put your own sinister spin on fall wreaths featuring darker foliage and pumpkin details by adding scary accents or Halloween ornaments.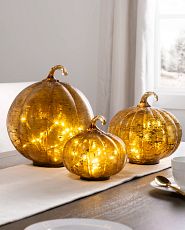 Pumpkin Decorations
Pumpkin décor suits a variety of Halloween decorating themes. A true Halloween classic, choose between traditional grinning jack-o'-lanterns or more modern takes in glass, wire, or other materials.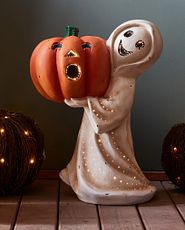 Figurines and Statues
Rely on a cast of creepy and charming characters to help you give ghastly greetings to guests who come knocking. Ghosts, witches, scarecrows, and skeletons are beloved Halloween figures you can count on.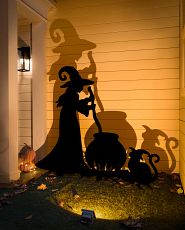 Large Displays
Use expansive al fresco areas to create elegant outdoor Halloween decorations, like spooky silhouettes cast against your exterior walls.
Indoor and Outdoor Lights and Illumination
The proper lighting creates the spooky ambience essential to Halloween merrymaking. Plan to include a few of these Halloween lighting options below.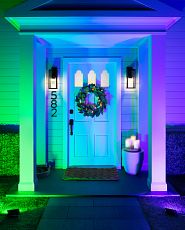 Mood Lighting
Add character to your exterior spaces with colored lights. Try strategically placed light strings, outdoor-safe floor lamps, or color-changing floodlights to bring a festive feel to your home.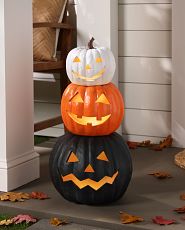 Lighted Décor
These add both visual interest and illumination to your seasonal décor. Choose classic designs like pumpkins so you can use them year after year in various ways. Make sure your chosen décor is marked safe for outdoor use.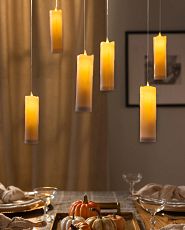 Candles
Candles are versatile lighting accents perfect for Halloween. Use them to bring an eerie glow to your indoor vignettes and outdoor displays. Choose battery-operated flameless LED candles as a safer alternative.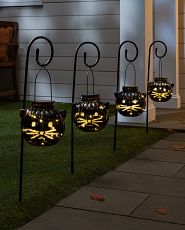 Pathway Lights
Lead trick-or-treaters up to your doorstep with themed stake lights placed along your pathway. Consider solar-powered options for a more sustainable alternative.
Indoor Halloween Decorating Tips
Achieve the perfect balance between cozy and creepy with these indoor Halloween décor tips and ideas.
Curate a Showcase Spot
Make a grand display over your fireplace mantel or an empty corner of your entryway or foyer. Then, echo the theme with smaller, complementary indoor Halloween decorations throughout the house. Having a focal point helps solidify your chosen theme and makes your décor feel more intentional.
Match Your Outdoor Halloween Décor
Create a seamless look and feel by picking up some elements of your Halloween porch décor and bringing them indoors. For example, use similar foliage and décor accents and keep within the same color palette for a cohesive display.
Outdoor Halloween Decorating Tips
Become the more boo-tiful house on the block with these outdoor styling tips.
Light Up Your Display
Let your décor come alive at night with creative lighting. Use fairy lights, floodlights, and lighted decorations to give your porch or garage that spooky glow essential to Halloween displays. Ensure you conceal or tape down exposed wires to prevent kids from tripping over them.
Use Outdoor-Safe Décor
Check your chosen decorations and ensure they are marked safe for outdoor use, especially your lights. Use heavier statues or figurines or secure more lightweight décor for extra safety.
Study Your Space
Before decorating your house for Halloween, consider your display area carefully. Take into account wide and plain walls, empty corners, or other spots that could benefit from décor. Pick a focal point, like your front door, and plan your display accordingly while keeping enough space for kids to come up to the door for treats.
Frequently Asked Questions
Here are some answers to some common questions about decorating for Halloween.
What Decorations Do You Need for Halloween?
The most common Halloween displays include fall foliage and hay bales, candles and lanterns, and lighted decorations featuring classic Halloween characters and critters. Functional décor, like candy bowls and pathway lights add to the spooky ambience while serving a practical purpose.
How Do You Arrange Halloween Decorations?
Select Halloween decorations that suit your chosen theme. Then, depending on your display area, create a focal point using a Halloween wreath or large figurine. Build your display with complementary accents like garlands, candles, pumpkins, and other tabletop décor.
Make this year's fright night fun and festive with your most impressive Halloween display yet. Click the button below to shop our selection of Halloween decorations.
Learn More About Halloween Decorating
Read these articles for more expert tips on decorating your home for the season.